The Ethereum network has experienced a major evolution 200 days ago with the move from proof-of-work consensus to proof-of-stake. This decision had a significant impact on the tokenomics of the network. It led to a decrease in the total supply of Ether, the native cryptocurrency of Ethereum. This reduction is due to the decrease in rewards given to nodes and the introduction of a mechanism for destroying part of the fees generated by transactions.
Since the switch to proof of stake, total ether supply decreased by 75,000 ETHrepresenting an annual decrease of 0.114%. If Ethereum had remained on the proof of workthe total Ether supply would have increased by 2.2 million ETH, which is worth more than $4 billion at the current price.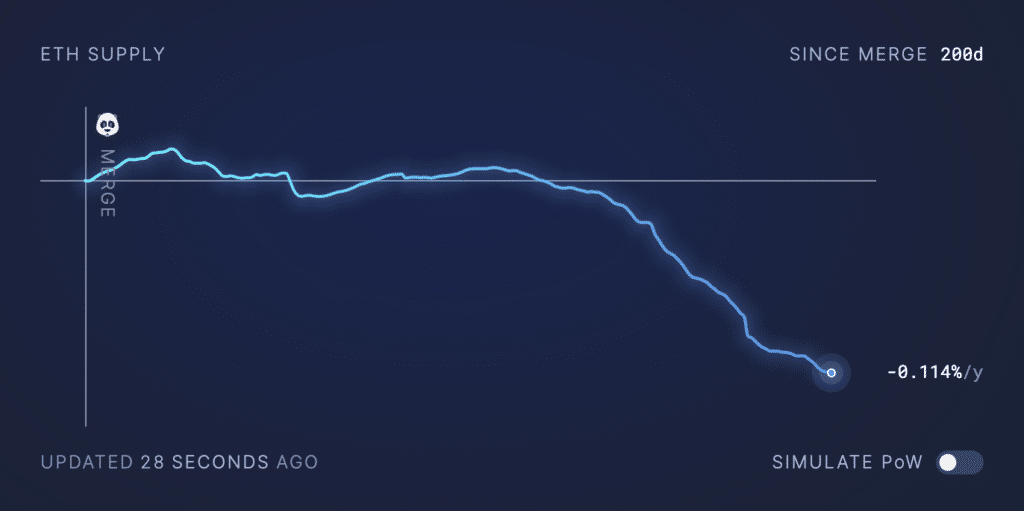 However, since the introduction of proof of stake, ether stakers cannot withdraw their funds. But that should change soon thanks to the Shanghai update ofEthereum, scheduled for April 12. This update will allow users to withdraw their ether by stakingbut not all at once.
However, staking withdrawal requests may take time due to the technical limitations of the chain.. Only 16 withdrawals, including only staking rewards, can be processed approximately every 12 seconds. The queue for staking withdrawals is therefore likely to lengthen after the implementation of Shanghai. Full withdrawals, which consist of completely removing a validator from the blockchain Ethereum, could also take a relatively long time.
The article 200 days after merge, Ethereum deflationary with 4 billion in ether not added to supply appeared first on Corner Academy