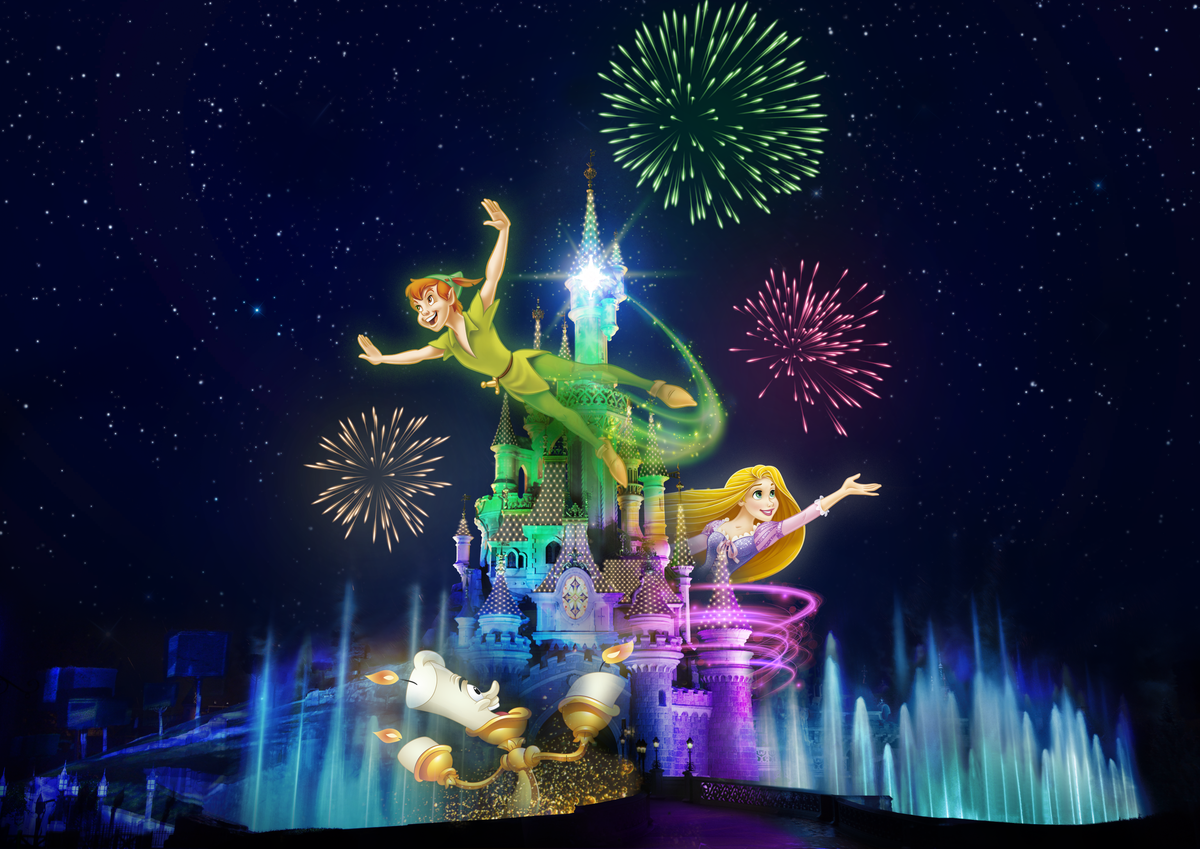 From never-been-seen-before shows and limited edition character costumes to a 30th Anniversary food and drink menu, there are so many exciting reasons to hit up Disneyland® Paris in the near future. Here are eight reasons you need to visit Europe's number one tourist destination before the festivities end in September 2023.
Experience Dream… and Shine Brighter!
Disneyland® Paris' 30th Anniversary celebrations bring a host of brand-new shows to commemorate this once-in-a-lifetime occasion in sparkly fashion. You can dance with Mickey, Minnie and their friends in Dream… and Shine Brighter! – a show which has been curated especially for the festivities, transforming Central Plaza into a kaleidoscope of vibrant colours. Watch as characters bop to the beat in front of Sleeping Beauty Castle in shiny new costumes.
Watch the award-winning Disney D-Light show
There's also the spectacular, award-winning Disney D-Light show, which takes place in the evening in front of Sleeping Beauty Castle. This award-winning show is a unique spectacle featuring hundreds of choreographed drones soaring across the sky to all your favorite Disney songs creating different shapes and patterns in the Parisian night sky over the fairytale castle.
Stock up on limited edition memorabilia
It's probably no surprise that with the 30th Anniversary comes lots of brand-spanking new shiny merchandise to get your mitts on. There are many shops to saunter around in the park, from Disney Village, packed full of Disney-themed memorabilia, to Harrington's Fine China and Porcelains on Main Street USA; one of the park's prettiest shops, complete with a magnificent glass dome.
Pick up the limited edition Disneyland® Paris 30th Anniversary Monopoly board, where you can make your way around the squares, stopping at all of your favorite Disneyland® hot spots. If you're partial to a sparkly treat, they have limited edition castle key necklaces and a whole new SPARKling range, which includes everything from twinkling Sleeping Beauty sweaters to glittery Minnie ears.
Channel your favorite Super Heroes at the Avengers: Power the Night show
Disneyland® Paris 30th Anniversary festivities officially come to an end on 30th September, but until then, there are heaps of magical celebrations to get stuck into, including the new nighttime show, themed to the magic and might of the MARVEL Universe.
The Avengers: Power the Night drone show started in January and takes place every night until May 8 above Walt Disney Studios Park. You'll be able to watch your favorite Super Heroes of the MARVEL Universe come to life using state-of-the-art projections, pyrotechnics and up to 500 drones.
See your favorite characters like never before
As if the costumes worn by your favorite Disney characters weren't already flashy enough, the 30th Anniversary limited edition character costumes are taking it up a notch. The new iridescent costumes have been created especially for the celebrations and are worn by Mickey and Minnie Mouse, Donald and Daisy Duck, Pluto, Goofy and their friends. Mickey has swapped his signature red trousers and yellow bow tie for something a whole lot shinier, while Minnie dons a silver and pink tutu-style dress with sparkling yellow heels.
Stroll around the Gardens of Wonder
Stroll through various enchanting displays to celebrate Disneyland® Paris' 30th Anniversary at the new sculpture garden around Central Plaza, where ten themed gardens display 30 different sculptures of your favorite Disney characters. It's well worth visiting during the day to admire these works of art up close, but you must visit again come nighttime when they're atmospherically illuminated, along with LEDs lighting up the surrounding flowerbeds.
Eat and drink your way through limited-edition menus
You can expect a whole menu of new tasty treats for the 30th Anniversary, spread out across all of the 59 restaurants, 10 bars and snack bars. Chow down on Minnie Mouse shortbread cookies on a stick dipped in baby pink icing and decorated with an edible pink bow. There's also a giant shortbread cookie with either Mickey or Minnie imprinted on the front and a limited edition reusable ear-topped popcorn bucket.
If you want to enjoy a glass of bubbles on your Disney getaway, keep an eye out for the champagne cart on Main Street, where you can pick up a glass of bubbles to commemorate the anniversary in front of the Sleeping Beauty Castle while soaking up the lively atmosphere around you.
Table-service restaurants are boasting a new mouthwatering menu of desserts crafted by Disney's pastry team at Les Délices de Minnie, including a Mickey-shaped cheesecake and a white chocolate and strawberry cake served in a dome aptly called Le Bouquet final. If you opt for the buffet, you'll get to enjoy their 30th Anniversary-themed macaroons alongside a range of newly-launched drinks like the Happy Birthday Cocktail.
Be dazzled by Disney Dreams!
The ultimate nighttime extragavanza Disney Dreams! returns to Disneyland® Paris on April 12 as part of the 30th Anniversary festivities. After a day spent exploring the unique zones of the Disney Parks, head over to Central Plaza for an unforgettable evening spectacle as Peter Pan's shadow guides you through magical Disney stories past and present. Sensational fireworks and projections bring these much-loved stories to life as the memorable soundtrack of Disney favorites soars around the Paris night sky.
Disneyland® Paris is offering Independent and Evening Standard readers the chance to win a magical two-night all-inclusive trip to the park. To enter now via Evening Standard CLICK HERE