Are in the midst of planning a trip to Universal Studios Hollywood with your squad of kids? Well, let me tell you, as a mom of six, I know that finding the right hotel can make or break your vacation.
So, I'm here to give you the inside scoop on the closest hotels to Universal Studios Hollywood that will keep your teens and little ones entertained.
---
Top 9 Picks to Stay at the Closest Hotels at Universal Studios Hollywood
Universal Studios Hollywood is one of my most favorite tourist destinations in Los Angeles. But it is also incredibly popular among tourists, all around the world. After all, the film industry made Hollywood famous, and its legend continues to attract talent to Hollywood.
But, since you and I can't be lucky enough to star in Hollywood blockbusters, we can at least enjoy the famous 'Studio Tour.' My kids and husband love the hour-long tour that offers an intimate experience of the Hollywood world.
So, if you are planning to visit Hollywood and need to find the closest hotel to Universal Studios Hollywood, here is my list of recommendations to find the best recommendations.
---
*UNIVERSAL STUDIOS HOLLYWOOD DISCOUNT TICKETS – Are you looking for discounted tickets to Universal Studios Hollywood? Check out our article to learn about the discounts here.
---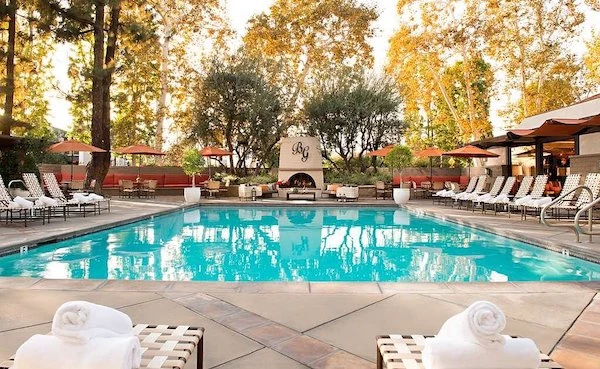 Location: North Hollywood, CA
Phone: +1 818-980-8000
The Beverly Garland is a favorite hangout for tourists. The hotel was named after actress Beverly Garland. Her husband constructed this building in 1972. In 2000, their son James took over the hotel and expanded it into a resort.
Despite being close to the freeway, the hotel boasts large rooms and well-kept grounds that provide ultimate relaxation. Among the 255 rooms, 17 of them are suites. In addition, The Garland offers free trolley trips to Universal Studios. Guests also enjoy an outdoor heated pool with a hot tub and a sun terrace, a fitness gym, and a business center.
Pros
Pet-friendly hotel with outdoor dog area
Beautiful guest rooms
Daily programs include yoga and tastings
Free trolleys to Universal Studios
Cons
Guests who don't like pets may find it unsuitable
You may get some noise from the nearby freeway
---
Location: Universal City 91608
Phone: 818-506-2500
The 24-story hotel comprises 482 rooms with eight suites. The hotel, situated in Universal City, is just one block from Universal Studios Hollywood. The rooms offer beautiful views of CityWalk, the Hollywood Hills, or the theme park.
The complimentary shuttle that runs to and from the Sheraton also stops here. During park hours, it runs every 15 to 20 minutes. But if you want to walk, like I do, the studio is a 10-minute walk away from the Hilton.
Pros
Quite close to Universal Studios
Couple of on-site restaurants
Cons
You have to pay for valet and self-parking
Talking to the front desk could involve long waiting times
---
Location: Ventura Blvd., Studio City
Phone: 818-623-9100
The BLVD Hotel & Spa offers both comfort and personalized customer service. Guests enjoy an array of amenities. I love the ambiance which is a mix of contemporary style and efficiency. Less than a mile separates The BLVD from Universal Studios Hollywood.
It took me a five-minute walk from the hotel to reach the Metro Red Line's Universal/Studio City station. The legendary Baked Potato jazz club and the vegan-friendly Sun Cafe are popular nearby food and entertainment options.
Pros
indoor pool
Among the most affordable hotels near the studio
Cons
No frills accommodations
It does not offer any scenic views
---
Location: Hollywood
Phone: 323-856-1200
It's obvious why young tourists like me love the Loews Hollywood Hotel. Not only it's next to Dave & Buster's and the impressive candy store Sweet and is nearly three miles from Universal Studios Hollywood.
The Loews boasts a fabulous rooftop pool with spectacular views, suites featuring sofa beds, and a plethora of food and retail options at Hollywood & Highland. In addition, guests can enjoy various board games and kid-friendly activities, making it ideal for families.
The Loews is one of our favorite closest hotels to Universal Studios Hollywood.
Pros
rooftop pool
Three restaurants and cafes
Situated in the Hollywood Highland Center
Cons
Busy location
Some guests mention the rooms need more amenities and updates
---
Location: Hollywood Blvd., Hollywood
Phone: 323-466-7000
From the time you enter the lobby of the historic Hollywood Roosevelt, situated three miles from Universal Studios Hollywood, you are surrounded by Hollywood history.
The hotel's history features notable Hollywood stars like Marilyn Monroe, Clark Gable, and Charlie Chaplain. During a private luncheon, the first Academy Awards took place in the hotel's Blossom Ballroom.
The hotel, built in 1927, has a famous Penthouse, where Clark Gable and Carole Lombard engaged in their infamous affair. Marilyn Monroe also resided at the hotel for two years as her modeling career took off.
Pros
live entertainment
Located opposite the Chinese Theater
On-site pool with reservable lounge chairs
Cons
During peak times, you can lounge chairs at the poolside for a limited duration.
Situated in a busy tourist area
---
Location: Selma Ave., Los Angeles
Phone: 323-844-6417
Dream Hotels made its debut in Los Angeles with the launch of its west coast flagship in the city's palm-lined streets.
The hotel is just three miles from Universal Studios Hollywood and located at the corner of Selma Avenue and N. Cahuenga Boulevard. The hotel offers 178 sophisticatedly decorated guest rooms that subtly reference the renowned mid-century modern design of Los Angeles.
The hotel's upscale rooftop pool, lounge, and Tao Group's opulent restaurants make Dream Hollywood one of the best options. So, if you are looking for the best options to pick the closest hotel to Universal Studios Hollywood, Dream Hollywood is a fabulous choice.
Pros
Steps away from many popular attractions in Hollywood
All rooms have rainfall showers
Some rooms feature balconies
Impressive dining opportunities
Cons
self-parking fee
You must be 21 or over to access the pool after noon.
Guests may find some rooms very small
---
Location: Los Angeles, CA
Phone: +1 213-279-3532
To continue our list of the closest hotels to Universal Studios Hollywood, there is the Kimpton Everly. You can tell you're somewhere unique the moment you enter the hotel's foyer, adorned with artwork.
In addition, guests can view The Capitol Records building, the lobby bar of the hotel, situated in the heart of Hollywood. A rooftop pool upstairs gives panoramic city views, and the adjacent lounge area offers a free sunset happy hour every day.
Pros
Stunning views from the rooftop pool and lounge
Some rooms feature clawfoot soaking tubs
The hotel offers Complimentary public bikes
Cons
There is no on-site spa
Valet and self-parking fee
---
Location: Burbank, CA
Phone: +1 818-842-8887
The high-end hotel is just a five-minute drive from Warner Bros. The charming boutique hotel offers a fabulous alternative to large chain hotels. The Bob Hope Airport and numerous other film studios are just ten minutes away by the hotel shuttle or car.
The hotel, built in 2002, expanded in 2008. Guests can benefit from valet-only parking, a restaurant/bar, a fitness facility, and a beautiful outdoor pool with private cabanas. Most of its rooms underwent a renovation in 2016. Notable amenities include minibars, microwaves, and Keurig coffeemakers.
If you are looking for no resort fee and lower rates, consider the Holiday Inn Burbank, situated in downtown Burbank.
Pros
Only a five-minute drive from Warner Bros. Studio
Elegantly renovated rooms featuring a classic Hollywood Regency theme
Rooms have all essential amenities, including microwaves, minibars, coffeemakers, and 24/7 room service
Free shuttles to the Bob Hope Airport and other popular spots
Classic California and American cuisine at the restaurant and bar
Cons
The hotel is quite expensive
Only valet-parking available
Breakfast is not included in room charges
---
Location: Hollywood, CA
Phone: +1 323-798-1300
The W Hollywood perfectly captures the essence of Hollywood. There is always something exciting going on. The hotel is famous for its location atop the Hollywood Walk of Fame on Hollywood which makes it close to nearby restaurants and bars.
The hotel features two restaurants. Indulge in views of the metropolitan skyline or the Hollywood Hills from upper-level rooms. Elegant suites feature unique themes, and one even has an integrated recording studio.
Pros
Stunning rooftop pool
themed suites
Prime location on the Hollywood Walk of Fame
Cons
Some guests may find the ambiance too noisy
Resort fees
Long delays for bell and valet service
---
Final Thoughts on Closest Hotels To Universal Studios Hollywood
Tourists looking for the closest hotel to Universal Studios Hollywood can always have options. There are some excellent choices nearby whether you are looking for affordable accommodation for the entire family or a peaceful solo trip.
Follow our guide and choose any of the hotels we mentioned in this guide so that you can enjoy a memorable stay. Check out Global Munchkins to learn the best traveling tips for a fantastic trip.
---
Map of Closest Hotels to Universal Studios Hollywood
---
Frequently Asked Questions about Closest Hotels to Universal Studios Hollywood
What is the address of Universal Studios Hollywood?
The address for Universal Studios Hollywood is 100 Universal City Plaza, Universal City, CA.
Can you stay at these hotels with children and pets?
Yes. Some hotels are pet-friends and allow guests to bring pets. In addition, many hotels near Universal Studios have spacious rooms and lounge areas to accommodate families.
What are the recommended hotels near Universal Studios Hollywood?
Some of the most recommended hotels near Universal Studios include The Garland, BLVD Hotel & Spa, Loews Hollywood Hotel, Dream Hollywood, and The Hollywood Roosevelt.
---
If you enjoyed reading our list of the closest hotels to Universal Studios Hollywood, you might also like:
UNIVERSAL STUDIOS HOLLYWOOD HALLOWEEN HORROR NIGHTS 2022! PRO TIPS + EVERYTHING YOU NEED TO KNOW
UNIVERSAL STUDIOS HOLLYWOOD HORROR NIGHTS DISCOUNT TICKETS – 7 WAYS TO SAVE!
10 EASY WAYS TO SAVE! UNIVERSAL STUDIOS HOLLYWOOD DISCOUNT TICKETS!
ALL THE BEST TIPS YOU NEED TO KNOW ABOUT UNIVERSAL STUDIOS ORLANDO PARKING!
---
Pin-it for later: Closest Hotels to Universal Studios Hollywood