Set against the backdrop of the Tweed Valley in the Scottish Borders, our home for the weekend is whitewashed Tweedford Cottage, in a section of wilderness as bewitching as ever we needed. Although only an hour from Edinburgh, this rugged landscape of vertiginous hills feels remote. With an abundance of wild walks on the doorstep, it's the ideal dog-friendly bolthole for a group seeking solace.
The rural romance of the region has been a source of inspiration for poets and painters for centuries, from JMW Turner to Sir Walter Scott and James Thomson. And here we are, searching for "some touch of Nature's genial glow" as Scott described.
We arrive at the detached cottage just after dark – myself, three friends and my miniature sausage dog, Coco. With 13 million dogs in the UK, they are our most-loved pets. So is it any wonder we want them to join us on holiday? They are champion relaxers, keen walkers and never turn down the opportunity to try tasty local treats – what more could you want in a travel companion joining you for a country cottage getaway?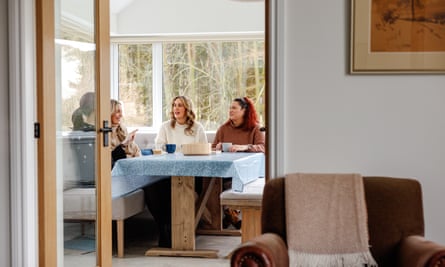 After a deep sleep, away from the urban hum of London, we wake to clear azure skies. The night before, the main dining area lay undiscovered, extending out through double doors at one end of the living space. Giggling, we welcome the surprise space – the perfect nook for breakfast, with panoramic pastoral views across the hills, carpeted in marbled mossy greens and scrubby russets. Pulling on boots over PJs we step out into the morning sun. Tech and to-do list free, it was time to turn off, lean in and log out.
Coco breeds around the large garden, every new smell a delight. Sniffing, for dogs, is thought to be like reading a newspaper, so imagine the joy and gossip of this new territory. A little wave of nostalgia hits me. Remembering being in a garden as a child when everything felt like an adventure; at my grandparents', where the shrub and wildflower borders became a faraway jungle.
We clamber up the steep adjacent hillside following Coco, breathing in the sweet, sharp scent of thick, spongy grass under foot. There is stillness here that we didn't know we were craving – a quietness, all for the wind through the towering spindle-trunk firs and the rush of the River Tweed below.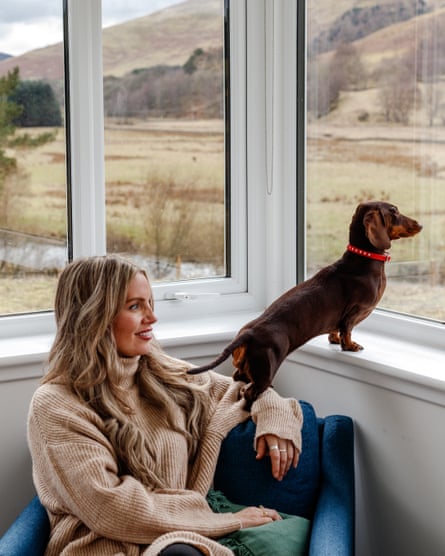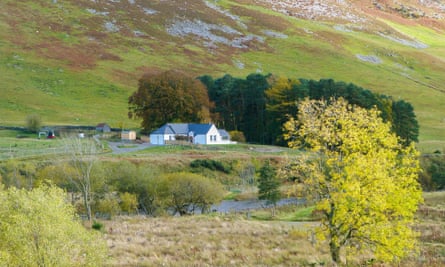 Back inside, light from large sash windows fills every room. The property itself, recently renovated, adds an additional layer of calm, decorated in natural tones and warm, organic textures of wooden furniture and wool throws. Pared-back interiors throughout the two-bed, single-storey cottage include homely details of velvety cushions, a games cabinet and a wood burner. The open-plan living area is made for cooking and eating together – no debates about local table reservations needed.
To complement our rural retreat, and all the lounging and nibbling, we take a spontaneous drive in search of mini adventures in the surrounding Upper Tweeddale national scenic area – an expansion of towering, rounded hills scooping down into undulating riverside meadows and coniferous woodlands. Heading out on a loop, we stop at Devil's Beef Tub – because who wouldn't be intrigued by such an unusual name. The dramatic natural bowl carved into the landscape is about 150 meters deep, and was used as a hiding place at various points throughout the turbulent early history of the area, close to what used to be called the "Debatable Lands".
Next stop is Gray Mare's Tail waterfall in Moffatdale, part of a nature reserve protected by the National Trust for Scotland. In keeping with our weekend of unplanned loveliness, we decide to tackle the steep but well-maintained path beside the silver plume, admiring its 60-metre plunge into the valley below. Hugged by hills, the out-and-back road weaves up the craggy mountainous landscape. Coco relishes leading (on a lead), surprised walkers greeting her as she looks back encouraging us – don't let her little legs deceive you.
As one of the highest waterfalls in the UK, it was an early tourist attraction, and was even immortalized by Scott, in his 1808 historical romance in verse, Marmion: "Where deep deep down, and far within; Toils with the rocks the roaring linn; Then, issuing forth one foamy wave; And wheeling round the giant's grave; White as the snowy charger's tail; Drives down the pass of Moffatdale."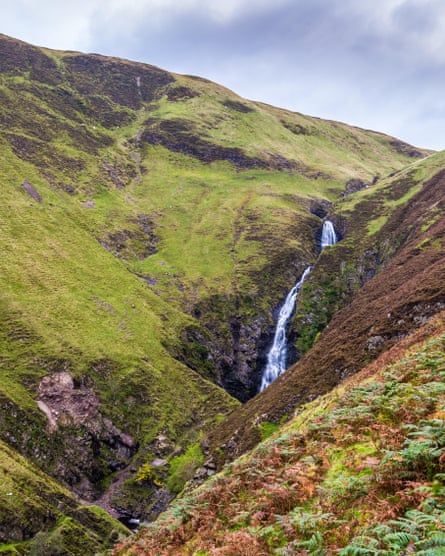 We stop for a drink, cupping our hands to gather water from a fast-flowing burn on the hillside. After spotting a peregrine falcon and several wild mountain goats, we finally reach flatter ground. Beyond this, the longer route reaches Loch Skeen in about an hour. However, this picture-perfect section of rocky river with views over the ravine is where we stop to take it all in, before heading back down as the drizzle begins – the first rainfall of the weekend.
On the route back to the cottage we pass the eight arches of Neidpath viaduct and stop in the small hamlet of Peebles for a quick post-hike sugar hit – because of course we hadn't eaten enough Tunnock's teacakes already. After an evening of games and wine by the fire, I wake to a bubbly soak in the huge bath, as natural light cascades in from the skylight.
There is something inherently soothing about taking a short break with friends. Finding a little cottage refuge to while away the time together. It's all very hygge; discovering those practical ways to create sanctuary in the middle of very real life. And who would make a better partner for it than a little sausage dog, reminding us how best to do it – pause by a window to feel the sun on your face, or curl up by the fire under a soft blanket, and snuggle down ( or "coorie doon", as the Scots would say)?
To book a stay at Tweedford Cottageor to find your perfect holiday home anywhere in Britain, go to cottages.com