The attention around airdrops has simply exploded over the past few days with Arbitrum.
Today, we are going to talk to you about the SyncSwap project which, of course, does not generate as much enthusiasm as Arbitrum, but which could very well carry out a distribution of tokens in the weeks or months to come.
Indeed, the platform recently launched its public tesnet, giving us the opportunity to interact with the first features present on it.
Find in this article all the steps to follow in order to be eligible for the potential Airdrop from SyncSwap.
Some key facts about the SyncSwap Airdrop
Project : SyncSwap
Cost : Free
Token: ?
Airdrop : Not-confirmed
Difficulty : Beginner
What is SyncSwap?
SyncSwap is a decentralized exchange (DEX) built on protocol and layer 2 ZkSync era.
The SyncSwap exchange has many innovative trading features that make it even better to use. Indeed, the platform first of all has its technology "Multi Pool" which allows to integrate several different pool models, namely the "StablePool" as well as the "Classic Pool".
"Multi-pool is infinitely scalable and will become more powerful as the model grows over time. thread time."
You will also find a "Pool Wizard" which helps you create your own pools according to different criteria, a vaultA Smart Router and a Dashboard to name just a few of the services.
To learn more about the project, do not hesitate to visit this page.
How to be eligible for SyncSwap Airdrop?
First, start by going to the site: https://syncswap.xyz/
Then connect your digital wallet (wallet) by clicking on the "Connect". Note that if the network "zkSync Era Testnet Goerly" is not already configured on your wallet, the platform will automatically suggest it to you. In this case, you just have to click on "Switch Network" then accept the transaction on your wallet.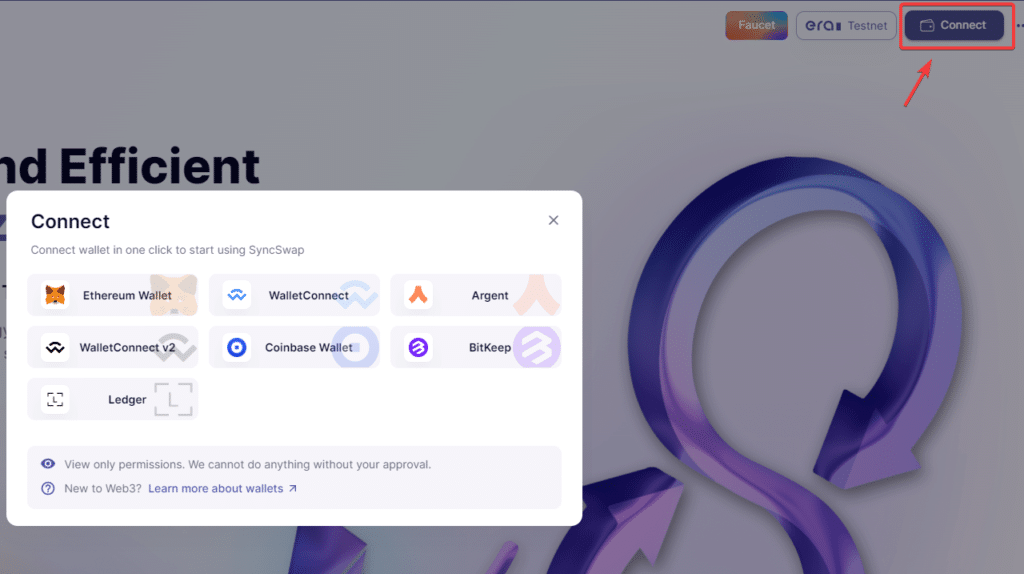 Once connected to SyncSwap, you will then need to collect your free tokens in order to be able to interact with the platform. To do this, click on the "Faucet", then you will be asked to retweet one of their tweet to be eligible.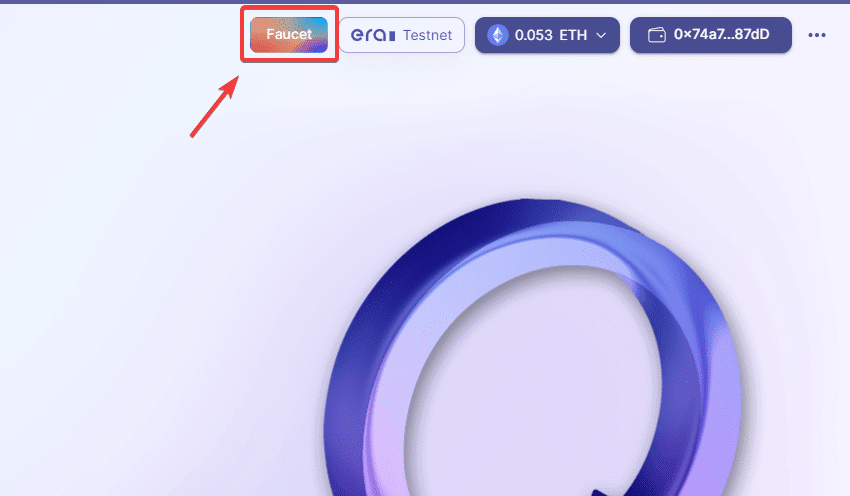 In fact, first click on "Retweet Nowand then retweet the post in question.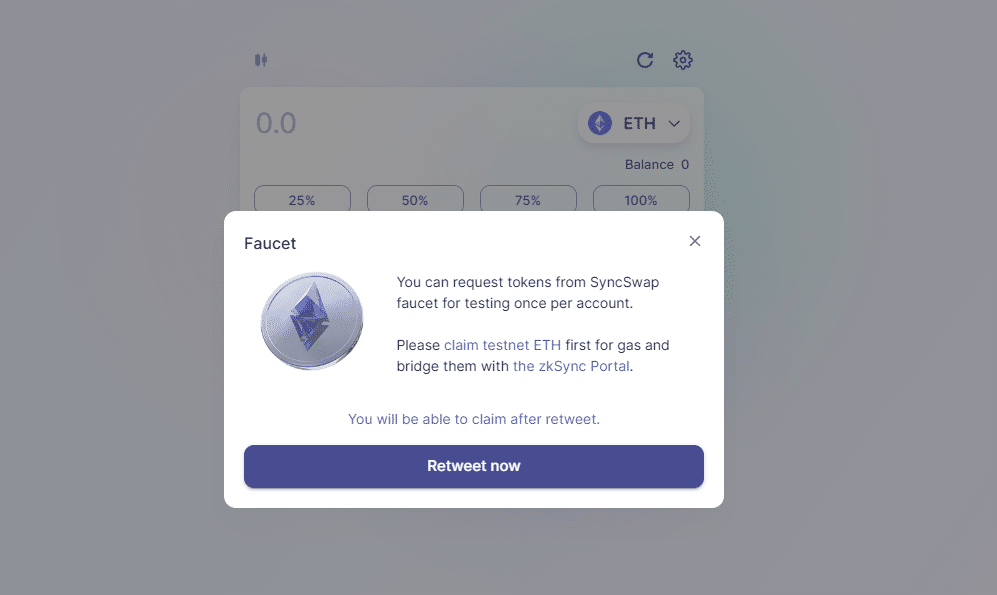 You are now eligible for the faucet, but just before claiming it, make sure you hold funds on the zkSync Era Tesnet network to be able to pay the fees. gas.
To do this, go to https://goerlifaucet.com/, claim ETH on the Goerli Tesnet (Ethereum) network. Then please go to https://goerli.portal.zksync.io/ to transfer (via the bridge) your Goerli tokens to the zkSync Era network.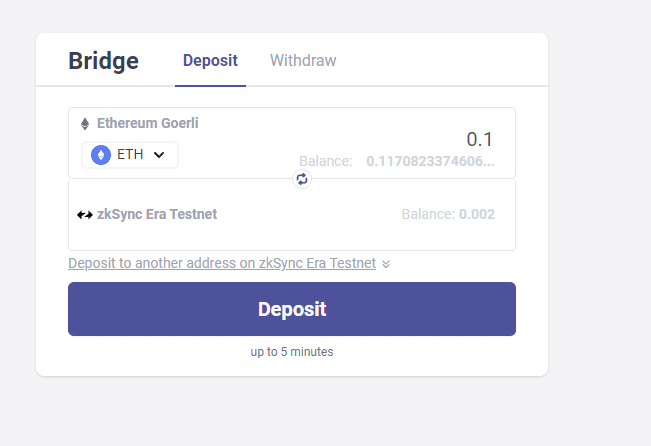 Finally, go back to SyncSwap and then click on "claim now" to claim your tokens (10000 tesnet tokens should arrive on your wallet in the following seconds/minutes).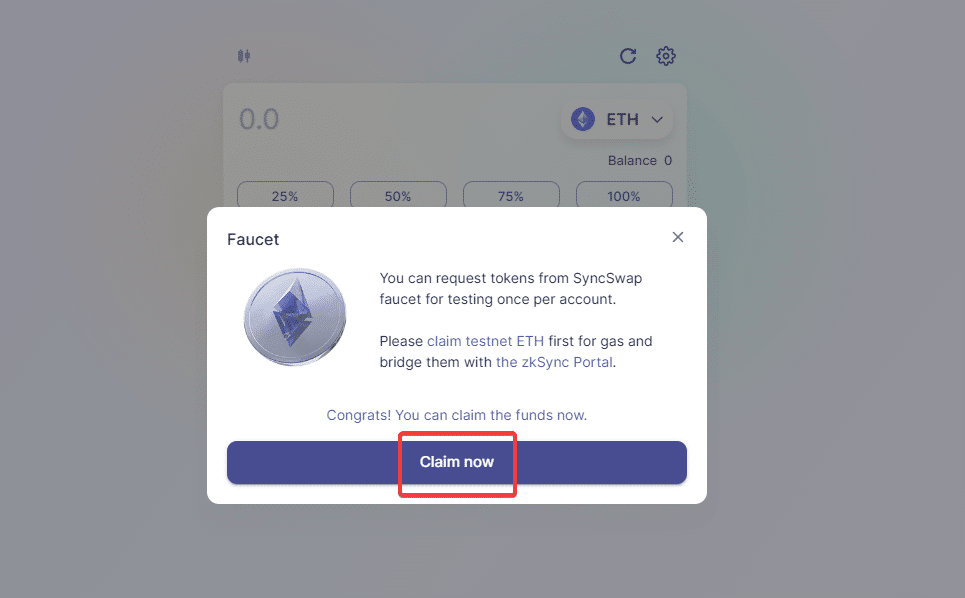 1 – Use SyncSwap Swap
After receiving your tesnet tokens, click on the "Trade" or directly on this link: https://syncswap.xyz/swap
Then select the cryptocurrency that you wish to exchange, fill in an amount, then validate your exchange. In our case, we are exchanging SyncSwap tokens tesnet against ETH Tesnet.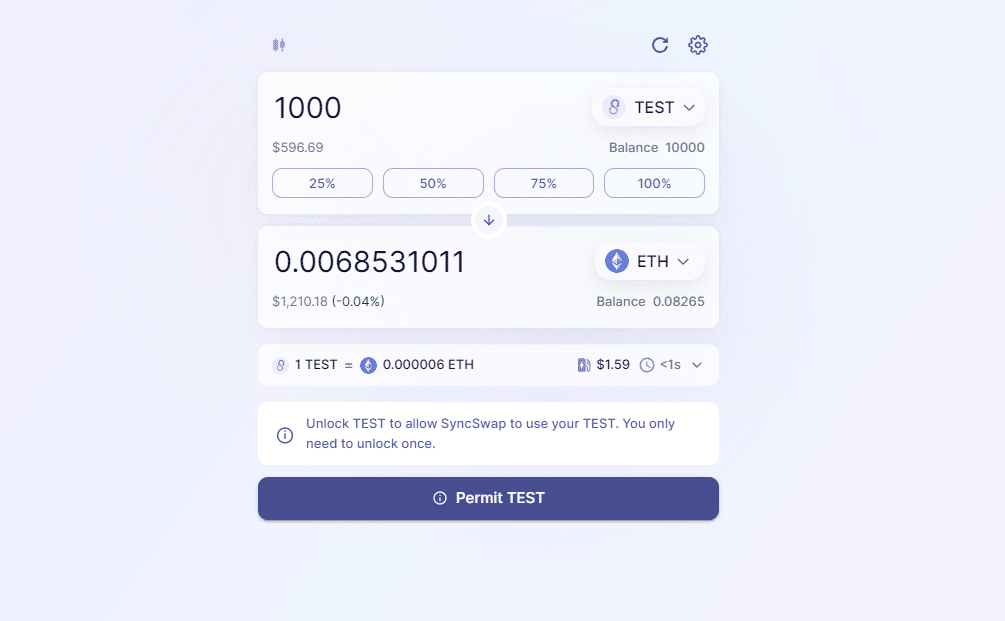 2 – Use the classic SyncSwap Pool
Now, go to the page "Pool" where you will have to deposit liquidity.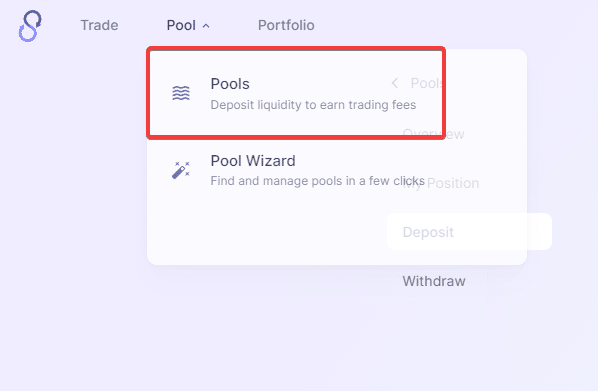 Click on the pool of your choice.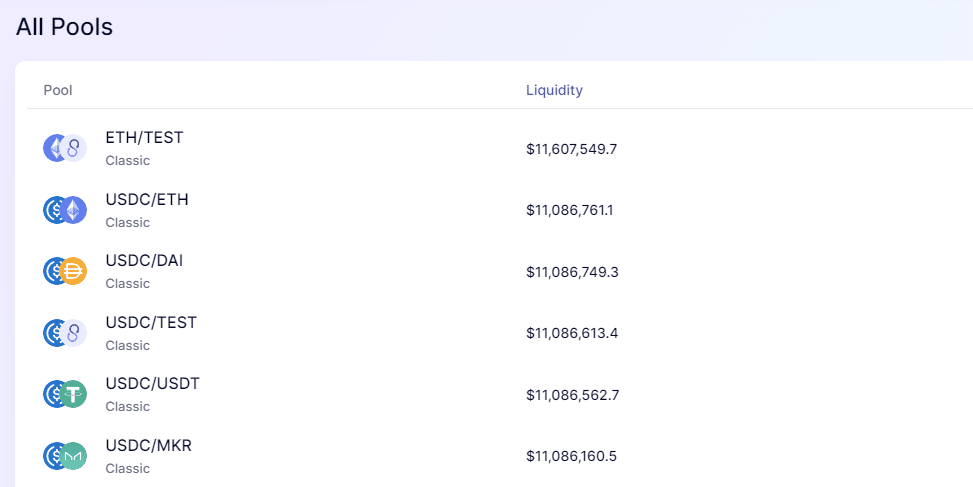 Now you need to go to "deposit", then fill in the amounts you want to place (for each token).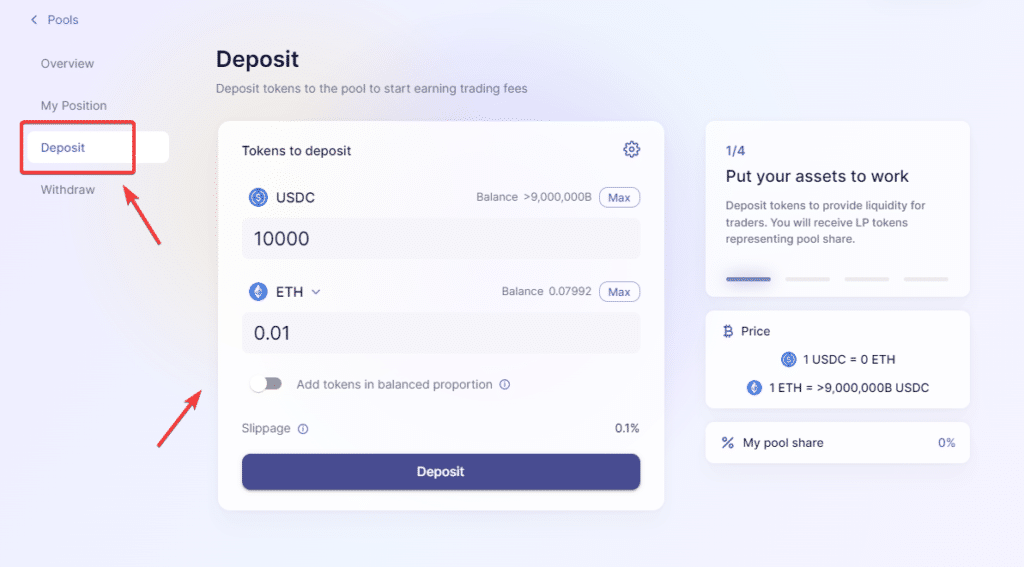 If you want to withdraw some of your deposited tokens, just click on "Withdraw" then fill in an amount.
All you have to do is click once on "Unlock LP token", sign the transaction on your wallet, then click on "Withdraw Liquidity".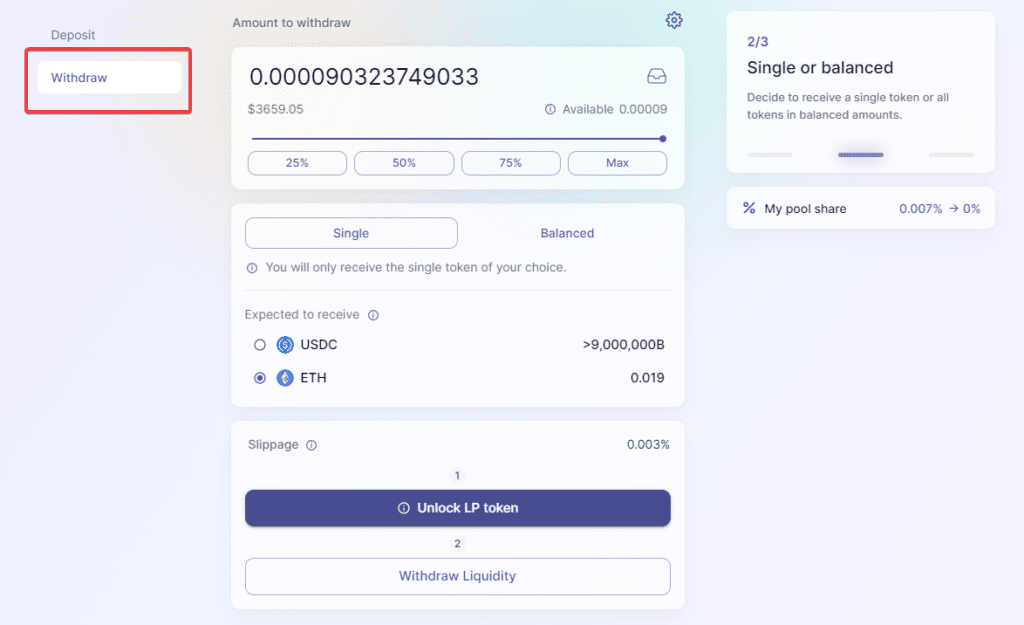 3 – Use the SyncSwap Pool Wizard
You are now going to create a liquidity pool. To achieve this, click on "Pool Wizard" or directly on this link: https://syncswap.xyz/pool/wizard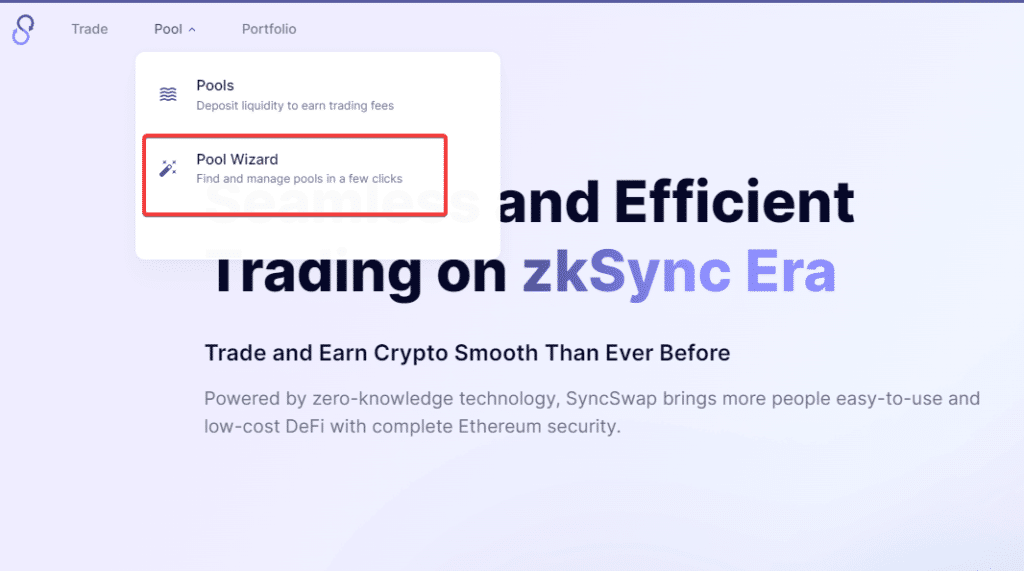 Then choose the tokens that will make up your pool, then click on "Enter Pool".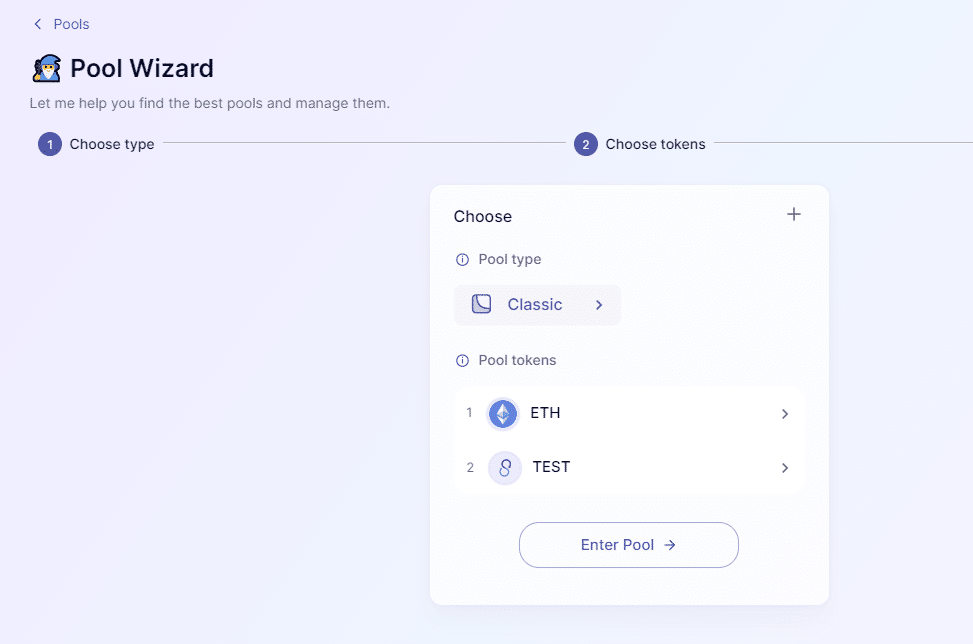 Now click on the "deposit", then fill in the amounts corresponding to each cryptocurrency.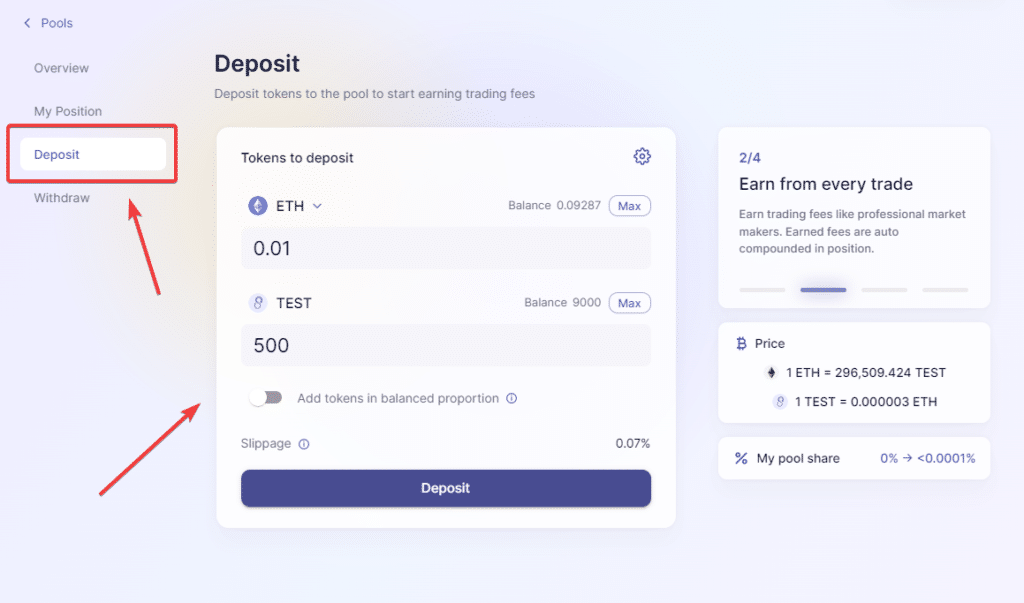 As soon as your transaction is completed, you will be able to find your position in the "Pools". The process for withdrawing part of your funds is exactly the same as for classic pools.
Important details:
To be informed of the latest news regarding the SyncSwap platform, be sure to follow their twitter account as well as join their Discord server.
Other features should be released in the coming weeks. Therefore, do not hesitate to keep an eye on the project.
Finally, the better your trading volume on the platform, the more likely you will be to obtain tokens in the event of an airdrop. If you believe in this project, try to redo the different processes mentioned in this article several times a week.
The article Airdop SyncSwap – How to qualify? appeared first on Corner Academy