Layer 1 Sei Network could be the next airdrop not to be missed.
Actually Sei Labsthe company behind Sei Networkconfirmed the arrival of a future native token. Only the testnet is available for the moment, but some features are already testable.
We will therefore see in this guide the different steps to follow to be eligible for I'airdrop native SEI token.
Some Key Points about Airdrop Sei Network
Project: Sei Network
Cost: Free (testnet)
Token: SEI
Airdrop: Confirmed
Difficulty: Intermediate
What is Sei Network?
Sei is a layer 1 who claims to be able to improve DeFi to a level that would have the potential to compete with the biggest centralized exchanges, thanks in part to its bandwidth. This layer 1 announces to offer transactions carried out in 500 milliseconds and more than 20,000 operations per second.
Sei Labs, the company behind this blockchainhas been able to attract large investors such as Coinbase, Multicoin Captial, Bitget or Foreisght Vetnures to reach a valuation of more than 800 million dollars.
The arrival of a native token has been confirmed by the team and the airdrop is already confirmed even if the tokenomics is not yet known. The goal will therefore be to test everything that is available on the testnet to qualify for this airdrop even if we don't know the exact conditions.
To learn more about layer 1 Sei, we invite you to read our full article about it.
How to be eligible for Sei Network Airdrop?
First of all, you will need to download a digital wallet (wallet) supporting Sei network. So you have the choice betweenLeap Wallet" And "Keplr Wallet".
Although Keplr is slightly better known than Leap, the latter is essential for one of the stages.
Once your wallet is set up, you will need to obtain $SEI tokens on the testnet in order to pay the costs of gas.
To do this, go to this site: https://app.seinetwork.io/faucet
Connect your wallet, click on "Autofill" then click on "$SEI request" or fill in your address in the box "Enter an address…"
If the faucet is unavailable it is also possible to request tokens on the discord server in the "#Atlantic 2 faucet" channel (https://discord.gg/sei), with the !faucet command [Votre adresse Sei].

Once your tokens have been received, go to Blocked to complete quests: https://edge.blocked.cc/products/1
Click on the first quest and follow the steps below:

1 – Sei Testnet Mission 1
(Think of validate quests on Blocked as you progress through the stages)
2- Sei Testnet Mission 2
For this mission you will need 50 $USDC to do this, a faucet is available here: https://usdcfaucet.sparrowswapxyz.com/
Click on "Connect to Leap", validate the captcha then click on "Request"

These claimed $USDC will be used to test the sale of a token on the launchpad Eclipse Padso go to the site to buy $MANJI tokens with your $USDC: https://sei.eclipsepad.com/project/jumanji/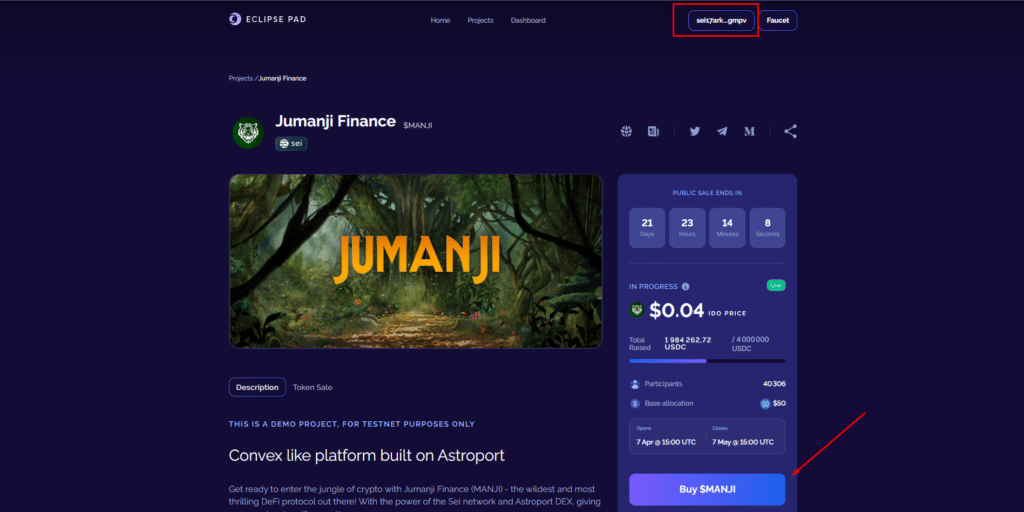 So enter 50 $USDC in order to get 1250 $MANJI, click on "Buy $MANJI" Then "Approve" on your wallet to validate the transaction.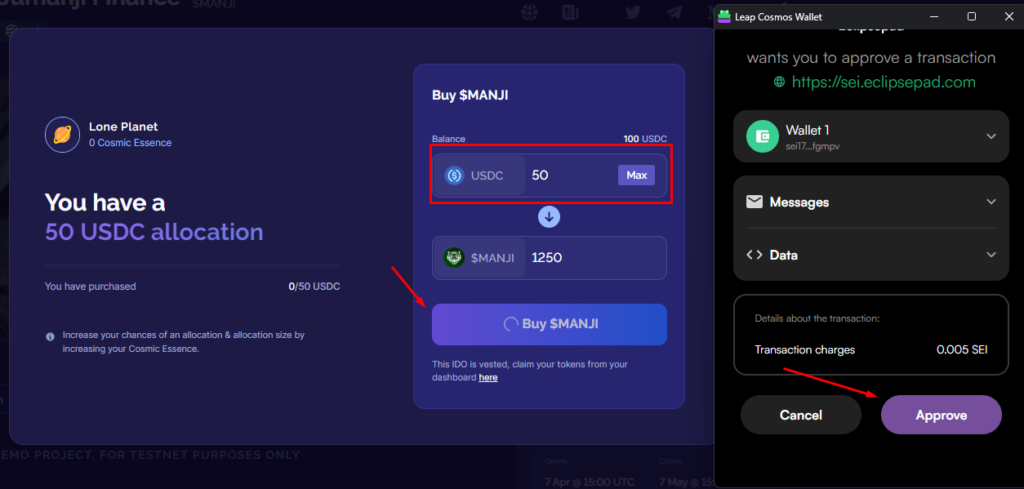 You will now be able to see your tokens in the dashboard available here: https://sei.eclipsepad.com/dashboard/portfolio/

For the last steps you need to follow Eclipse on Twitter : https://twitter.com/EclipsePadthen fill in your @Twitter again in step 7.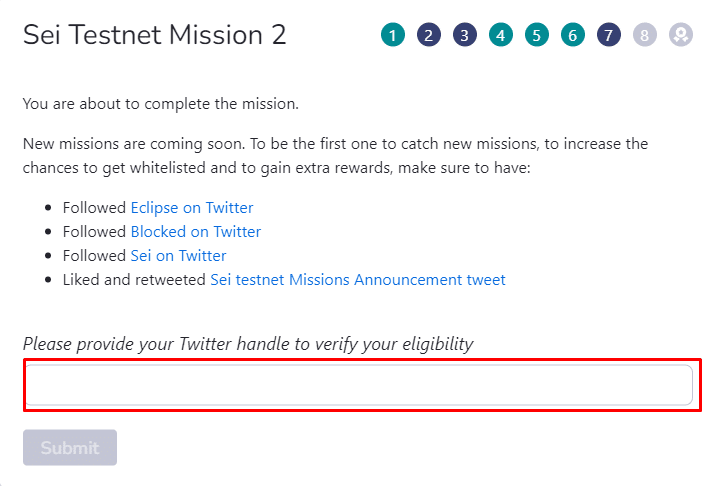 All you have to do is join the discord: https://discord.com/invite/jhgRh67mUc to receive your reward.
3 – Sei Testnet Mission 3
For the 3rd mission, go to the Sparrow Swap site: https://testnet.sparrowswap.xyz/ then connect your wallet.
You will need to have 1 $RUM in your wallet for step 5. To do this, select the $SEI token and the $RUM token, enter an amount of $SEI sufficient to obtain a little more than 1 $RUM, click on "Swap" then validate the transaction on your wallet.

You will be asked to stake more than 0.1 $SEI. So go to the "Stakes" then, in the SEI Pool, click on "Stakes", enter an amount greater than 0.1, click again on "Stakes" and finalize the transaction.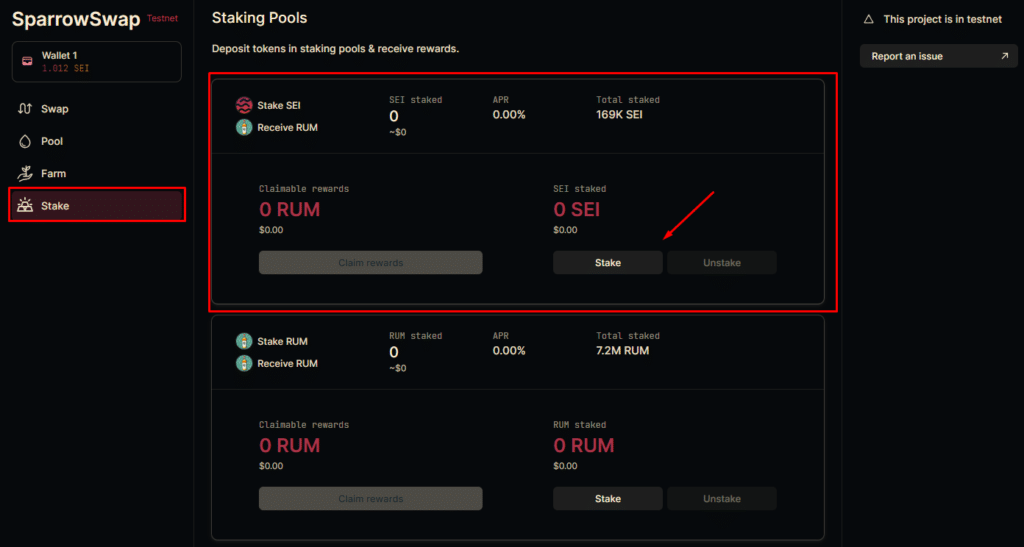 All you have to do is follow the Twitter account of Sparrow Swap : https://twitter.com/sparrowswapxyz before re-entering your @Twitter to verify your eligibility.
4 – Sei Testnet Mission 4
For this 4th and last mission, the first task is again on Sparrow Swap. This time it will be necessary to provide liquidity in the pools SEI-RUM And SEI-USDC.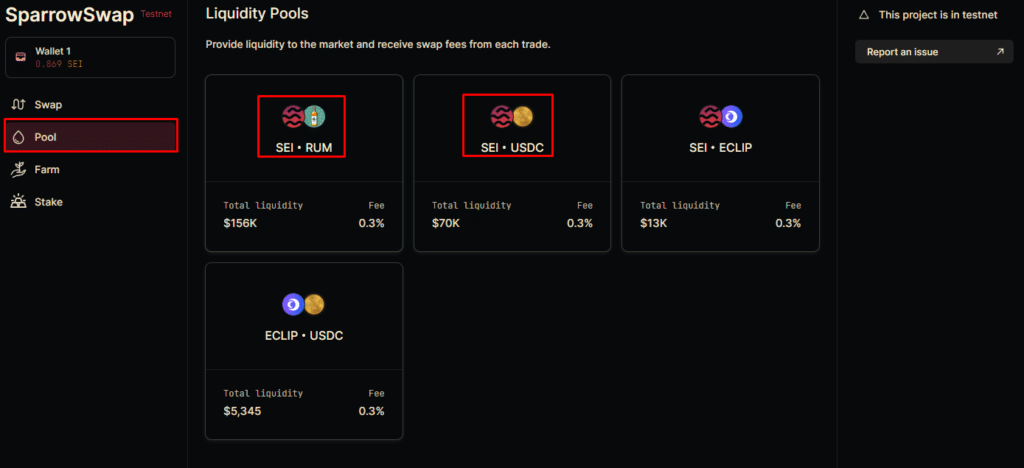 To get started, go to the "Pool" then select the Pool SEI-RUMclick on "Add Liquidity", enter a small amount of $RUMthe amount of $SEI will fill automatically to balance the LP-tokenthen click "Add Liquidity" again and confirm the transaction.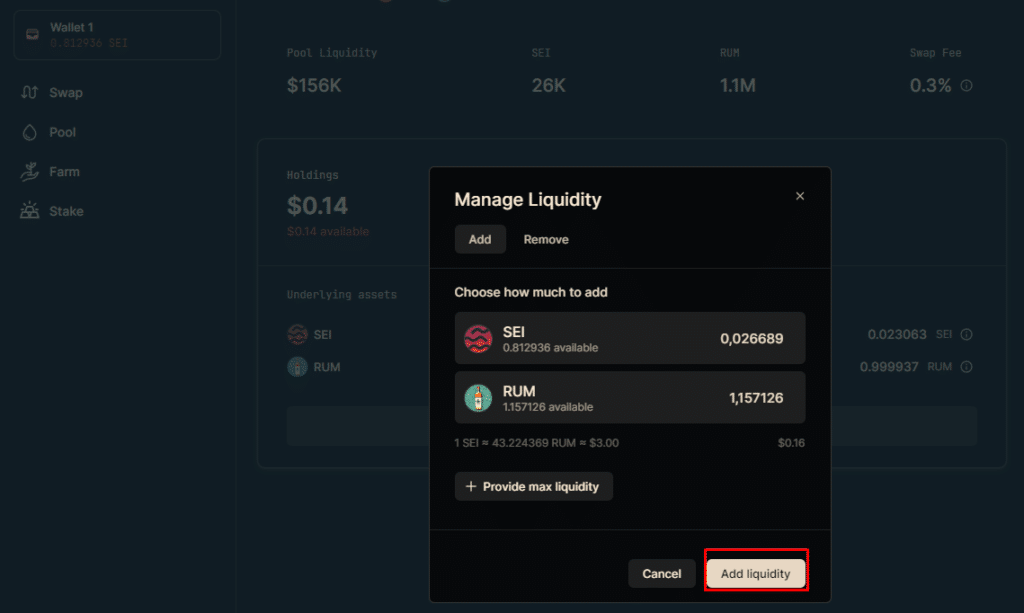 Then repeat the same operation on the Pool SEI-USDC. once your LP tokens created it will now be necessary to stake them in the "farm". Click on "Stakes", "Provide maximum amount", "Stakes" again and then validate the transaction. This operation must be repeated on both LPs (SEIRUM LP And SEIUSDC LP)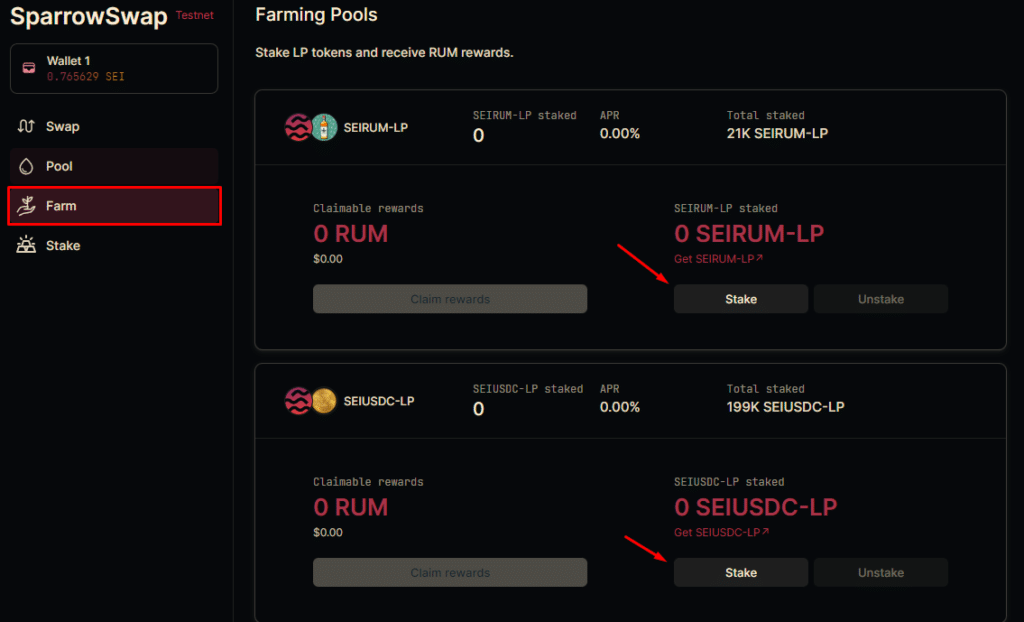 Once all these steps have been completed, the 4 missions are complete.
5 – Delegate SEIs
It is possible to delegate your $SEI here: https://app.seinetwork.io/stake/
To delegate $SEI connect your wallet, choose the validator of your choice, click on stake, enter the amount of $SEI you wish to delegate then click on "Delegate" and validate the transaction on your wallet.

Important details:
For now little dApp are present on SEIso remember to follow the ecosystem closely to be kept informed of potential updates or application releases on this layer 1. Other missions could appear on Blocked in the future, so remember to check if more missions are coming over time. Sei Labs has not yet specified the conditions for this airdrop, it is advisable to follow the project Twitter account to be kept informed of new developments.
The article Airdrop Sei Network – How to be eligible? appeared first on Corner Academy