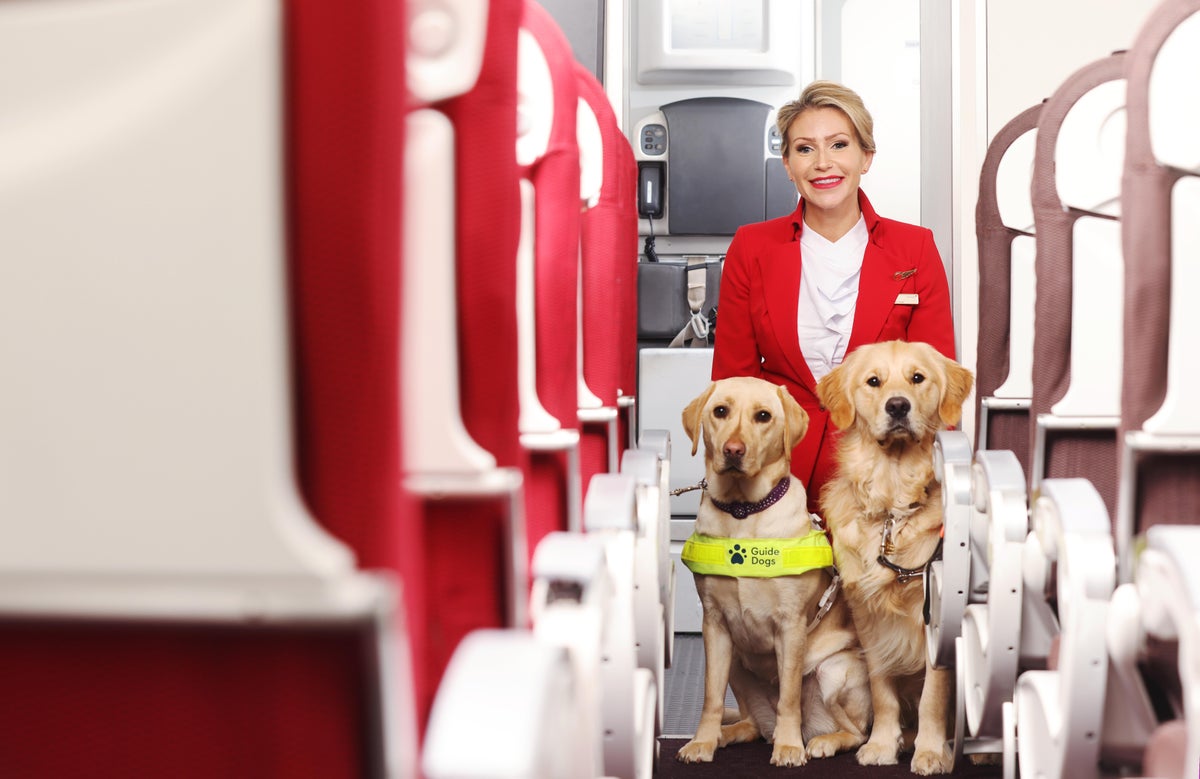 Virgin Atlantic has partnered with the charity to provide each cabin crew member with online resources incorporated into their wider training programme, to improve accessibility and create a more inclusive travel experience.
It comes after a poll of 250 visually impaired adults found 59 per cent would like to travel abroad more.
And 84 per cent would feel more comfortable with air travel if cabin crew were better educated about visual impairment.
More than half (56 per cent) have felt uncomfortable traveling by plane at some point in the past.
Reasons included feeling nervous checking in at the airport (38 per cent), reading the food menu (34 per cent) and putting away their luggage (32 per cent).
To improve the travel experience, 65 per cent would like to see airlines undertake training to understand how they can better support passengers who are visually impaired.
And 59 per cent said it would be great to see airlines consult those with sight loss to improve their policies.
Corneel Koster, chief customer and operations officer at Virgin Atlantic, said: "We believe that everyone can take on the world and that means ensuring every one of our customers has the best possible experience when they fly with us.
"Our partnership with Guide Dogs is one part of this journey and aims to broaden our understanding of those traveling with sight loss, ensuring that we make flying more accessible for everyone.
"We recognize there's work to do but are looking forward to making a real impact together as our partnership evolves."
The charity's training aims to support customers by teaching crew best practices when helping those with visual impairments.
It covers topics from how to approach someone with sight loss, to navigating narrow or busy spaces, stairs, steps, and doorways, to taking a seat.
The best positions for guide dogs to rest on the aircraft during these long journeys will also be another focus.
The airline's staff will also have opportunities to participate in more in-depth practical training where they will learn to safely guide someone with sight loss with confidence, skill and empathy.
John Welsman, customer experience lead at Guide Dogs, said: "We're delighted to be working with Virgin Atlantic and hope our long-term partnership will put in place improvements that will tangibly impact the lives of those with sight loss for the better.
"By providing advice to cabin crew and having them undertake sighted guide training, we hope blind and partially sighted passengers will have the confidence to travel as fully and independently as possible."