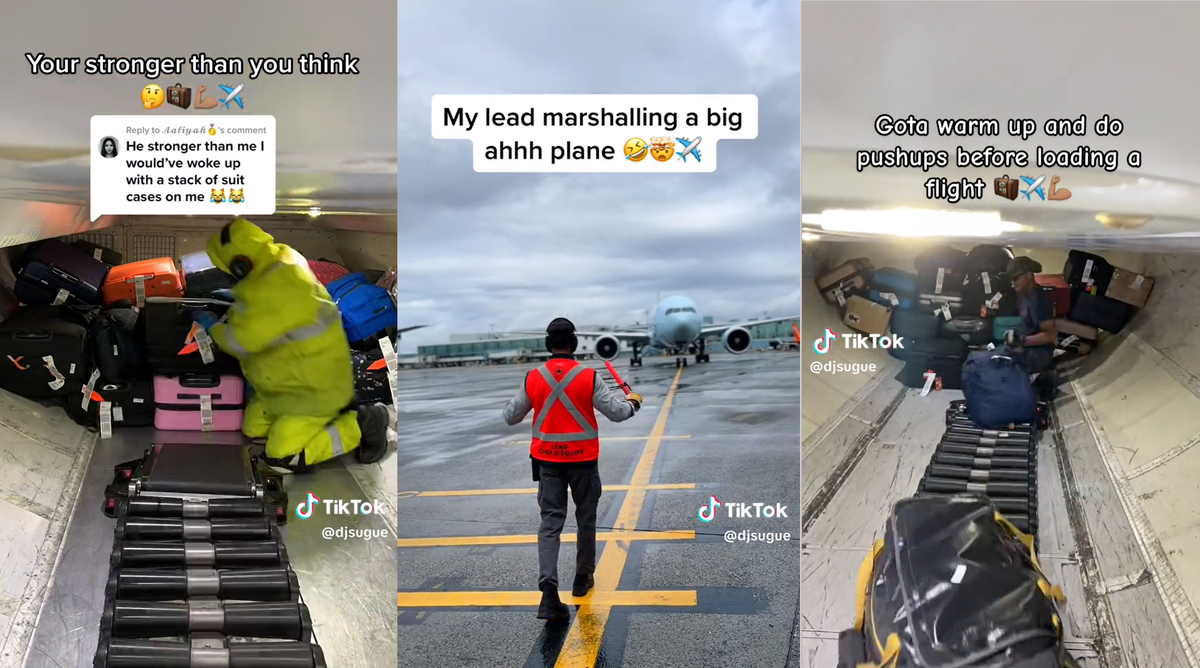 A baggage handler has become an unlikely hit on social media by showing off his impressive skills working in the cargo holds of aircraft.
canadian TikToker DJ Sugue, who is based at Vancouver International Airport, has garnered a surprise fanbase as he follows the journey taken by passengers' bags from check-in desk to cargo bins, with users described them as "strangely satisfying".
His "real-life Tetris" stacking skills are among the reasons he's reached more than 620,000 followers, while he can also be seen doing press-ups and crunches in the cramped space below deck on a Boeing 737.
His insights include how long it takes to load the aircraft. According to DJ Sugue, loading a full passenger plane can take between 20 to 30 minutes, with each piece of baggage arriving on a carousel known as a "luggage snake".
"We can speed it up too or slow it down," he says, depending on the difficulty of the consignment.
The speed of a job largely depends on the shape and type of cargo, with heavy two-wheeled duffel bags being the "worst", he says, adding that life would be easier if everyone traveled with hard-top, rolling suitcases.
One user on TikTok said that the job "seems so tiring but fun at the same time", to which DJ Sugue replied that it was "a great workout". A number of users asked how they could get this job.
Another said that their claustrophobia would never allow them to work in such a confined space, though the airport worker reassured them that "you get used to it".
DJ Sugue also drives "push tractors", pushing jet planes out for takeoff and marshalling arrivals into the bays.
"If you were wondering how an airplane reverses from the gate," he titled one video showing Air Canada's Auckland service being piloted on to the runway by his tractor.