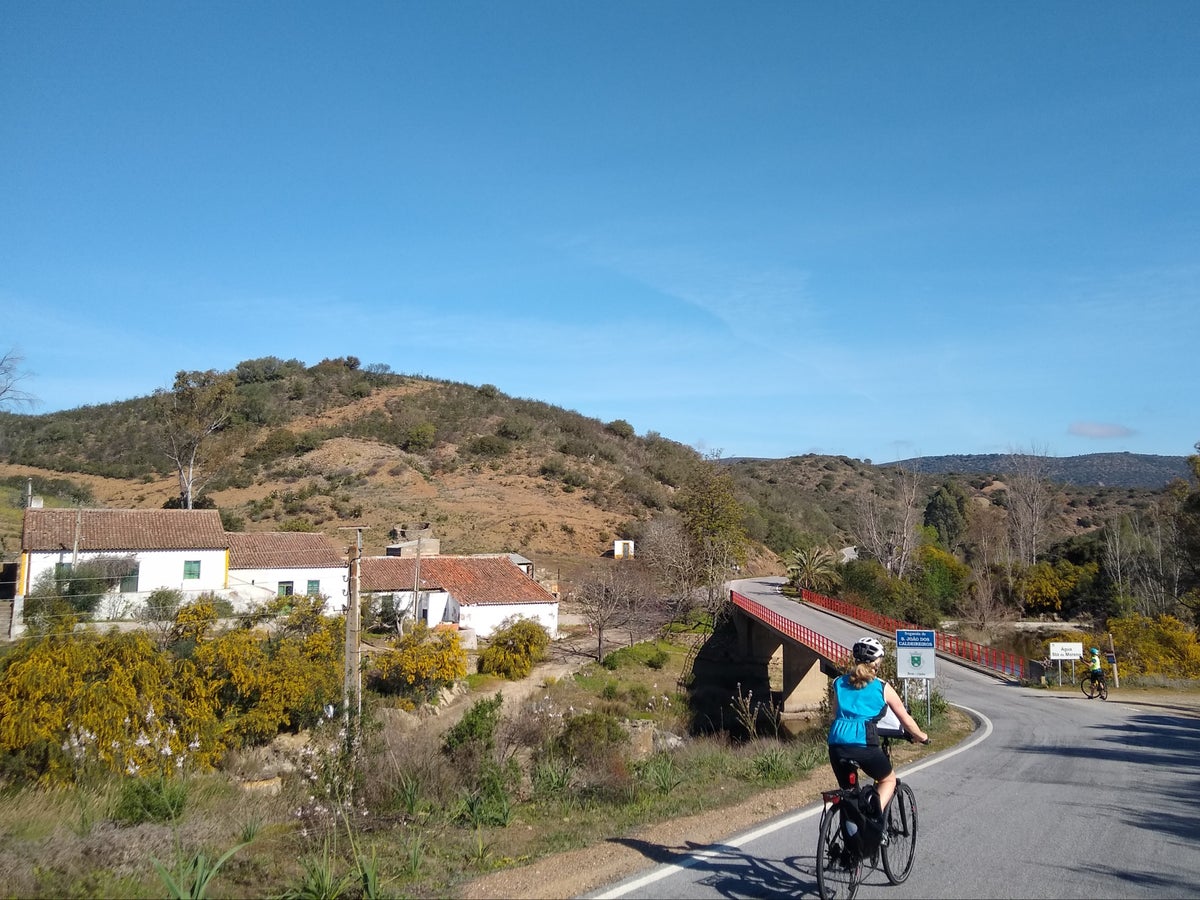 THey Alentejo is one of the best areas in Portugal for exploring by bike and it's easily accessible from both Lisbon and the Algarve. The terrain is generally rolling, with a few steep hills, but nothing like as challenging as many other parts of this small but rugged country.
Predominantly rural, the Alentejo has few large towns and plenty of quiet roads. It also boasts a wealth of ruined castles, hilltop villages and other historic sites to explore. (Oh, and some of the best red wine in the country…)
This ride takes you through landscapes dotted with vines, olive orchards and cork oaks. Bird lovers can look out for storks, hoopoes and bee-eaters. Detours along the way provide opportunities to visit everything from some of the biggest Neolithic sites on the Iberian Peninsula to the home of Shariz gin. Here's everything you need to know to tackle this picturesque cycle route.
The road
Évora's easy access from Lisbon, World Heritage-status architecture and wide selection of accommodation options and restaurants make it a sensible start and finish point. The only downside for cyclists is all the cobbled streets.
Leaving town, the Alentejo Circuit takes you on a clockwise loop to the south of Évora and can be broken down into six main stages.
The first overnight stop is the picture-postcard hilltop village of Monsaraz (39 miles). There's a nasty climb up to the village at the end of the day, but the effort is rewarded with some knock-out views.
Read more on portugal travel:
There isn't really a lot to Monsaraz. It's basically two parallel streets with a clock tower at one end and a castle at the other. But it's one of the prettiest villages in the region and, in the evening and early morning, without any coach trippers, it's a magical place.
The next day it's 31 miles to Moura, skirting around the eastern side of the Alqueva reservoir, which is one of the largest artificial lakes in western Europe.
You could break the journey in Moura; otherwise it's another 20 miles to Serpa. Both towns have ruined castles and attractive historic centres. The shady lanes of the historic Jewish quarter in Moura are often lined with flowers, while the olive trees near Serpa's aqueduct look like they're as old as the town's walls.
For stage three, it's a 36-mile ride through a fairly remote area of ​​Portugal, cutting through part of the Guadiana valley natural park and taking you close to the Spanish border before ending at the ancient Phoenician port of Mértola. Set on a crag above the Guadiana, this history-packed town that also offers Roman mosaics, Arabic heritage and another castle to explore.
Next there are a couple of options: a 30-mile ride to Castro Verde or a tougher but wilder 34-mile route to Almodôvar – home to several impressive statues by sculptor Aureliano Aguiar. The miner and cobbler statues pay tribute to the town's heritage, while the firefighters look more like something out of madmax.
A short side trip from Castro Verde takes you to Vale Gonçalinho, a 79,000-hectare bird reserve that's an important habitat for endangered steppe species like the great bustard, as well as various raptors and smaller species like buntings, shrikes and warblers.
Stage five takes you on to Beja, principal town of the southern Alentejo. It's about 38 miles or 52 depending where you spent the previous night. The outskirts of Beja aren't inspiring but the old center has buildings that could rival Évora's if restored, while the tower inside the 13th-century castle provides a memorable climb.
The last section of the tour is either a tough 62 miles back to Évora, or you could break the journey in the small town of Alvito, where the old castle has been converted into a pousada, or upmarket hotel. Along the way, the route takes you via the small town of Cuba, which the Portuguese claim is the real home of the man we know as Christopher Columbus.
Practicalities
The towns highlighted as overnight stops have a range of accommodation and eating options. With the exception of Monsaraz and Alvito, each stop also has supermarkets and shops for supplies.
Each day's ride will take you via a few small villages, where you can generally find a cafe for a coffee or basic snack.
Portuguese drivers are generally considerate, though they don't believe in using their indicators! On busier N roads, watch out for truck and van drivers, who can drive too close and overtake cyclists regardless of whether anything's coming the other way.
When to go
I'd advise late March to early May for pleasant temperatures and carpets of wildflowers. Alternatively, consider late September and October once the summer heat has died down.
Avoid mid-June to mid-September when afternoon temperatures are often well above 35C (95F).
Getting there
It's a simple 90-minute trip by train (or bus) from Lisbon to Évora. The journey from Faro in the Algarve is a bit more complicated, with fewer services, and can take more than four hours.
For anyone hiring bikes, there are a few options in Évora. Galácio Bike gets plenty of recommendations.
If bringing your own bicycle, they travel for free on trains, but it's essential to book as bike spaces are very limited. Buses only take bikes if boxed.
More information
Tea Pedal Portugal website has extensive free advice on cycling in Portugal, plus more details and map links for this trip.
Tea Alentejo Tour by Huw Thomas, containing detailed notes and maps for this trip, is also available in print or as an e-book.
Sites like Crazy Guy On A Bike are good for reading other riders' accounts of their travels, both in Portugal and around the world.
Read our hotel reviews in Portugal