According Eleanor Whitethe founder of CryptoCanal and the hackathon #ETHDam, Alexey Pertsevthe developer of the Tornado Cash protocol, will be able to await trial at home under electronic surveillance from April 26.
For once, the judge heard him and from next week, he will be able to move freely, although under strict electronic surveillance, in the Netherlands until his trial.

Eleanor White
Tornado cash in trouble since the arrest of Alex Pertsev
Tornado Cash has been facing many issues for several months. US authorities are targeting the protocol for its role in the whitening money for the North Korean hacker group Lazarus. The United States Office of Foreign Assets Control (OFAC) has even added the Tornado Cash protocol to its blacklist.
Alexey Pertsev was arrested on August 10, 2022 by the Dutch Tax Information and Investigation Service, the body responsible for investigating financial crimes in the Netherlands. 9 months after his arrest, he will finally be able to communicate freely with the outside world.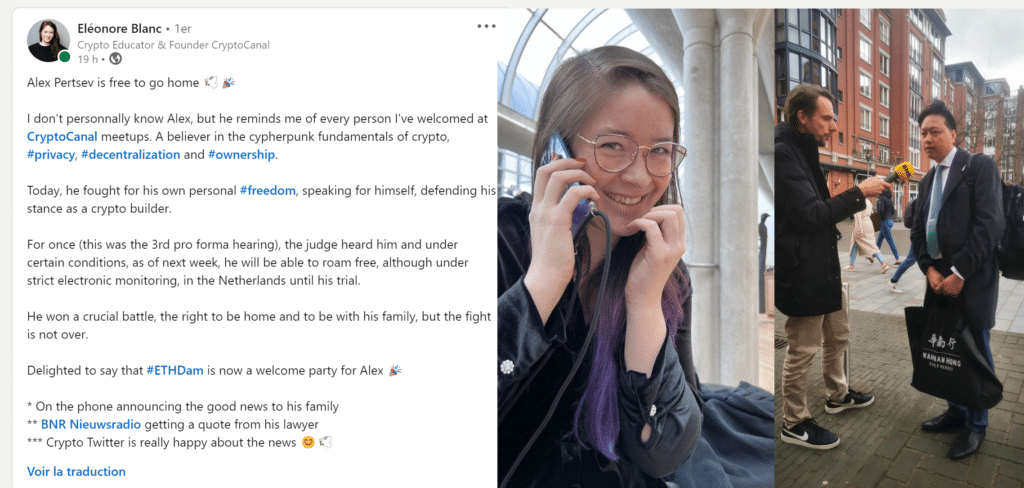 What exactly is Alex Pertsev accused of?
He is accused of having facilitated money laundering using the blender crypto-Tornado Cash coins, a protocol to anonymize transactions and hide the destination of funds.
Pertsev was detained due to risk of absconding and tampering with evidenceaccording to the Dutch public prosecutor's office, although evidence was not provided to support these allegations.
Why do cryptocurrency mixers bother regulators?
Tornado Cash is not the only cryptocurrency mixing service, far from it. Crypto currencies DASH Or Monero also offer this possibility and services like Coinjoin offers it on Bitcoin as well.
THE cryptocurrency mixers, also known as tumblers or blenders, are services that mix transactions from multiple users to blur the traceability of funds. They are often frowned upon by regulators for several reasons:
money laundering : Cryptocurrency mixers can facilitate money laundering by making it difficult to track the origin and destination of funds. This allows criminals to conceal illegal transactions and integrate funds into the legal economy.
Financing of terrorism : Mixers can be used to finance terrorist activities by allowing organizations to send and receive funds anonymously.
Tax evasion : Users of cryptocurrency mixers can hide their earnings and avoid paying taxes on profits made from cryptocurrency transactions.
online crime : Mixers can facilitate the financing of illegal activities online, such as drug trafficking, cybercrime, the black market and the sale of weapons.
For these reasons, many regulators and financial watchdogs seek to regulate or to forbid the use of cryptocurrency mixers to prevent illicit activities and protect consumers.
The article Alex Pertsev, the developer of Tornado Cash finally free on April 26? appeared first on Corner Academy