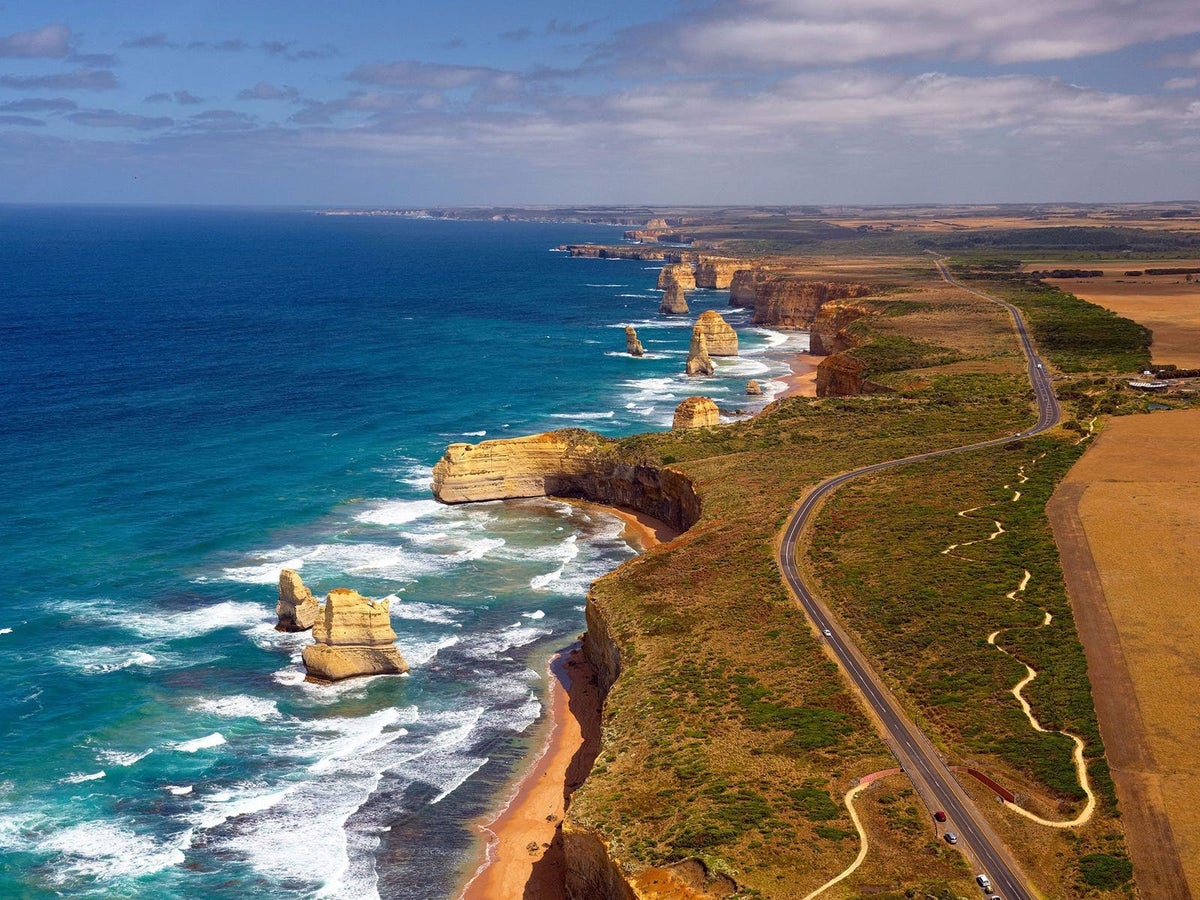 Victoria might be Australia's second smallest state, but it packs a mighty punch – and a road trip is a prime way to get to know its best parts a little better. On the Great Southern Touring Route, unforgettable landscapes unfold day after day, with this mighty loop showcasing the diversity and the drama that Victoria has to offer.
Start with a stunning citybreak
Start this epic adventure in the great city of Melbourne. This cultural, creative and coffee capital of Australia is a city that's easy to immerse yourself in and hard to leave. With a captivating culinary scene, an infectious sporting vibe, cultural diversity and history dating back to ancient times and a beach scene that complements its urban centre, it's a joy to lose yourself in the vibrancy of the state capital.
Make time for sky high restaurants such as Eureka 89 or Fable or go for fish and chips on the beach at St Kilda or Brighton Beach. Check out the world-class museums – the Bunjilaka Aboriginal Cultural Center at the Melbourne Museum is a highlight – or indulge in locally grown street food delights at markets such as the Queen Victoria, watch live music at The Curtin or Northcote Studio. If you're into sports, take a tour of the famous Melbourne Cricket Ground, the Formula 1 track or check out a game of AFL (Australian Football League).
Enjoy cultural and culinary treats
When you're ready to tear yourself away, hit the road west, stopping to admire the vibrant street art scene along Minns Lane, James Street and Dennys Place in the state's second largest city Geelong – before indulging in a wood-fired pizza lunch and hop-driven ale at Little Creatures Brewery. Further south, the Narana Aboriginal Cultural Center denotes the powerful local history between Aboriginal and non-Aboriginal people through storytelling, art and education programs.
From here, head east through the pretty Bellarine Peninsula to Queenscliff where you can drive or cycle the 25 km-long historic Rail Trail. Passing family-run vineyards, organic farms and homegrown produce stores selling local delights from beer and cider to olives and fresh seafood, this is the part of the voyage dedicated to rural beauty and it comes by the bucketload.
Back on the Surf Coast Highway, a road name as evocative as the views it offers, wild seascapes plummet you into nature. Whether you want to check out the Australian National Surfing Museum or immerse yourself in the rolling waves at Bells Beach, there are many ways to soak up the laid back surf life here. It's an unmissable pillar of contemporary Australian culture.
Discover wildlife and wilderness
The Great Ocean Road is your avenue to spot wild koalas at Kennett River, but the big draw is the southern right whales that arrive here between June and October. Blue whales can be sighted from November to May, while the geological wonder that is the iconic Twelve Apostles, scattered across these fabled waters, can be visited all year around.
At Port Fairy, head inland towards the Grampians National Park – where a wilderness of sandstone mountains, tumbling waterfalls with natural swimming pools and aboriginal rock art awaits. Bush trails traverse the park, but the Pinnacle route prevails in popularity as it offers jaw-dropping views into the valley below. For a more sedate exploration, settle into the Brambuk Cultural Center in Halls Gap for a didgeridoo workshop and other fascinating Indigenous cultural offerings.
Immerse yourself in wine country
Gastronomy takes center stage in the next section as the wilderness makes way for wine country. This is some of Australia's finest fertile land creating delectable grapes and bottles. From the Blue Pyrenees Estate to the Seppelt Great Western with its famous underground cellars, there are an array of award-winning cool-climate wines, from Cabernet Sauvignons and Shiraz to sample along the way.
Heritage is the main theme of the final section as the route leads you into gold rush country at Ballarat. This is the state's largest inland city, and you can hear its remarkable story come to life at the 1850s gold mining settlement at Sovereign Hill or during the immersive experience at AURA sound and light show. Across the city great architecture showcases the destination's historic gilded legacy which sits alongside today's contemporary culinary and cultural offerings. Spend time exploring the city for another view of urban life in this great state.
Relax with some well-earned wellness
Hit the road for the final stretch as lakeside wellness awaits in blissful Daylesford. Sink into the natural springs at Hepburn Springs or book in for a serene massage at the Peppers Mineral Springs spa. The lake itself is a prime destination for hiking and canoeing while in town, antique shops, bookstores and cafes charm its visitors time after time.
From here, you can slowly make your way back to Melbourne, now a welcoming end destination. With an itinerary as varied as the country you're exploring; no two days will be the same on the Great Southern Touring Route.
No matter where your interests may lie, you can book with confidence with Travelbag, who tailor travel itineraries to your specifications. Travelbag is a proud member of the ABTA family. All bookings are ATOL protected. Find out more at Travelbag.co.uk.