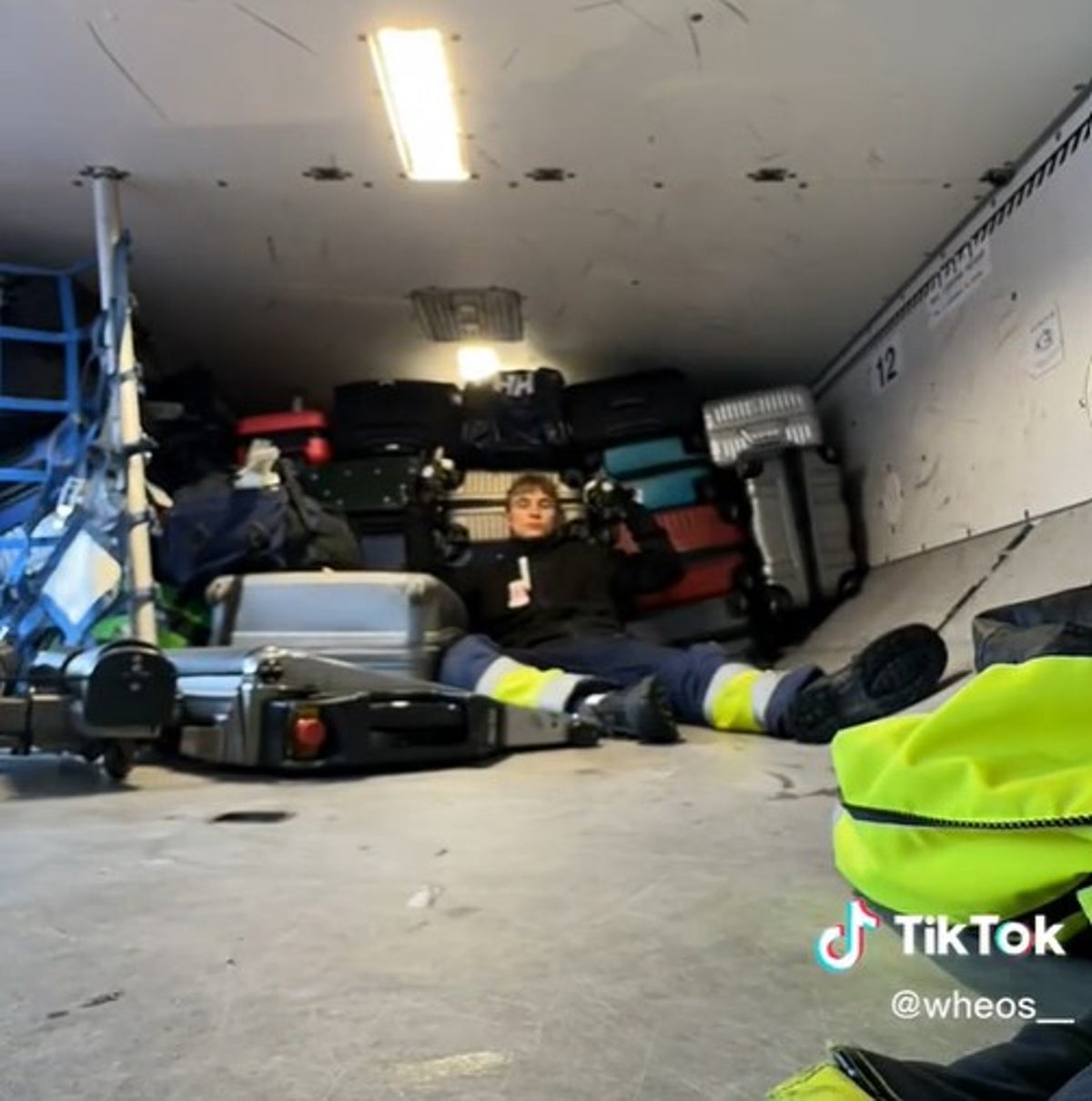 HAS luggage handler has gone viral for a "satisfying" time-lapse video of the cargo loading process, showing how more than 100 bags get packed into the belly of a plane.
Chris Simonsson, who posts as @Wheos_ on the video-sharing platform, filmed the loading of suitcases into the hold of a passenger jet, in a sped-up video that has attracted 13.8 million views at the time of writing.
"Casually stocking 104 bags", Mr Simonsson captioned the video, which shows him doing push-ups before carefully cramming the dozens of cases into a tight, half-cylinder space in the bottom of the aircraft.
In an earlier video, he garnered 7.7 million views for showing "How 110 bags look inside the belly of a plane", another time-lapse creation showing bags flowing down a conveyor belt to reach him inside the aircraft cavity, before he packs them in in neat batteries.
While many viewers were fascinated but horrified, commenting that their claustrophobia would prevent them from ever doing his job, others thought it looked like fun.
"Satisfying," wrote one commenter who enjoyed the clip.
"My guy's just playing horizontal Tetris," joked a user named Kit Kat, while another said "Paid to play tetris," alluding to the same 1980s cube-stacking video game. "Precisely," responded the baggage handler.
One follower asked: "What's the most amount of bags you've packed?" to which Mr Simonsson replied: "About 200".
Others were simply surprised by the efficiency of the process, with one saying: "For some reason, I always imagined my bags having more room than I did on a plane."
"I have always wondered! Thank you!" wrote a user named Ashley.
"I didn't need to know this but also this [is] unbelievably more spacious than I could have imagined," commented another TikTok follower.
Though larger or widebody aircraft tend to pre-pack luggage into larger containers, then load those on to the plane, it is still typical for smaller or narrowbody aircraft to be manually loaded by handlers.
This isn't the first TikTok video from an airport insider to attract millions of views.
In March 2022, a former flight attendant on TikTok racked up 2.4 million views by sharing her number one tip for finding cheap flight fares online.