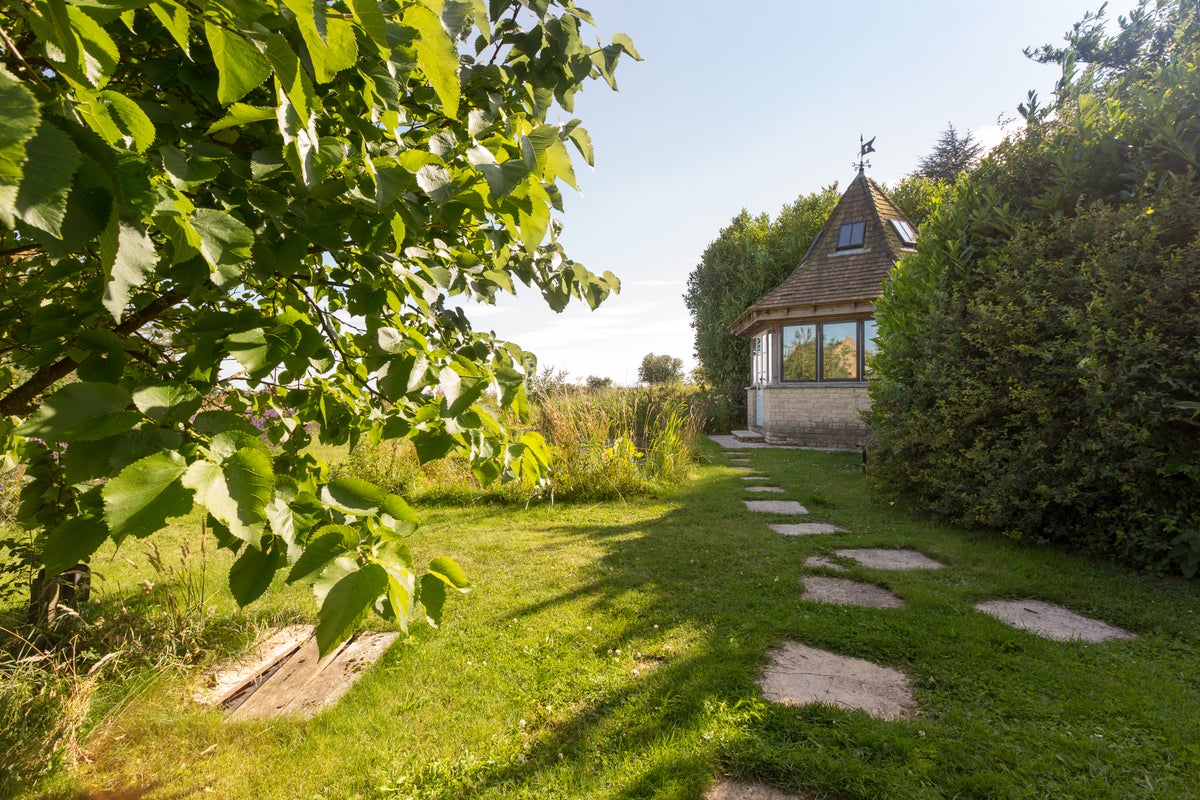 Home to medieval thatched villages, converted church lofts and sleepy hamlets, a getaway to the most picture-perfect corner of the UK doesn't mean paying over the odds: delightful places to stay in the Cotswolds that won't bust your budget are all the rage for 2023.
Food lovers, think home comforts in kitted-out kitchens and a trip into the nearby Michelin-rated restaurants of Cheltenham (especially, given the unrealiable UK weather, if it's too overcast to fire up the barbecue). For families, activities in the Cotswold Water Park are ideal for tiring out the kids, but don't leave furry friends at home – dog-friendly Airbnb hosts are plenty in cottages dotted along the scenic valleys from Chipping Norton to Bourton-on-the -Water.
With stays ranging from rural retreats to luxury lakeside homes, here are The Independent's favourites, including a tiny hut, hideaway bunker and an abundance of cozy cottages to inspire your next Cotswolds staycation.
Read more on UK travel:
Tamarisk Lakeside House, Somerford Keynes
Best for: Luxury
Set within the 550 acres of Lower Mill Estate nature reserve, this luxurious lakeside house is the perfect home from home. The waterfront property sleeps 10 across its five bedrooms, creating the ideal base for precious family time with every generation.
Tamarisk boasts a cinema room, a six-person hot tub and sunset-view terraces that are bound to be the highlight of the spacious setting – you may even spot the lake's resident heron. And it's the location that sells it: direct access to the lake for kayaking, swimming and paddleboarding and a short stroll from tennis courts, a five-a-side football pitch and a spa (a well-earned break from the miles of country walks ).
From £475 a night, three-night minimum
Summerhill Farm, Naunton
Best for: Privacy
Superhost Dolly has created a quirky garden refuge in a tiny home on Summerhill Farm in Naunton. It's full of natural lighting, with windows bringing the outside into the private living space. There's one double bed, plus a tiny mezzanine just a short ascent up a wooden ladder. There's even an overhead skylight in the bathroom for a shower under the lush Cotswolds foliage. The ultimate under-the-radar spot, the cabin has no cooking facilities but offers a chauffeur service to dinners in the quaint village of Guiting Power, the perfect whimsical way to experience the Cotswolds.
From £100 a night for three guests
Quiet Hamlet Annex, Stonehouse
Best for: Tight budgets
You're attached to a 16th-century family home here, among walled gardens and old barns. The single-storey annex built in the 1950s has a traditional English charm with furniture dating back to the early 20th century. Two bedrooms, one south-facing, enjoy garden views, and a small kitchen is stocked with pastries and preserves – that is the Cotswolds way, after all.
Walking trails, the Stroudwater Canal and local pubs are easily within reach, but local transport is limited. Still, with prices from £50 a night for a holiday to the quiet hamlet, it's hard to complain.
From £30pp for a one-night stay (based on five stays)
Hoarstone Cottage, Chipping Norton
Best for: Families
Hoarstone Cottage offers a wealth of activities for children to get stuck across its gardens, tennis court and shared swimming pool. The perfect location for outdoor enthusiasts, bridleways, cycle paths and classic hikes in the Cotswolds countryside are right on your doorstep. After all the fun, soak in the views of the Glyme Valley and unwind by the barbeque. Fancy a break from cooking? Make the short trip to town for a taste of the culinary hotspots in Chipping Norton.
From £120 a night, three-night minimum
Milestones Cottage, Long Compton
Best: Pet-friendly Airbnb
The most important member of the family will be welcomed with open arms to this 17th-century holiday cottage in Long Compton, an incredible spot for long walks and hearty games of fetch. Self-catering naturally means there's no excuse not to spare a sausage from the barbeque for a hopeful four-legged friend. There's a cozy log burner, Cotswold stone walls, beamed bedrooms and an enclosed garden that exude charm. Long Compton lies within a designated Dark Sky Area, so city folk should keep an eye out for spectacular starry skies from the patio.
From £165 a night for a minimum four-night stay; dogs for an extra £20 per week
Painswick Hideaway, Painswick
Best: Unique Airbnb
This super modern bunker-style hideaway is hidden away on the edge of Painswick village, often described as the Queen of the Cotswolds. The unique retreat for two is anything but dark and gloomy, with natural light flooding in through the large glass windows and skylights, while a swing seat on the private patio is an idyllic hang to take in the willows. It's beautifully decorated, with copper accents on pipes and switches, neutral tones and a quirky egg loo decking out the interior without distracting from the stunning architecture.
From £150 a night, two-night minimum
Lavender Cottage, Chedworth
Best for: Walkers
Country-chic takes form in Lavender Cottage: old stone walls, farmhouse tables and floral accents throughout create the ideal base for an escape to the Cotswolds. Avid walkers can explore on foot the delights of Chedworth village, just a short stroll away, and get lost on countless off-the-beaten-track walking trails in search of the award-winning local pubs. Think walks for everyone and every season, packaged with winter days by the fire and sunny summer barbeques in the garden.
From £160 a night, two-night minimum
Lake View Apartment, Bourton-on-the-Water
Best for: Scenic views
It doesn't get more scenic than an apartment with lake views just a five-minute walk from the picturesque sights of Bourton-on-the-Water, renowned for its beauty and charm. The spacious first-floor apartment boasts a private patio to take in the tranquility of the lake, and guests can go for a waterfront walk to look at the wildlife and take a relaxing break from sightseeing. With calming views and proximity to the rural stone houses, motoring museum and model village of Bourton-on-the-Water, it'll make for some great postcards home.
From £95 a night, three-night minimum
Coal Merchants Cottage, Andoversford
Best for: Foodies
What a kitchen: fully kitted with modern appliances, an espresso machine and a double oven, Coal Merchants cottages in Andoversford is a dinner party host's dream. Bifold doors in the main living space open out onto a barbeque and alfresco dining area, which means entertaining friends and family in summer is a given. Bask in the Cotswolds countryside over a meal of local produce – there are plenty of butchers and grocers nearby – or journey to the brasseries and food festivals of Cheltenham for an indulgent night out with the whole cottage.
From £285 a night, three-night minimum
Read more of our best UK hotel reviews