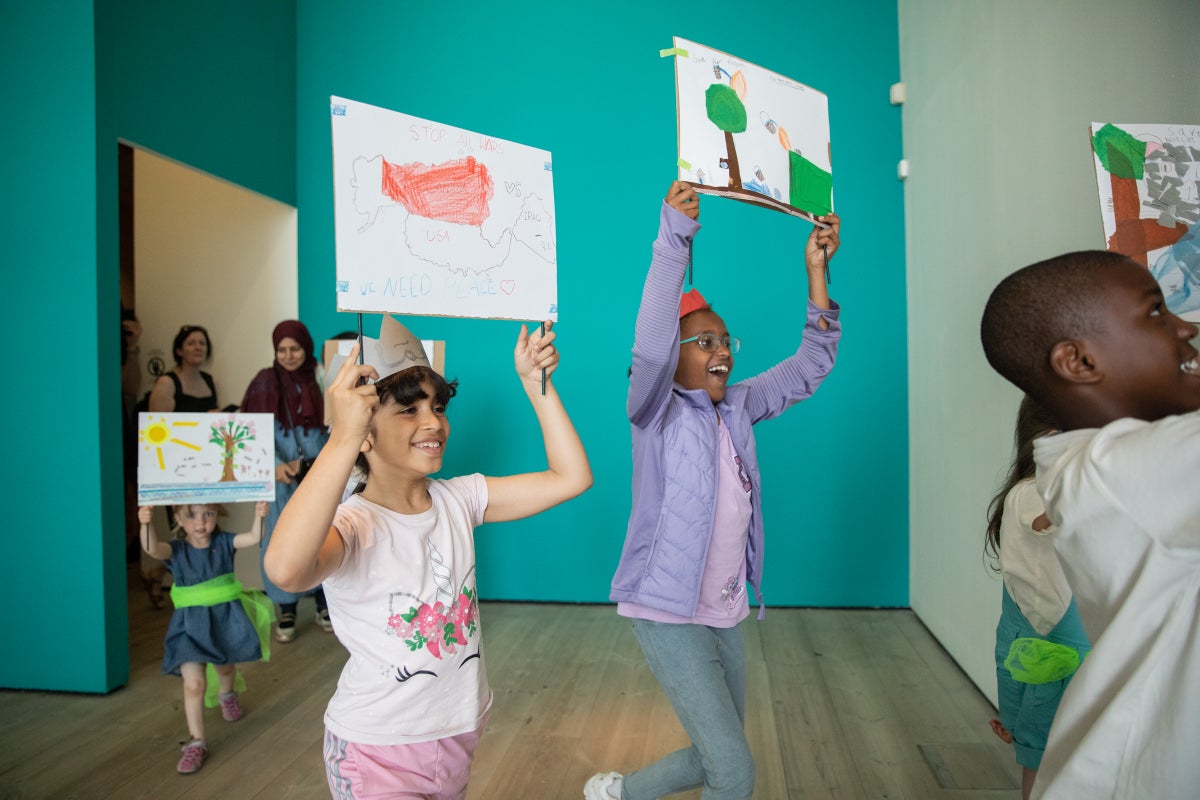 It can be tricky thinking up ways to entertain the kids over half-term, with activity costs easily mounting up.
But thrifty families, fear not: there are plenty of free attractions and events happening around the UK over the school holidays.
From Lego challenges to creative fun, an outdoor trail and even family knitting, there's something for everyone.
Keep reading for our pick of the best free half-term activities in the UK for families, taking place this week and next.
The best free half-term activities in the UK for families this February are:
Location: London
The Southbank Centre's Imagine Children's Festival runs until 18 February, and half of its included events are free. Created for children aged 0-11, there are inclusive and accessible events which have a relaxed atmosphere, so families can come and go as needed. There's a chill-out space and noise-cancelling headphones available, plus British Sign Language, Makaton, non-verbal and Sensory Adapted performances. Interactive storytelling and drawing event Top Draw takes place at 1.30pm on Friday 17 February. Check out the Lunchbox Jukebox session at 12.30pm too, for children to listen to tunes as they eat. Meanwhile, Wellbeing Wind-Down at 3.30pm combines yoga and mindfulness.
Location: Gateshead, Tyne and Wear
Situated in a converted mill on the Gateshead quayside, Baltic Center for Contemporary Art is a northern culture hub complete with free entry. The centre's February Family Days take place on Wednesday 22 and Thursday 23, from 10am-6pm. Families are invited to drop in for the free creative sessions, which are suitable for kids of all ages and abilities. From art workshops to adventure stories, the days combine make, play and create activities. The days are led by both local and national artists, and the center itself has a picnic area and water bottle refill station for bringing your own packed lunch.
Location: London
The Tate Modern has collaborated with Uniqlo for this free Play Threads Holiday Make Studio. The event is running until Sunday 19 February and it encompasses both weaving and knitting activities. Looking at the work of fiber artists Cecilia Vicuña and Magdalena Abakanowicz, the interactive sessions include colouring, looping and coloring stitching textiles. Plus, the family can participate in a shared knit by contributing to a big piece of artwork using threads on large looms.
Location: Manchester
The Science and Industry Museum in Manchester is offering a Free Holiday Program from 11-26 February. Covering drop-in activities to suit kids of all ages, activities include creating your own instrument, making music with your body, and experimenting with materials to see how sound travels. There's also a Family Catwalk Extravaganza event on Saturday February 18, which will combine dance and fashion.
Location: York
If your family is a fan of Lego, you'll be happy to hear about York Railway Museum's Lego Challenge. Taking place daily between Saturday 11 February to Sunday 19 February, there will be five eco-friendly challenges to participate in. Kids can decide to go it alone or let their parents or siblings join in and there's a three-minute timer to make things even more exciting.
Location: Staffordshire
Entry to Shugborough Estate's Textured Tree Trail is free, providing you have a National Trust pass or ticket. There are daily trail walks taking place between 9am-5pm from Saturday 18 February to Saturday 25 February. Learn about the trees growing around the gardens and arboretum, while enjoying an activity in the fresh air. The family-friendly event follows step-free paths for wheelchair and buggy access.
Location: London
Families can play a huge game of Connect 4 from 11-19 February at the London Transport Museum. Entry to the Connect More event is free after paying to get into the museum, and the game invites players to travel across London. Suitable for five to 12-year-olds, there are 30-minute workshops running at intervals throughout the day.