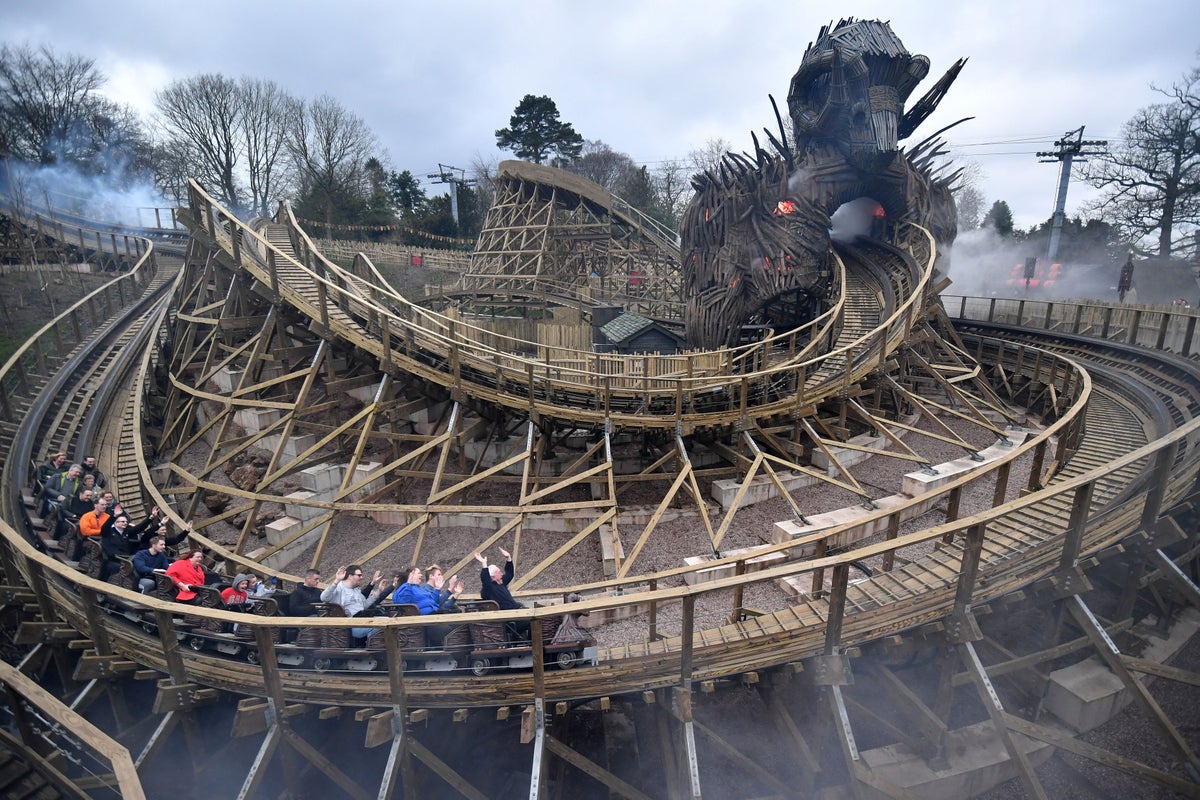 As summer approaches, the days become longer and the weather improves, Brits begin to have more options for an enjoyable day out.
With weekends, bank holidays and school holidays during the coming sunny months, there's plenty of time in which to explore one of the nation's many theme parks.
Most UK parks have something for everyone, from 205ft high-speed rollercoasters to interactive learning areas for kids. Whether going on a thrill-seeking trip to Thorpe Park or taking the kids to the Peppa Pig World during the holidays, there's a big enough choice of attractions to cater to different tastes and ages.
We've rounded up the best theme parks in the UK, from the big names you'll likely have heard of to lesser-known ones that nevertheless offer a fun-packed excursion.
See below for all the latest information on attractions, ticket prices and opening times too, so that you can plan the ideal day out to experience some thrills and spills.
Thorpe Park, Surrey
One of the UK's most famous theme parks, Thorpe Park recently re-opened in March after the winter closing period.
The Chertsey park welcomed 1.7 million visitors in 2021 and is opening two new rides in the near future, hoping to keep visitor numbers steady after the pandemic.
The next generation Ghost Train is opening this spring, while Project Exodus – an £18m investment that will be the park's tallest ride – opens in 2024.
For now though, the main attraction is still Stealth. Standing at over 200ft tall and reaching maximum speeds of 80mph, this is one for the thrill-seekers.
opening hours
Open from 10am to 5pm on weekdays and 10am to 6pm on weekends. Watch out for extended opening hours on special dates, as well as closure dates on Wednesdays in May and Tuesdays and Wednesdays in September.
Ticket Prices
Prices start at £34 for advanced tickets bought online. Under-threes go free. thorpepark.com
Alton Towers, Staffordshire
Crowned Theme Park of the Year at the 2022 annual UK Theme Park Awards, Alton Towers is also opening a ghost-themed ride in 2023.
Launched in March, the Curse takes riders on "a hair-raising journey" and will join long-term favorites such as Nemesis and Oblivion.
The park also contains several child-friendly attractions, such as Heave Ho and Postman Pat's Parcel Post. These contributed to the park also winning the award for Best Large Theme Park for Families.
opening hours
Open from 10am to 4pm until mid-May, when times change from 10am to 5pm. Open for an hour later on weekends, and from 10am until 6pm on every day in July and August.
Ticket Prices
Prices start at £36 for online bookings made in advance. Kinds under three are admitted for free. altontowers.com
Drayton Manor, Staffordshire
Another Staffordshire offering, Drayton Manor is more child-friendly than other UK parks but still contains enough adrenaline-inducing rides to keep adults entertained.
Home to Europe's only Thomas Land (which welcomed a new Submarine Splash ride this year) and a recently opened Vikings Land, Drayton Manor also offers several rollercoasters and its own zoo containing tigers, monkeys and several species of snake.
opening hours
Drayton Manor is open from 10.30am until 4pm on Monday through Thursday. On Fridays and weekends, the park opens between 10.30am and 9pm. In July and August, the park is open from 10.30am until 5pm every day. Plan ahead and watch out for zoo-only days in May.
Ticket Prices
Prices start at £30 for over-threes, with tickets for two and three-year-olds costing £15. Under-twos go free.drayton manor.co.uk
Legoland, Berkshire
The second Legoland park in the world (after the original was opened in Denmark in 1968), Legoland Windsor celebrates its 27th year in operation in 2023. Headlining this year's additions is the Lego Ferrari Build and Race Experience, along with the Lego Duplo Build Zone for kids.
Featuring several interactive zones and allowing visitors to "create your own Ferrari race car and fine-tune it while you test drive it", the experience is sure to be a hit for racing fans of all ages. It joins several new openings at the park over the last few years, such as the Magical Forest last year and the Lego Mythica area in 2021.
opening hours
Open 10am until 5pm between Sunday and Friday. Open from 10am to 6pm on Saturdays. Plan in advance to avoid closure days and to take advantage of later opening times in June, July and August.
Ticket Prices
Tickets from £34 if booked in advance. Children under 0.9m tall get free entry. legoland.co.uk
Chessington World of Adventures, Surrey
Originally a zoo, Chessington opened as a theme park in 1987 and has been a popular UK attraction ever since. With several areas based on different parts of the world, Chessington is more family-oriented than Thorpe Park and Alton Towers and has recently refurbished the Shipwreck Coast area, opening two new rides – Trawler Trouble and Barrel Bail Out – in 2022.
New for 2023 is the 'World of Jumanji', opening on 15 May. This large themed area contains three new rides, including the world's only Jumanji rollercoaster (Mandrill Mayhem), as well as six new Jumanji-themed rooms at the Chessington Safari hotel.
opening hours
Open from 10am until 5pm during the week and 10am until 6pm on weekends.
Ticket Prices
Under-threes go for free. Tickets start at £34 if booked in advance. chessington.com
Read more on UK travel:
Blackpool Pleasure Beach, Lancashire
With several new openings since the end of Covid, Blackpool Pleasure Beach remains the main attraction in a town that received almost 19 million visitors in 2021.
While there are no new openings in 2023, the most anticipated event at the amusement park is the re-opening of Valhalla, the park's major dark ride in which riders board a 'longboat' and are taken on a journey to the realm of Norse mythology .
opening hours
Open from 11am until 5pm on weekdays and Sundays. Open until 6pm on Saturdays.
Ticket Prices
Online tickets start at £35 for adults and over-12s. Tickets for under-12s are £30, while kids under three go free. blackpoolpleasurebeach.com
M&D's, Lanarkshire
Branded as 'Scotland's Theme Park' on its website, M&D's is located near Motherwell and is Scotland's biggest theme park. Although there are no new attractions opening this year, M&D's still boasts several popular rides and attractions.
Along with a zoo containing 60 different animal species, M&D's has 23 rollercoasters, thrill rides and water rides, including Twister and White Water.
opening hours
Rides are closed throughout a large portion of May and June, although are open every weekend from 11am until 6pm. From July, rides are open every day from 11am until 6pm.
Ticket Prices
Entry to the park is free. Wristbands – for access to the rides – start at £19.95 and can be bought in adult and toddler packages for £25. scotlandsthemepark.com
Paulton's Park, Hampshire
Designed mainly for families and children, Paulton's Park contains a plethora of kid-friendly attractions. Visitors will find everything from Peppa Pig World to several animal areas, showcasing 80 different species.
While the Lost Kingdom attraction will open in 2024, there are no new rides or attractions this year. Nevertheless, rides such as Cobra and Grampy Rabbit's Sailing Club ensure there's enough to keep the whole family entertained.
opening hours
Attractions are open from 10am until 5pm during the week and until 5.30pm on weekends.
Ticket Prices
Day tickets start at £41.25 for anyone over 1m tall. Family tickets are available for £125.25 (family of three) and £167 (family of four). paultonspark.co.uk
Gulliver's World, Cheshire
Designed for kids up to 13 years old, Gulliver's World opened in 1989 and was the second Gulliver's theme park to be opened in the UK. Main rides include the Antelope (a figure of eight rollercoaster) and Apache Falls (a river rapids ride).
In March, two new rides were announced for this year. Part of a new car-themed area, the Grand Prix Racer rollercoaster will take drivers through a journey filled with twists and turns, while Overdrive will give riders a 360-degree thrill.
opening hours
Park is closed through a lot of weekdays in May and June. Open from 10.30am until 5pm every weekend and 10.30am until 4pm on some weekdays.
Ticket Prices
Prices start at £14 while entry for children under 90cm tall is free. gulliversworldresort.co.uk
Flamingo Land, Yorkshire
Containing an award-winning zoo and several attractions suitable for both children and adults, Flamingo Land sits on 375 acres of Yorkshire's famous countryside.
Despite no new openings in 2023, the park still boasts impressive rides such as Mumbo Jumbo, a steel rollercoaster with a 112-degree vertical drop that once saw it hold the record for 'world's steepest rollercoaster made from steel'.
opening hours
Park is open between 10am and 5pm every day.
Ticket Prices
Tickets start at £39 if booked in advance. Children under three receive free entry. flamingoland.co.uk
Read more of our reviews of the best UK hotels