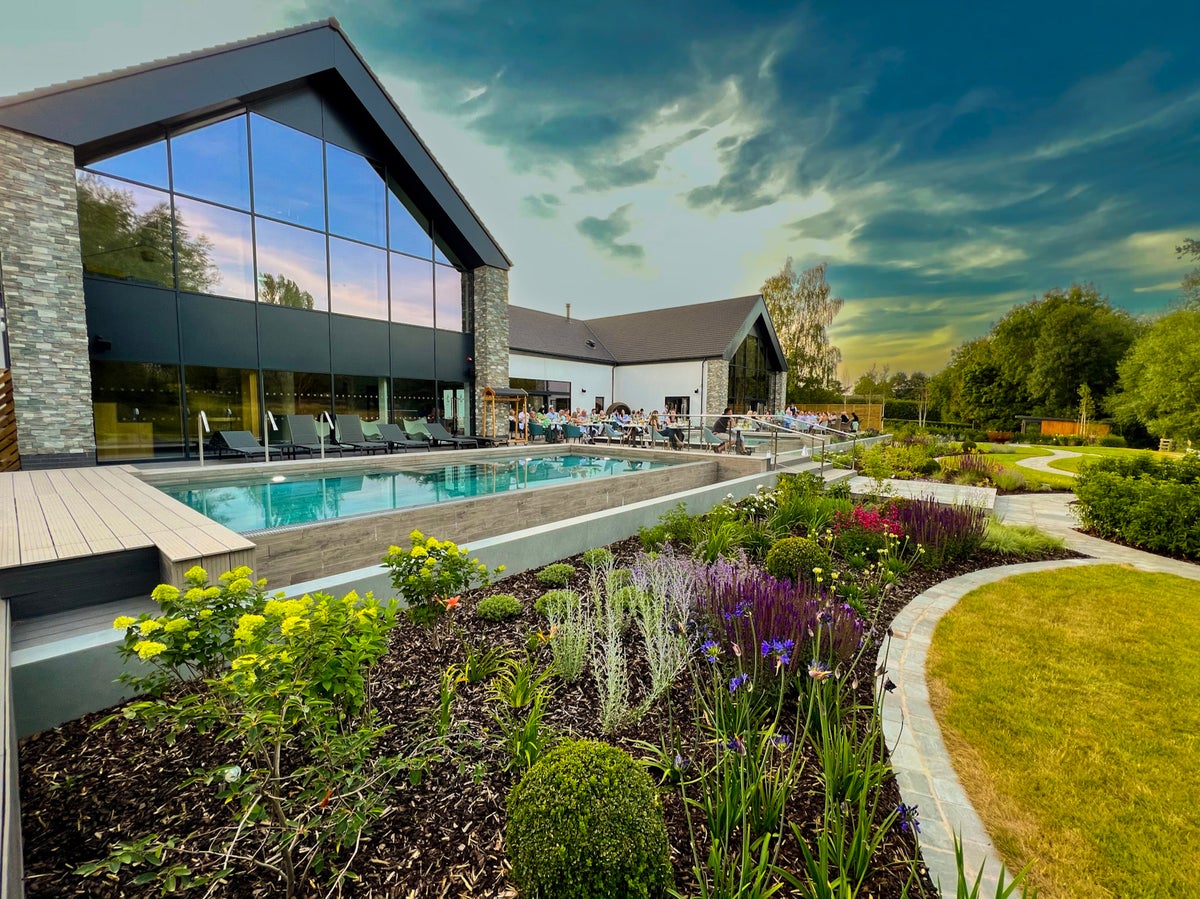 Post-pandemic – and even mid-pandemic – something happened to the UK's spa hotels. And by "something", I mean they all became impossible to book, and stomach-churningly expensive. Perhaps it was a result of us all being confined to the country for great swathes of time; perhaps it was because, with so many big celebrations stored up during lockdowns, it was inevitable there'd be a backlog of hen dos, birthday bashes and anniversaries to celebrate with a slice of pampering.
Whatever the reason, when a group of friends and I attempted to book a spa day and overnight stay at a nice-enough-but-not-mega-fancy place an hour outside London for a 40th birthday last year, the response was astonishing. We were advised that they were "booked solid for the next eight months" and that the cheapest package would set us back more than £350 per person. I mean, I love a spa as much as the next person – possibly more – but £350? To sit around in a selection of warm rooms for the day? Had the world gone mad?
Needless to say, the idea was swiftly aborted once we discovered that many spa hotels were advertising similar wait times and prices. For the kind of money they were demanding, we could have booked a week-long package holiday in the Algarve.
Read more on spa travel:
It made me wonder: whatever happened to the humble day spa? To the establishments where you weren't required to stump up for the facilities, bed and breakfast, lunch, dinner plus extra if you wanted a treatment? Where you could treat yourself without needing to file for bankruptcy directly afterwards?
Enter The Spa at Breedon Priory, a (fairly) new kid on the block that lets you book a full or half day at its tranquil idyll in Melbourne, derbyshire. Open since summer 2022 and already named the Best Boutique Spa at the Professional Beauty Awards 2023, it's only a 90-minute train journey from London St Pancras to East Midlands Parkway, from where the spa is a 15-minute taxi ride away.
This rural retreat is, to my mind, the ideal size for a day of relaxation. I like having options – one sauna, hot tub and steam room doesn't quite cut it – and yet if a spa is too sprawling and labyrinthine, I end up with fomo that I haven't experienced every inch of the facilities. It's quite off-putting to feel stressed at the end of an R&R day because "I don't think I ever found the Himalayan salt sauna!"
Thankfully, Breedon Priory has struck the right balance. I waft from the reception, where a welcome hot chocolate and scented hand-sanitiser towel await, to the sleek changing rooms, to the main bright and airy spa area. Here, a central relaxation space with super-comfy loungers makes the most of the natural daylight and views of the property's manicured gardens amid 24 acres of countryside, with floor-to-ceiling windows.
Directly outside are two heated hydro-pools, with seated areas where bubbles spring forth at the touch of a button, plus plenty more loungers for when the weather warms up enough to make such a prospect appealing. Back indoors, I try all the various brands of "warm room" – the main reason to come to a spa, in my humble opinion – which include a herbal sauna and Himalayan salt sauna (told you it's A Thing), a herbal steam bath and an aroma steam room.
Then there's the "experience shower", all the rage these days, which combines water effects, lighting, sounds and even smells to transport you to foreign clime – and, most gratifying, a "slumber lounge" on the first floor. The latter is all dim lighting, deliciously soft beds, and a cocoon of silence in which it would be rude not to drift off for half an hour or so…
Whichever package you choose, lunch is included in the on-site Terrace Restaurant. Spa restaurants can be hit-and-miss; they do, after all, benefit from having a captive audience, who aren't really there for the food. But here, Breedon really does excel. Warm brioche buns with burnt courgette, roquefort, lemon and chilli dip to kick things off are as good as they sound; my meal of wild-mushroom arancini with aged parmesan and a chunky tomato chutney, followed by roast cod, potato rosti, braised fennel and crab bisque, is flavour-packed and perfectly portioned. I'll give extra points, too, for including a list of the local suppliers used on the menu.
A huge range of treatments is on offer for extra indulgence – an hour-long Temple Spa Glorious Mud experience leaves my skin feeling as soft as a newborn foal – and can be added on or bought as part of a pricier package. But what I most admire about Breedon Priory is the fact that you can keep costs down by opting just to access the facilities with a meal thrown in. A full day starts from £125 for seven hours, while a half day starts at £95 for four hours, with each including a welcome drink and a two-course lunch.
But of course, sometimes you want to up the luxury factor by adding in a night away. Here, Breedon Priory has made the inspired decision to recommend local boutique B&B Breedon Hall Country House, just down the road, for guests who want to create a kind of DIY package. This glorious Georgian manor house has five exquisite, individually designed rooms, each en suite and furnished in classic country-house style: think rolltop baths, wooden beams, creamy textiles and elegant four-poster beds. It's the perfect combo of comfy-cozy and grandly indulgent, retaining the relaxed vibe of staying in someone's family home while feeling utterly spoilt.
There's also the option to book a stay at Meynell Mews, an on-site row of self-catering townhouse-style cottages in a converted stable block, each of which sleeps up to four. Either way, proprietor Charlotte will likely invite you to take a load off in the charmingly cluttered living room, bring you tea and biscuits, and make you feel so at home you find yourself giving slippers and putting your feet up on the sofa.
The morning after, breakfast is everything I could dream of to finish a weekend of indulgence: first-rate home-made granola and yogurt, strong coffee, and the best smashed avo and poached eggs on toast I've possibly ever eaten (honestly) . The cherry on top comes when I ask Charlotte for running route recommendations, and she details the perfect countryside trail to work off my three-course brekkie.
The boutique spa and boutique B&B combination is such a triumph that I can't help but think we've been getting it wrong all these years. Hear ye, hear ye: the spa hotel is dead; long live the day spa!
Travel essentials
The Spa at Breedon Priory has half-day packages from £95.
Rooms at Breedon Hall Country House from £91, B&B.
Rooms available from{{#price}}{{price}}per night{{/price}}{{^price}}Check availability for dates and prices{{/price}}
{{#amenities}}
{{#amenities.foodDrink.length}}

{{#amenities.foodDrink}}
{{.}}

{{/amenities.foodDrink}}

{{/amenities.foodDrink.length}}{{#amenities.internet.length}}

Internet

Please check hotel for more information on amenities

{{#amenities.internet}}
{{.}}

{{/amenities.internet}}

{{/amenities.internet.length}}{{#amenities.services.length}}

{{#amenities.services}}
{{.}}

{{/amenities.services}}

{{/amenities.services.length}}{{#amenities.parking.length}}

Car park

Please check hotel for more information on amenities

{{#amenities.parking}}
{{.}}

{{/amenities.parking}}

{{/amenities.parking.length}}{{#amenities.health.length}}

{{#amenities.health}}
{{.}}

{{/amenities.health}}

{{/amenities.health.length}}
{{/amenities}}
Read our reviews of the best Cotswolds spa hotels