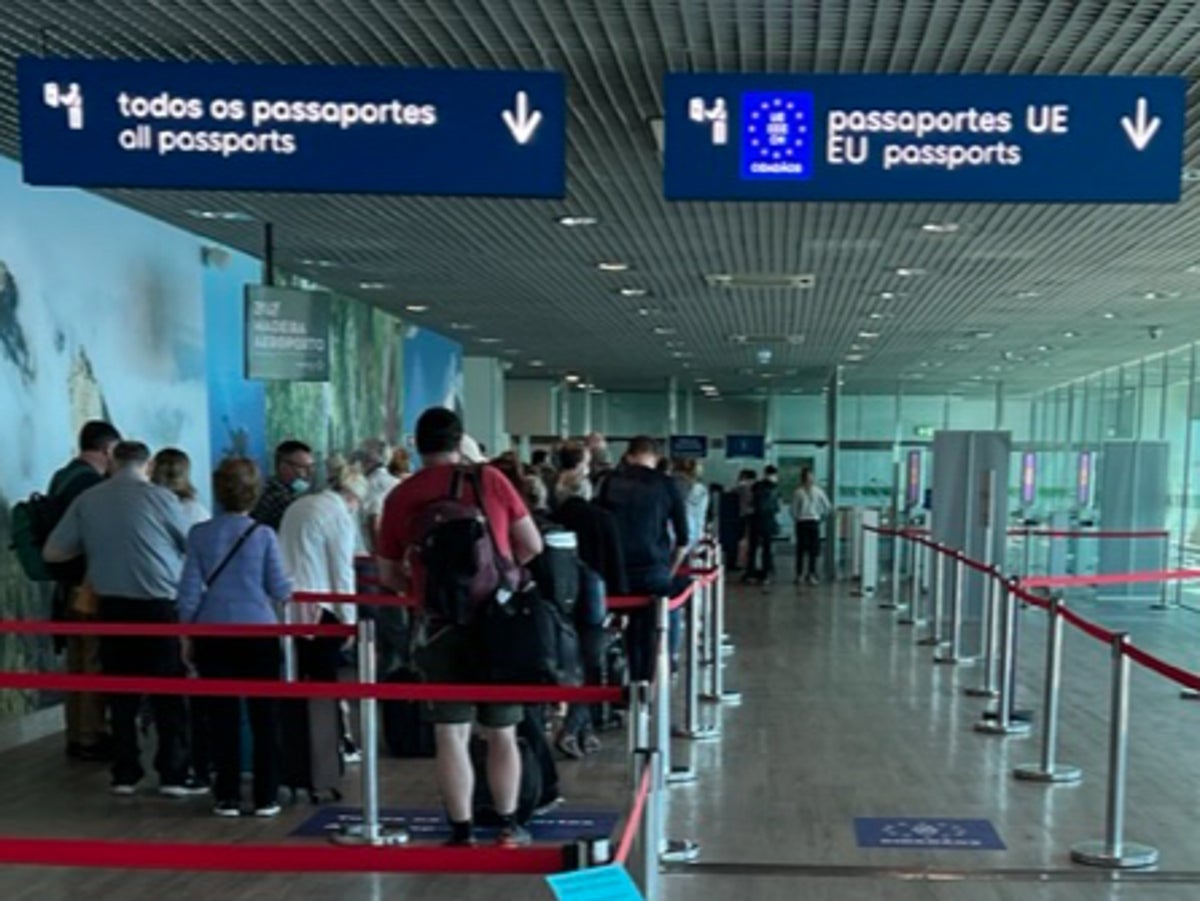 "We can see the sunlit meadows beyond," said Boris Johnson on the eve of the 2016 referendum. Three years ago, his government "got Brexit done".
The UK officially left the European Union at 11pm GMT on 31 January 2020 (although the Withdrawal Agreement did not take effect until the end of that year).
The first Brexit secretary, David Davisvowed: "There will be no downside to Brexit, only a considerable upside."
The experience of British travelers to the EU since then has changed dramatically. How far are travelers along the road to those sunlit meadows? These are the key areas.
Passports and length of stay
What they said
"British people will still be able to go and work in the EU; to live; to travel; to study; to buy homes and to settle down" – Boris Johnson, Sunday Telegraph26 June 2016.
What happened?
British people cannot go and work, study, live or settle down in the EU unless they acquire the appropriate visas. They can travel and buy homes, but without special permission they cannot stay more than 90 days in any 180 days anywhere in the European Union and wider Schengen Area.
From November 2023 (according to the latest plan, which may slip), British travelers to Europe will need to register in advance for the Etias electronic visa system and be fingerprinted and have a facial biometric taken on entry and exit from the Schengen Area.
Airlines
What they said
"European cooperation will continue in fields where it already exists such as air travel" – VoteLeavebefore the referendum.
What happened?
UK pilot licenses have been "seriously degraded in value and utility" following Brexit, according to the British Airline Pilots' Association (Balpa).
The pilots' union says: "Following the UK's withdrawal from the European Union, pilots with UK pilot licenses are no longer able to fly EU registered aircraft – including those based at UK airports – without a lengthy and expensive license conversion. This is an active barrier to UK pilots being offered jobs."
Britain's biggest budget airline, easyJet, set up a European operation based in Vienna, while Ryanair has set up a UK subsidiary to offer domestic flights. Aim Aer Lingus has been ordered to end its services between London Heathrow and Belfast City.
Air Passenger Duty will be halved for flights within the UK from 1 April 2021 – a move that would not have been possible within the UK, and which will encourage passengers to shift from rail to air travel.
Rail travel
What they said
"The EU and European Court are putting up the cost of traveling on the West Coast main line" – Vote Leave, 21 June 2016.
What happened?
A single London-Manchester off-peak ticket on the West Coast main line cost £41.20 in 2016 (Virgin Trains). By 2022 it was £68.60 (Avanti West Coast), an increase of two-thirds. Prices between 2016 and 2022 in the UK increased by 20 per cent, meaning the rail fare rose by 39 per cent in real terms.
The rail unions were enthusiastic campaigners for Brexit. Mick Whelan, general secretary of the train drivers' union Aslefsaid in October 2018: "We believe the EU has become a rich man's club which offers plenty for the boss class – but very little for the ordinary hard-working men and women trying to earn a living."
Since Brexit, Eurostar has cut a dozen trains per day from its schedules between London, Brussels and Paris and is capping the number of passengers on peak departures at 550 (39 per cent below capacity).
Services to Disneyland Paris are ending in June because of Brexit, and the two international stations in Kent – ​​Ebbsfleet and Ashford – will remain closed until at least 2025.
Medical care abroad
What they said
"Whether on holiday, working or retiring abroad, British people want to know they can access the same high quality healthcare that they enjoy in the NHS. This bill will allow us to implement new healthcare arrangements with other countries – in the EU and elsewhere – so that UK citizens can travel with confidence" – Lord James O'Shaughnessy, junior health minister2018.
What happened?
The UK Global Health Insurance Card (Ghic) is valid in the European Union and Switzerland. But unlike the European Health Insurance Card (Ehic), it is not valid in several non-EU Schengen Area nations: Norway, Iceland, and plucky Liechtenstein.
Inbound tourism
What they said
"To our friends across Europe, let me say this … You will still be welcome in this country" – Theresa May, 17 January 2017.
What happened?
The UK has barred an estimated 300 million potential European visitors by insisting every EU tourist has a passport as opposed to the national identity card that most of them carry.
Joss Croft, chief executive of UK inbound, said the move "has had a catastrophic impact on the international student travel industry".
He told The Independent: "EU school groups are opting to travel to alternative English-speaking destinations such as Ireland, where they can still use their ID cards for entry, instead of the UK, at a cost of millions of pounds to regional economies across the UK who would normally host these students."
Travel within the UK
What they said
"No British government could or should" agree to put a border in the Irish Sea between Great Britain and Northern Ireland – Boris Johnson, speaking to the DUP in 2019.
What happened?
The British government, under Boris Johnson, was able to border in the Irish Sea between Great Britain and Northern Ireland. Arriving in Northern Ireland from the rest of the UK is treated as arriving in the European Union, with strict rules on the importation of pets, meat and dairy products – no ham or cheese sandwiches are allowed to be brought in.
Value of the pound
What they said
"There is nothing to suggest a major devaluation would follow a leave vote" – Vote Leave, 21 June 2016.
What happened?
Three days later, the value of the pound fell by around 10 per cent after the vote to leave the European Union. Against the euro, sterling is now around 15 per cent lower than it was before the referendum.