I'm under the moonlight, the serious moonlight, and my imagination's running riot. Surrounded by vast mounds of rocks – the chaotic remains of 2,000-year-old ramparts – I picture families clad in animal skins huddled around their roundhouse hearths, secure from the savage winter chill, howling wolves and marauding Celtic tribes.
My overactive mind's excused. The potent combination of a dazzling snow moon and enigmatic hilltop ruin is guaranteed to stir the senses. It's exactly what Carmarthenshire walking guide Lisa Denison hoped for when she launched a new series of full moon hikes exploring Garn Goch, an iron age fort on the western fringe of Brecon Beacons national park in south Wales.
"The night walks offer a very different perspective on the landscape," says Lisa, a qualified lowland leader, as we await tonight's six-strong group. "You lose detail but detect blues, silvers and grays. Garn Goch, whose stones carry the shadow of an ancient community, is particularly atmospheric. It springs to life after dark when senses are heightened."
It promises far more fun than my last full-moon hike. In one of several career lows, I joined a naked rambling group in Palm Springs. Lead by a fully clothed guide, Scot Scott – his parents were perhaps in a hurry – we trekked through the Coachella Valley where, distracted by California's supersized moon, I narrowly avoided sitting on a rattlesnake. The memory still induces a cold sweat.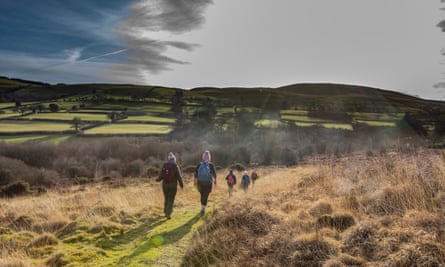 Carmarthenshire holds no such dangers. But this morning, to fully appreciate the difference between Garn Goch in daylight and moonlight, I join Lisa's Quiet Walk where gently encouraged, rather than dictatorial, silence helps people immerse themselves in nature. We're following an extended version of the moon route.
It takes 20 minutes ascending a bracken-clad path to reach the fort's perimeter. The massive rock mounds betray the immensity of the rectangular structure whose stone-faced walls were 30ft high and 15ft wide. An iron age skyscraper, was this a structure for defense or a permanently occupied town? Nobody's certain.
Whatever its role, Garn Goch offers a hell of a view by day. Beneath us the rumpled quilt of the Towy Valley chases a sinuous river, its viridian hills dotted with farms and hamlets. Above us, looming over fields and hedges, the hill Trichrug rises to 415 meters.
The walk includes short slices of the Beacons Way and Heart of Wales Line Trail, following old drovers' routes past gnarly hawthorns, skeletal winter oaks and Tolkienesque ash trees draped in moss. There are kites, buzzards and chirping "little brown jobs". It's just lovely.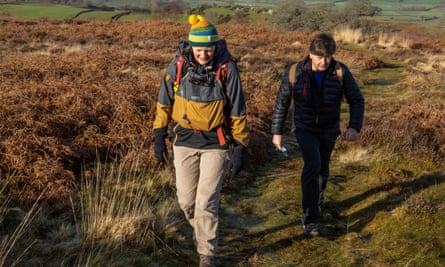 It's also sunny. What happens to full-moon hikes in cloud or rain? "I still run them," says Lisa. "Even heavy cloud allows dreamy diffused moonlight. Night walks always carry an extra edge, particularly with Garn Goch's ambience."
Scandinavians would agree. Full-moon hikes share a night-time DNA with aurora searches and midnight sun celebrations. The meteorological gods may not play ball but half the fun's being in the great outdoors at an unusual hour.
Weather woes won't feature tonight. As I head to the 6.30pm meeting point above Bethlehem village – cue "follow that star" jokes – one half of the sky hosts a blazing scarlet sunset, the other half an enormous, freshly risen moon.
To tackle the three-mile route, free of farm animals and fences, we're recommended to minimize use of head torches. "Your eyes start to adjust after five minutes," says Lisa. "After 40, they're fully accustomed to the dark. If you use your headtorch, stay well back from the person in front or they'll be walking into their own shadow." There's even some GCSE science. Night-time eyes use rods rather than cones, detecting darker hues, not bright colours.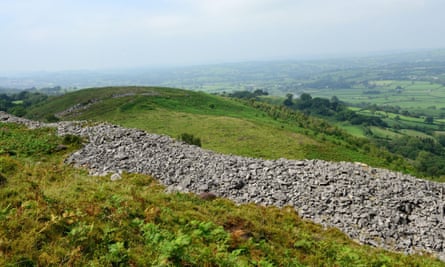 Rods fully engaged, we rise towards Garn Goch. The moon is comically bright. Forget tripping up. Every root, rut and rock is brilliantly lit. The glare intensifies as we reach the wide-open hilltop. "Wow," Lisa exclaims, "it's like someone's shining a spotlight."
We avoid the narrow trail around the rock pile, entering the fort through a less precarious path. The sparsely populated Towy Valley's now peppered with dots and dashes of light: widescreen illuminated morse code. The bright splatter to the west is Llandeilo.
As predicted, the spectral moonlight ignites the imagination. Garn Goch is riddled with shadows and all sides overlook the threatening black outline of distant hills. Everything feels closer: the stars, the shapeshifting clouds, the mysterious history.
We're inside a dark sky reserve but a 1,000-watt moon's the enemy of astronomers. Lisa raises her phone's star-spotting app heavenwards, studies her screen and declares: "That's the moon." Stephen Hawking would be proud. She then identifies the Little Bear and Orion constellations and the star Sirius, along with Mars and Jupiter. Minutes later the backlit clouds knit together, creating an ominous sky worthy of an end-of-times B-movie.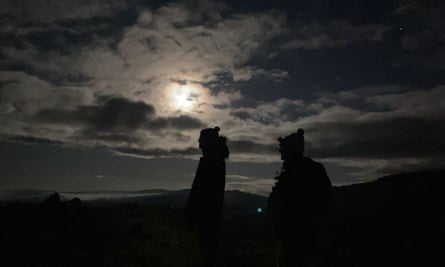 While these are the same stones, swaddled by the same widescreen landscape, this is a very different Garn Goch to the one I witnessed hours earlier. You're more focused on the past, more aware of what would have been a wild, potentially dangerous world outside those mighty walls – and less distracted by the gloriously bucolic surroundings. It's worth heading up here in daylight to fully appreciate the site's size and setting, but getting out into the countryside under a lunar showstopper is a memorable, magical experience.
As the 90-minute walk finishes, we tramp down from the hilltop, our perfect moonlight shadows serenaded by a hooting owl. In Palm Springs my naked ramble climaxed with a group shot, taken from behind, with a photographer yelling "clench" rather than "smile". There's no such trauma tonight. I head to Flows in Llandeilo for a bowl of smoked haddock gratin. It's classic cwtchWales' answer to Danish hygge: a cozy Carmarthenshire hug after an exhilarating yomp between the iron age stones and timeless moon.
The group walk was provided by Quiet Walks whose guided full-moon hikes cost £15. Llandeilo's Pitchfork and Provision provided a packed hiking lunch