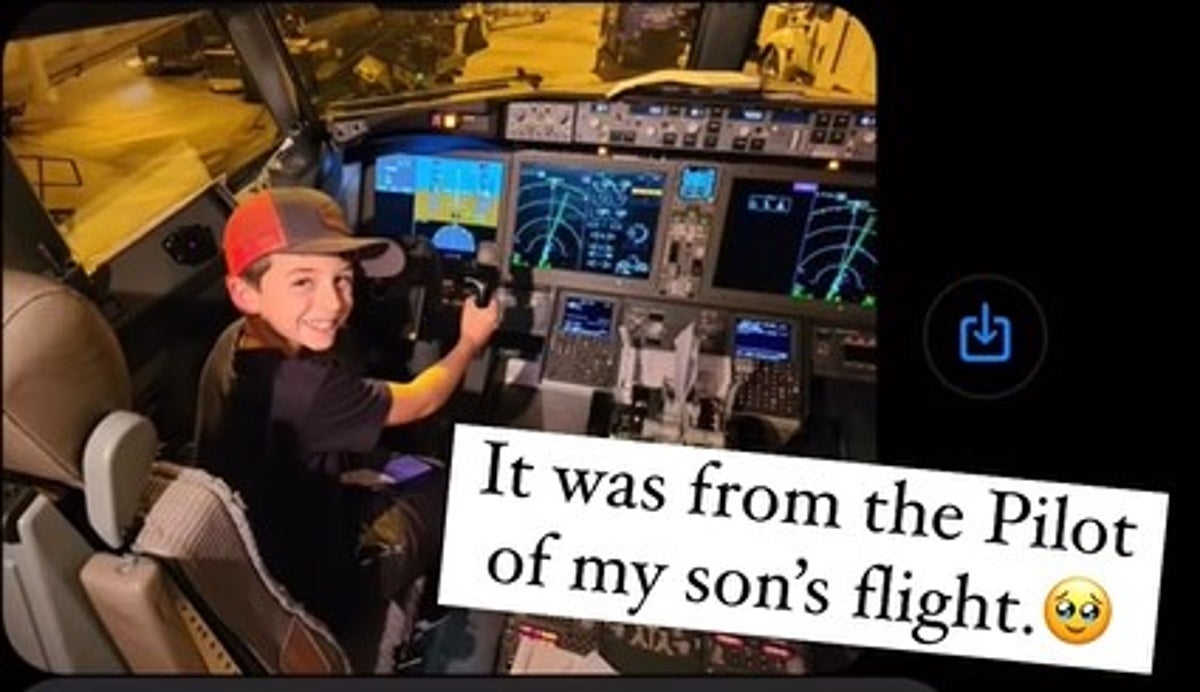 A US mum's Instagram video has gone viral after she raved about "above and beyond" service from a flight crew looking after her son when he flew solo.
Alison Hardebeck had arranged for her 11-year-old son to fly as an unaccompanied minor from Washington State to Sacramento, California to visit family, but felt nervous at the prospect of putting him on a plane alone.
So she was delighted when the crew of the Southwest Airlines flight did their best to ensure Jacoby had a great time.
Ms Hardebeck shared an Instagram reel showing him boarding his Southwest flight with a chaperone from the airline, waving him off as he went.
She then shows a text coming in from an unknown number, which she says she received while still standing at the gate.
"Hi Mom, I'm Doug. I'm the captain of the Southwest flight to Sacramento. Jacoby just came up to visit real quick and I wanted to send you a picture. We will take great care of him for you!"
The pilot, Captain Doug Larimer, had attached a photo of the smiling 11-year-old sitting in the co-pilot's seat in the cockpit.
When the surprised and delighted mum thanked the captain, he assured her he would fly safely, adding; "I'm going home to my boys tonight too".
In the video, Ms Hardebeck captioned the sweet moment: "Captain Doug for the win! I posted this to my Instagram stories and the internet agrees that Doug deserves a promotion/raise/recognition."
She showed texts pouring in from friends and family, with some replying, "This is the sweetest thing ever," or "Talk about going above and beyond".
The video has currently had more than 7.3 million views, attracting nearly 600 comments.
The mother of three told People magazine that her son was flying to Sacramento alone for the first time to attend his cousin's birthday party, with his grandfather meeting him at the other side.
"My husband coaches our other son's soccer team, so he was not able to go for the weekend," she explained. "I couldn't go either, and so we decided to go ahead and go for it and let him fly on his own for the first time.
"He had some questions for me obviously, like 'What's it gonna look like? Where am I going to sit?' And so he asked questions, I answered them, and he decided that this was something that he wanted to do, and we decided to support that."
She says the wait to board had been made more unsettling by the fact the plane had been delayed due to landing conditions.
"We were actually about three hours delayed. At that point, Jacoby and I had been in the airport quite a while, and he was hoping he'd be able to go since it was a super quick trip – Friday night to Sunday night."
She says her son was "so ready and excited" to get on the plane solo, but she was left worried after he boarded.
"As a mom, you're letting your baby – who will always be your baby – fly off into the air, right? It's an hour-and-a-half flight, no layovers. I know my dad is on the other side, standing there waiting. So logically I know he is going to be OK, and then I get this text from an unknown number."
When she received the message and photo from Captain Larimer, Ms Hardebeck said she felt "pure joy".
"I was just in utter disbelief and shock, in the best way. Just to see the look on Jacoby's face – it's pure joy. You don't see any anxiety, any worry, just a huge grin on his face. And I truly was so blown away, especially in a day and age where people are tending to be a lot more cautious and reserved."
She told the magazine that she believes the pilot's little act of kindness will have a "lifelong impact" on her son.
"So many commenters said that maybe this will plant the seed in your son, with a love of aviation. And it's just a reminder that a little gesture of kindness, to make someone feel safe, can really go the distance."
Her son Jacoby also gave the flight two thumbs up, saying: "Captain Doug was a very nice person. He's one of my favorite pilots I've ever seen. It was awesome."
Captain Doug told People: "One of the reasons I do it is because every parent loves having a picture of their kid in the cockpit.
"It's one of those little pay it forward moments to other people whose kids think it's a neat place to visit, to explore."