The trading platform Coinbase based in the United States has obtained a license to operate in Bermuda and plans to launch a derivatives exchange platform in this country as early as next week.
According a blog post published on April 19, Coinbase received a license from the Bermuda Monetary Authoritythe country's financial regulatory authority.
This Class F license, under the Digital Asset Business Act, allows Coinbase to conduct various activities such as selling and issuing tokens, as well as operating as a cryptocurrency exchange and derivatives exchange provider on digital assets.
Bermuda: a clear regulatory framework and advantageous taxation
The company chose Bermuda because of the clarity of its regulations and sound favorable tax environment. This is because companies based in Bermuda are subject to a 0% corporate tax rate, making it an attractive base for businesses looking to cut expenses.
The move comes a day after Coinbase CEO, Brian Armstrongsaid at a fintech event in London that the company may consider leave the United States due to lack of regulatory clarity.
Coinbase is unlikely to plan to leave the US anytime soongiven that the company has for years touted its compliance with regulations in its home country and is generally seen as law-abiding by politicians and regulators.
Mr Armstrong criticized the Securities and Exchange Commission (SEC) for its lack of clarity and believes that it pushes investors and trading activities overseas. It is not the only one to do it in reality many American crypto entrepreneurs repeat the same thing as the CEO of the exchange kraken, Jesse Power or Ryan Selkisthe founder of Messari.
More informations Kraken Founder Accuses SEC of Conspiracy Against Crypto Industry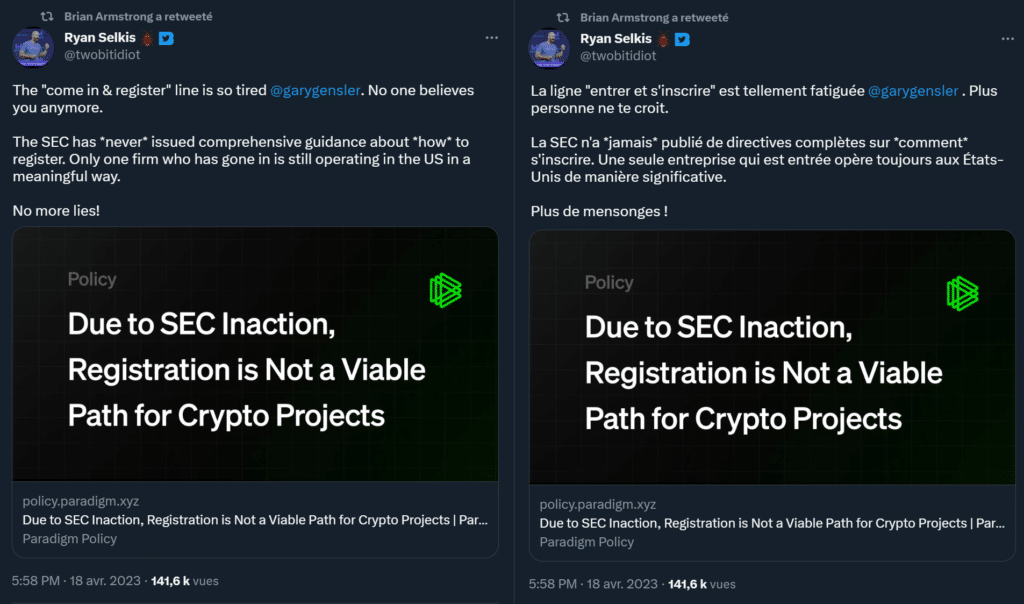 Another major US company, Ripple, had issued similar warnings about the possibility of leaving the country in 2021, but has yet to act on those threats.
Coinbase is focusing its efforts on its international expansion
Obtaining this license in Bermuda is part of the campaign "Go Broad & Go Deep" from Coinbase, which aims to establish regulated entities and local operations for facilitate its international growth.
The company also reported on its progress to the BrazilAt CanadaTo Singaporein Europe and to United Arab Emiratesstating that it will work with governments and regulators in different markets and will always seek to to be the company of cryptocurrency the most reliable and compliant in any market.
By launching an offshore exchange in Bermuda, Coinbase would be better placed to compete Binancewhich dominates the global cryptocurrency market, and diversifying its revenue base.
Europe sets the example in terms of regulation
The adoption of European regulations Mica by the European Parliament this week is also a watershed moment for cryptocurrencies and the work of European legislators should be seen as an example. MiCA is a comprehensive regulatory framework – the first of its kind – providing clarity for cryptocurrency businesses operating in all 27 EU member states.
More info on the Coinbase Blog

An update to Coinbase's global scale to go broad and deep
The article Coinbase Obtains License in Bermuda and Wants to Launch an Offshore Exchange Soon appeared first on Corner Academy