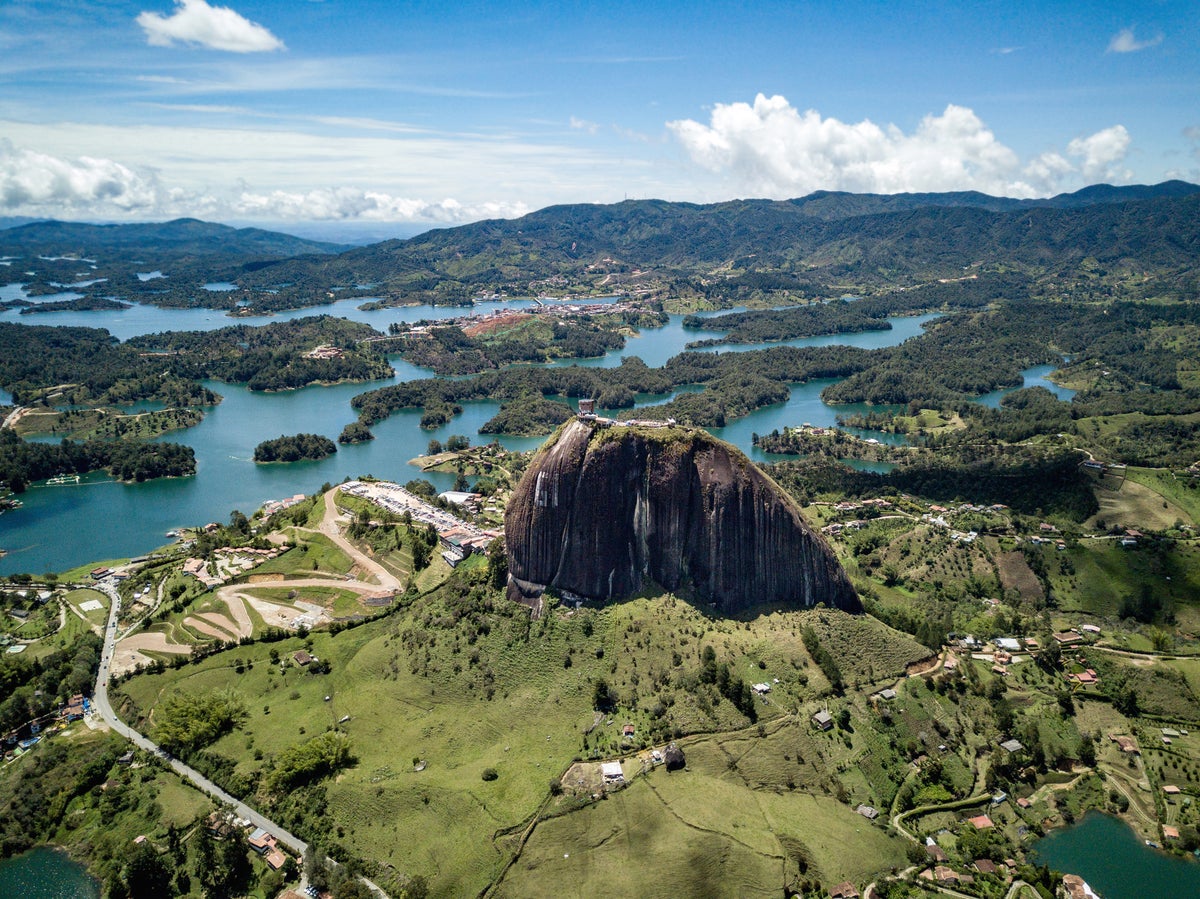 Colombia is alive and beating, whether it's the thumps of reggaeton or the rhythms of cumbia. Not just a proudly musical nation, it is also the only country in South-America to enjoy both Caribbean and Pacific coastlines and has some of the most spectacular biodiversity in the world thanks to its multiple altitudes, biomes and terrains.
The immensity of Colombia's nature, from Andean peaks to silky deserts and sapphire seas, is matched only by the warmth, vibrance and resilience of its people. Within moments of arriving, you'll likely encounter a friendly smile, a greeting or some enthusiastic chit-chat with a local.
Whether it's winding mountain roads and peaceful puebloslively cosmopolitan life or blissed-out beachesColombia delivers on all fronts.
Read more on south america travel:
Travel restrictions and entry requirements
All visitors have to show an onward or return ticket valid within the 90-day period allowed for entry into Colombia as a tourist. Your passport needs to be valid for at least six months from the date you arrive.
If you're fully vaccinated against Covid, you can enter Colombia without taking any kind of test for the virus. At least 14 days must have passed since your second dose of the vaccine to be considered fully vaccinated. For unvaccinated travelers or those who received their second dose in fewer than 14 days before going to Colombia, you must show a negative PCR or antigen test taken no more than 72 hours before boarding your flight. Children aged 17 and under don't need to show proof of vaccination or a negative Covid test to enter.
Masks are still advised when in hospitals, health clinics, airports and on flights.
best time to go
Colombia has a whole range of climates and altitudes so you can enjoy a visit at any time of year. That being said, December to March is the high season, when it's warmest and sunniest in most places. There are also some great events that take place during these months, such as the Barranquilla Carnival, that takes place the weekend before Ash Wednesday every year (either February or March). The Hay Festival also runs in Cartagena, Medellín and the Andean town of Jericó at the end of January every year and is great for hearing from authors, artists, and journalists from South America and beyond. June to September are popular months to visit because it's also a sunnier period of the year, and the spectacular Medellín Flower Festival happens at the start of August.
Top regions and cities
Bogota
Colombia's capital is definitely a place that grows on you. At 2,600m, it's an Andean city surrounded by pretty peaks and packed with bustling streets. La Candelaria is the picturesque old town and has incredible museums, such as the Botero Museum, showcasing the engaging works of famous Colombian artist, Fernando Botero. A trip up to the Monserrate mountain in a giant cable car is the best way to enjoy views over the city. The trendy Chapinero neighborhood further north is an ideal area for bar hopping and sampling Colombia's tasty cuisine.
Medellin
Home to some of Colombia's best nightlife but also blessed with laid-back cafes, Medellín is known as the City of Eternal Spring and, as the name suggests, offers a year-round temperate climate. The energetic Comuna 13 neighborhood demonstrates how art and culture have helped revive a once-dangerous area. Paisas (the people from Medellín) are extremely proud of their city; particularly the metro system that includes a network of cable cars to better connect neighborhoods higher up in the mountains (and provide some of the best views). The Poblado area is the best for eating, sipping on signature cocktails and dancing the night away.
caribbean coast
Almost too hot to handle but worth it for the rhythms and flavours, the Caribbean coast is home to the colors and architecture of Cartagena's walled historic centre, as well as dazzling ocean and vibrant beach clubs like Blue Apple Beach on Tierra Bomba island, just a short boat ride away. Further along the coast is the pretty seafront city of Santa Marta and the Tayrona National Park, a beautiful setting for hiking and where sea meets jungle.
Coffee region
Apart from the deliciousness of sampling Colombia's famous arabica beans, the coffee region is a worth visiting for its sheer mountainous beauty. There are several colorful pueblos (villages), with the most impressive being Salento and Filandia. One of the most famous hiking trails in the country is in the Cocora Valley, covered in the wax palm trees that soar hundreds of feet over the verdant valley and can live for up to 200 years.
Best under-the-radar destinations
Boyaca
The pristine landscapes of Boyacá are the source of 90 per cent of the world's emeralds; fittingly, the many peaks and fields of the region are a vibrant emerald green. The slopes of the cocoa farm Finca San Luis, in the village of San Pablo de Borbur, offers a spectacular view over the surrounding mountains and river, as well as tours to learn about the farm's bean-to-bar chocolate-making process and visits nearby emerald mines. Villa de Leyva is a beautiful historic town, home to whitewashed buildings and cobblestoned streets.
Choco
Flourishing Chocó is a region on Colombia's Pacific coast that is recognized as a biodiversity hotspot, cradling around 10,000 plant species, 600 bird species and 235 species of mammals. Pacific Ocean waves are ideal for surfing and visitors can also watch whales migrating and newborn turtles hatching in this magnificent, predominantly Afro-Colombian region.
Santander
The Santander region is perhaps Colombia's best road-trip destination. Setting out from the pleasant city of Bucaramanga, the road leads to the spectacular Chicamocha Canyon before getting to the town of San Gil, a hive of adventure sports from whitewater rafting to paragliding and ziplining. The trip then leads to Barichara, often described as Colombia's most beautiful town, where rust-coloured soil frames the streets' cobbles. Artisan craft abounds here, whether it's paper made from pineapple or bags made from fica pretty plant belonging to the agave family.
Best things to do
Bar hopping in Medellin
Home to internationally renowned reggaeton artists like Karol G, Maluma and J Balvin, Medellín has a lively music and bar scene. Whether you're after a rum and coke, a fancy cocktail, just a beer or bottle of aguardiente (licorice-flavoured Colombian liquor) shared between friends, the many bars in El Poblado and along La 70 street will show you a good time.
Attending Barranquilla Carnival
An ecstatic and electric celebration with energy to rival Riothe Barranquilla Carnival is an incredible way to experience the folklore and traditions that span the country's rich and diverse culture.
Salsa dancing in Cali
Known as the salsa capital of the world, tropical Cali is a driving city showcasing the pulse of Colombian rhythm. The historic, picturesque neighborhood of San Antonio and its sloping park is home to some of the best salsa schools in the country. If you'd like to turn two left feet into something altogether more fluid, sign up for classes here before showing off your newly polished moves at one of the city's many salsa clubs.
Visiting a traditional finca
Whether it's to explore the coffee or cocoa-making process or just to relax surrounded by banana trees and the chirps of Colombia's diverse bird population, visiting a finca (which means farm or estate) is a must. Top fincas to see for yourself include The Nohelia in Jerico, Finca San Luis in Boyacá and Hacienda El Roble in Santander.
Getting around
Buses are essentially what connects Colombia, but bear in mind that some distances are long and winding. The nozzles are generally comfortable and budget-friendly; Colombia also has some of the most scenic bus routes you'll ever experience. Generally, the easiest option is to head to the city's bus station and people there will happily provide information about which company is best to get you to your next destination.
Uber, plus other apps like Cabify, DiDi or Picap (think Uber but on the back of a motorbike), work well for getting around cities. More rural areas are served by smaller buses and collectives (this can sometimes mean the back of a truck), which are a particularly enjoyable way to get around.
There are plenty of well-priced domestic flights between most cities, with airlines including Avianca, LATAM, Wingo and Viva Air. Bogotá and Medellín are the most connected cities when it comes to flights to other parts of the country.
How to get there
There are direct flights from London to Bogotá with Avianca, which are convenient but tend to be pricier. Otherwise, there are indirect flights via Europe with airlines, including Air Europa, Air France and KLM, that fly to Bogotá, Medellín, Cartagena and Cali; Air Europa often has some of the best value air fares.
Money-saving tips
Most cafes and restaurants offer a lunch menu (set menu) for lunch that typically includes a soup, fresh fruit juice and a main dish of rice, salad, plantain and a choice of protein, all for the equivalent of a few pounds.
By visiting out of high season (opt for April, May, October or November), you can save a great deal on accommodation, and will probably have more options to choose from.
Masaya and viajero are reasonably-priced, sociable and stylish hostel chains with outposts in various parts of the country. They both offer a range of options, from dorms to private rooms.
FAQ's
What's the weather like?
It depends on the region you're visiting; Columbia is extremely diverse. Many places are tropical and extremely hot (for example, the Caribbean coast, the Amazon region, Chocó) and other places at higher altitudes are usually sunny and temperate in the day but get chillier at night (such as Bogotá, Villa de Leyva in Boyacá ). Medellin is known for its pleasantly mild climate all year round.
What time zone is it in?
Columbia Standard Time, GMT-5.
What currency do I need?
Colombian pesos (COP). Plenty of places take card payments but make sure to have enough money on you for day-to-day spending as many things can only be paid for in cash (like buses if you're not buying a ticket at a big bus station, beauty salon treatments, street food, and taxis).
What language is spoken?
Spanish. There are also dozens of Indigenous languages ​​spoken which vary by region but you can almost always get by with Spanish or an English-speaking guide.
Read more on winter sun hotels