Many heritage sites in wales such as castles and palaces are enjoying a surge in visitor numbers after people developed an interest in Welsh history during the Covid pandemic.
At the atmospheric ruins of the 14th century Bishop's Palace in St Davids, south-west Wales, there was an increase in tourists of almost 50% compared with pre-pandemic times.
Tretower Court and Castlenear Abergavenny, once a magnet for medieval poets, has experienced a rise of more than 20% in visitors.
A multimillion-pound project to transform the main entrance into Caernarfon Castle in north Wales, the King's Gate, is about to be completed and the hope is that this will lead to a surge in visitors this spring and summer.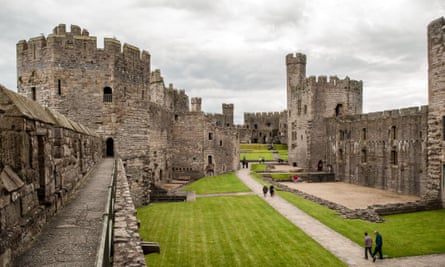 Gwilym Hughes, the director of Cadw, the Welsh government's historic environment service, said: "One factor is that there seems to be a renewed interest in Welsh history. Maybe the Covid lockdowns made people realize there's more to be seen on their doorsteps; they don't need to travel to Mallorca or the south of France. And there was a big surge of new visitors coming to Wales as lockdown eased."
St Davids has been a popular place of pilgrimage since a 12th-century pope decreed that two trips there were equal to one to Rome. Thousands flocked to see the shrine of St David in the newly built cathedral. The Bishop's Palace was built between 1328 and 1347.
About 300,000 people visit the cathedral every year but most missed out on the picturesque ruins of the palace until Cadw made a concerted effort to find ways of hanging on to a decent share of them, leading to a 49% rise last year. "There was an opportunity to take advantage of passing trade," said Hughes.
More people have flocked to Tretower since a medieval barn was restored and turned into a visitor center and cafe. "Where we have invested more money, it has encouraged more people to come," said Hughes.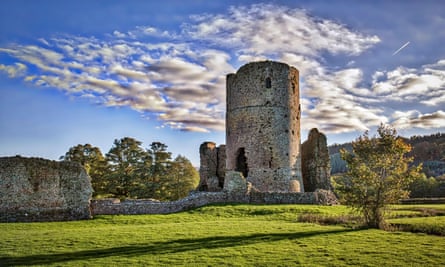 More than 1.1m visits were made to the 23 staffed Cadw sites between April 2022 and March 2023. Another 1m-plus visits were also made to unstaffed sites.
Conwy Castle is the most popular site, welcoming 227,000 visits in the last year, an increase of 5% on pre-Covid levels.
Though overall the numbers were slightly down on pre-Covid levels, those at many sites were up. The preliminary numbers from this Easter period suggest an 8% rise in visitor numbers compared with the last Easter before Covid.
Hughes said: "Over Easter it was really noticeable. There were queues of people coming into some sites. We can't be complacent. With the cost of living crisis people, we can't take it for granted; we have to demonstrate we are providing really good value."
The recovery has led to a significant increase in commercial income for Cadw, now at a record level of £9.6m compared to the pre-Covid level of £8m.
The Welsh deputy minister for arts and sport, Dawn Bowden, said: "I'm pleased to see such encouraging visitor numbers across our fantastic Cadw sites. The Welsh government is committed to conserving and protecting Wales' rich historic sites for the benefit of current and future generations."