The cryptocurrency market has seen remarkable growth in first quarter 2023with an almost 50% rise in its market capitalization and even more notable performances of major currencies like Bitcoin And Ethereum. CoinGecko offers a full report examining key highlights and analysis from this period, including the progression of the decentralized finance (DeFi) industry, NFT trading volume, and the evolution of centralized (CEX) and decentralized (DEX) exchanges .
Find a condensed version of the 44 pages of the report of CoinGecko.
Crypto Market Rise in Q1 2023: Key Highlights and Analysis
Crypto Market Rise: 48.9% Growth to $1.2 Trillion
The market for crypto got off to a strong start to 2023, reaching a total market capitalization of $1.2 trillion at the end of Q1. That 48.9% ($406 billion) growth surpassed its 2022 year-end valuation of $829 billion. Additionally, average daily trading volume increased by 30% quarter over quarter, from -33% in Q4 2022 to $77 billion in Q1 2023.
Impressive performance of Bitcoin: Gain of 72.4%
Bitcoin has established itself as I'asset best performing major in Q1, registering a gain of 72.4%. He surpassed others assets majors such as the NASDAQ index (15.7%) and gold (8.4%). Crude oil was the only major asset class to decline, falling -6.1%.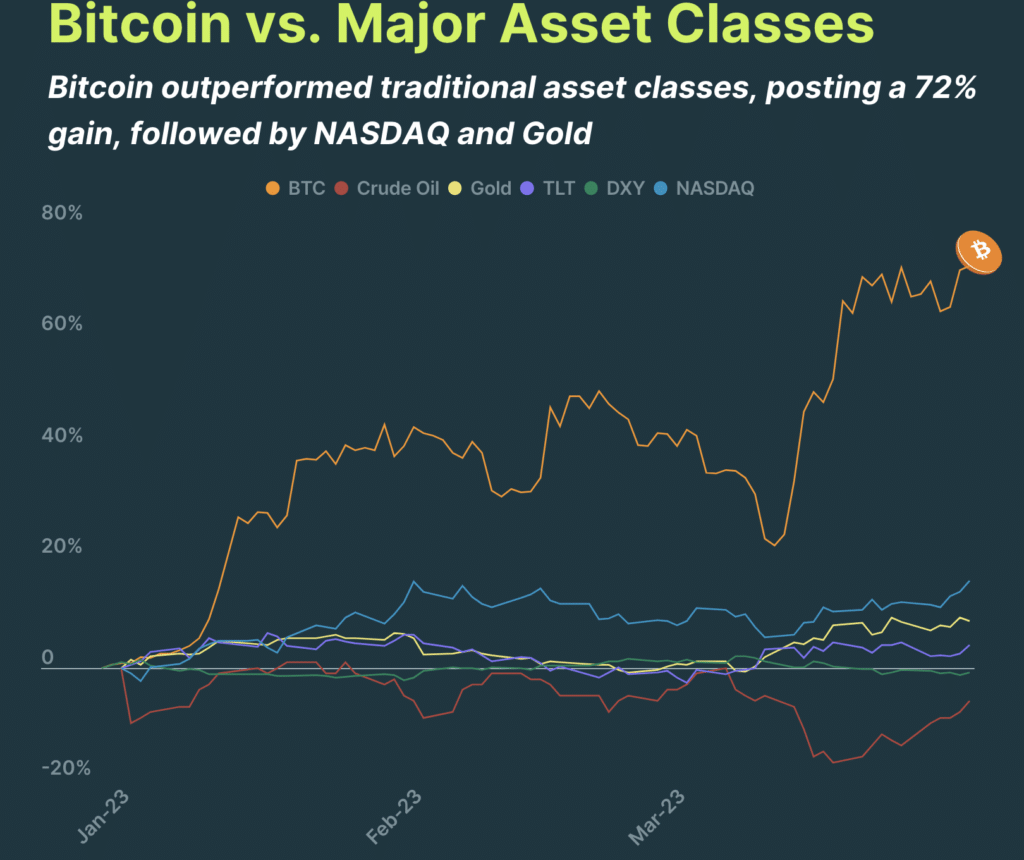 Stablecoin drop of $6.2 billion: USDC and BUSD hit
Top 15 stablecoins saw their market capitalization decrease 4.5% ($6.2 billion) due to Binance USD (BUSD) shutdown by Paxos and a temporary USD Coin (USDC) depeg event as US banks collapsed , including the SVB. Tether (USDT) expanded its market capitalization by 20.5% ($13.6 billion), while USDC and BUSD lost 26.9% and 54.5% respectively.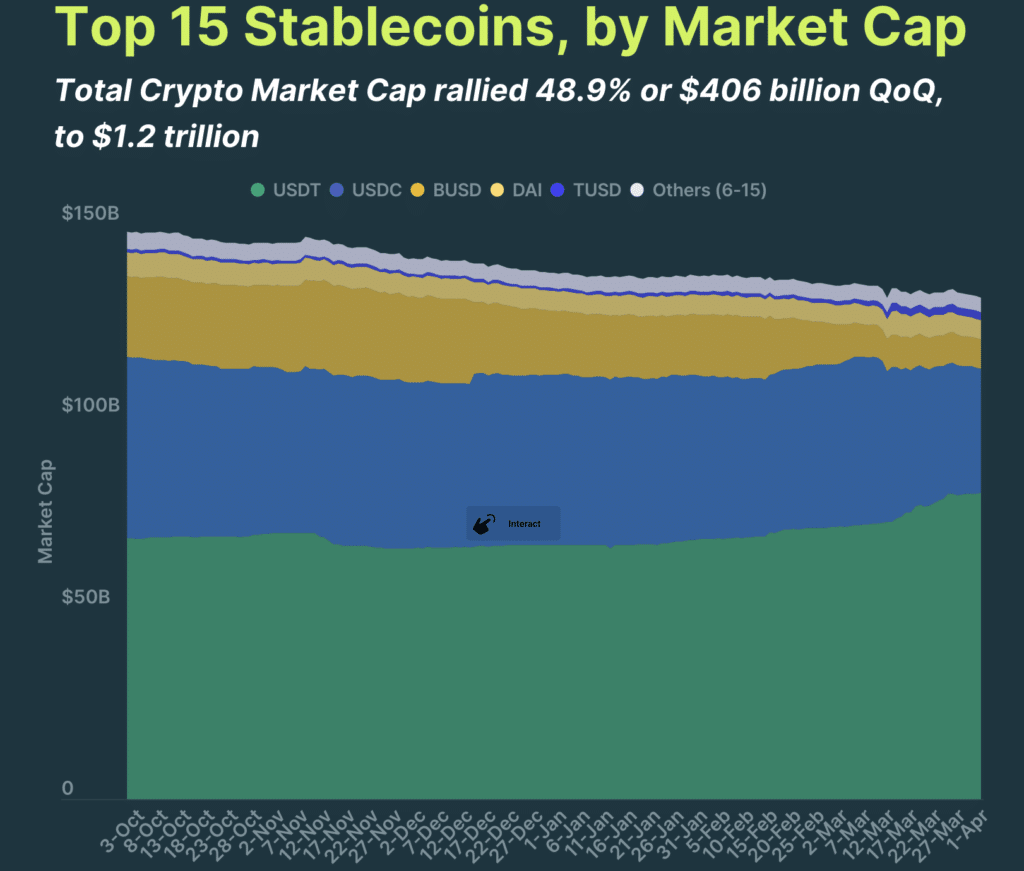 Rise of the DeFi ecosystem: The liquid staking sector leads the dance
Market capitalization of the sector Challenge grew by 65.2% ($29.6 billion) in Q1 2023, mainly driven by the performance of liquid staking governance tokens as LDO of Lido. Confirmation of the update shapella (Shanghai and Capella) ofEthereum contributed to an increase in 210.9% market capitalization of liquid staking governance tokens, propelling it to the third place in DeFi categories.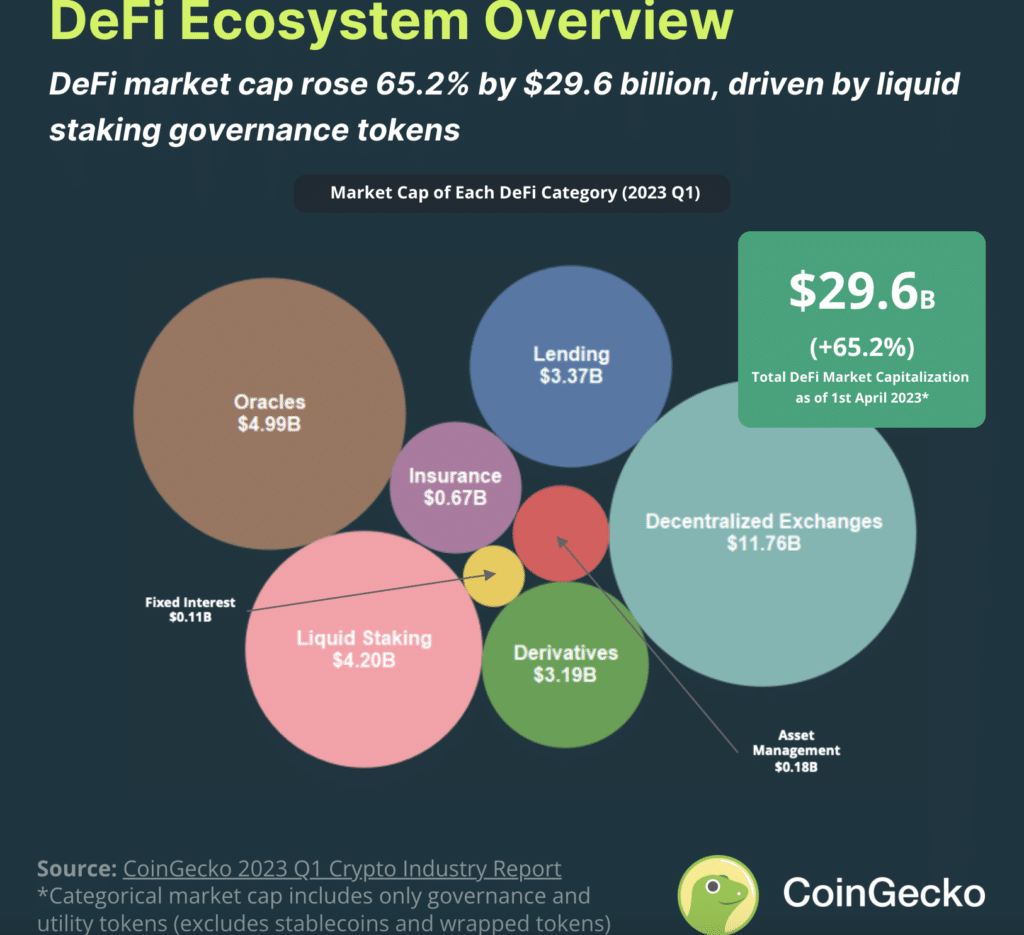 Resurgence in NFT transaction volume: Blur overtakes OpenSea
THE volume of transactions NFT grew 68% from $2.1 billion in Q4 2022 to $4.5 billion in Q1 2023. Blur, a new NFT platform optimized for traders, outperformed former market leader, OpenSeacapturing 71.8% market share in March 2023, compared to 52.8% in December 2022. OpenSea's market share has meanwhile decreased from 29.3% to 21.7% during the same period.
However, the Solana ecosystem experienced a decline in trading volume in Q1. magic eden, the largest marketplace on the network, saw its transaction volume drop from $73.9 million in December 2022 to $23.6 million in March 2023, a decrease of 67.9%. Important collections like y00ts And DeGods also migrated to other channels, dealing an additional blow to Solana.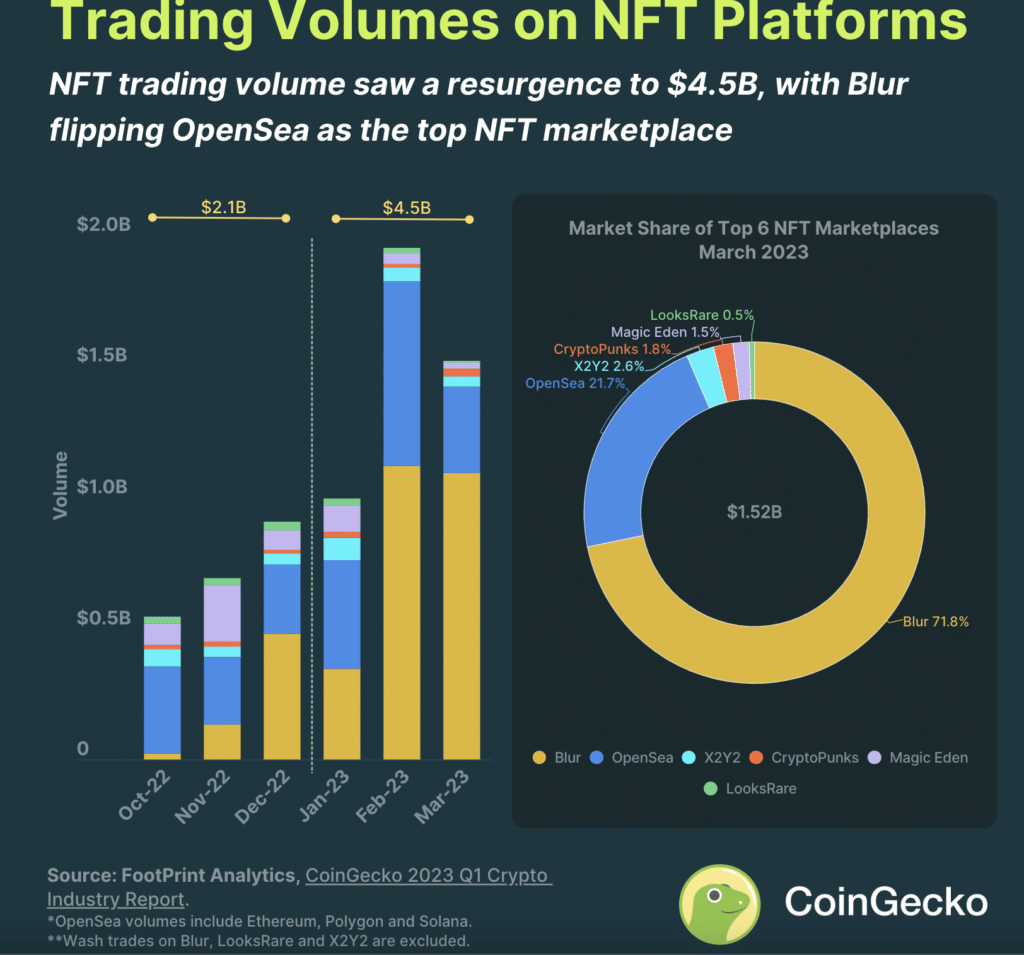 SPOT trading volume up 18.1%: DEXs outperform CEX
THE SPOT transaction volume across the top 10 crypto exchanges hit $2.8 trillion in Q1 2023, an increase of 18.1% from Q4 2022. Monthly trading volume has been up from lows of 0 .5 trillion in December 2022. However, the monthly volume has yet to reach the average of $1 trillion, a figure last seen in the first half of 2022.
In the context of the repression of CEX by regulators all over the world, the DEX grew nearly twice as much as CEX in Q1 2023. Volumes seen on DEXs increased by 33.4%, compared to 16.9% for CEX. Despite this, the CEX/DEX trading volume ratio remained above 90% throughout this period.
CoinGecko's Full Crypto Market Q1 2023 Report
For more details and in-depth analysis, find CoinGecko's 44-page report on the highlights of this first crypto quarter in 2023:
The article Crypto Market Revives in Q1 2023: CoinGecko Analysis appeared first on Corner Academy