Le Coin Hebdo is the unmissable event to keep up to date with the crypto, NFT, Metaverse & Web3 news of the week!
On the program: activity on Bitcoin is picking up, Ethereum wants to integrate zkEVM directly into the protocol, Ultra reveals the release date of its platform, Bitkraft raises $220 million for its new Web3 fund.
BRC-20 this new token standard boosts activity on Bitcoin
The number of daily registrations of Bitcoin Ordinals constantly hits new records with tokens BRC-20a small revolution for the Bitcoin ecosystem.
THE Ordinals are "digital objects" similar to non-fungible tokens (NFTs), allowing the storage of data such as textof the pictures JPEG/PNGof the PDFof the videos and audio formats on the bitcoin protocol. The BRC-20 standard relies on Ordinal registrations to deploy token contracts and make transfers, much like the standard ERC-20 of Ethereum. The introduction of Ordinals and BRC-20 tokens on Bitcoin was made possible thanks to the soft fork Taprootimplemented on November 14, 2021.
Bitcoin Ordinals have reached 76,374 registrations April 4 according to data from Dune Analytics.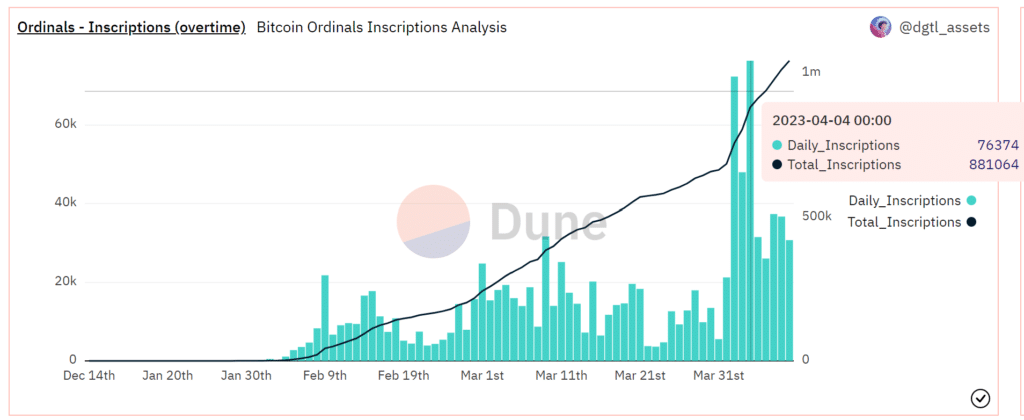 Vitalik wants to integrate zkEVM on Layer 1 Ethereum
Vitalik Buterinthe founder of Ethereum wants the integration of different zero-knowledge proof technologies (ZK) equivalent with the Ethereum Virtual Machine (EVM) directly in the Ethereum protocol to speed up the verification of the blockchain, without sacrificing security or decentralization.
Ethereum was designed following a multi-client philosophy to ensure the decentralization of the protocol. By integrating zkEVMs with the first layer of Ethereum, a third type of client would be added, in addition to clients "consensus" And "execution" existing.
The customer consensus uses proof of stake to ensure agreement between network nodes, while the client execution handles new transactions broadcast to the network, executes them within the standard Ethereum virtual machine, and maintains a copy of the current state of the blockchain.
Buterin weighed the pros and cons of viewing Ethereum layer 1 as an evidence storage protocol for layers 2 (clearing house), moving almost all transactional activities to layers 2.
He explained that zkEVMs should be "open ended" to allow different customers to have separate zk-EVM implementations. Each client would wait for a proof compatible with its own implementation before accepting a block as valid.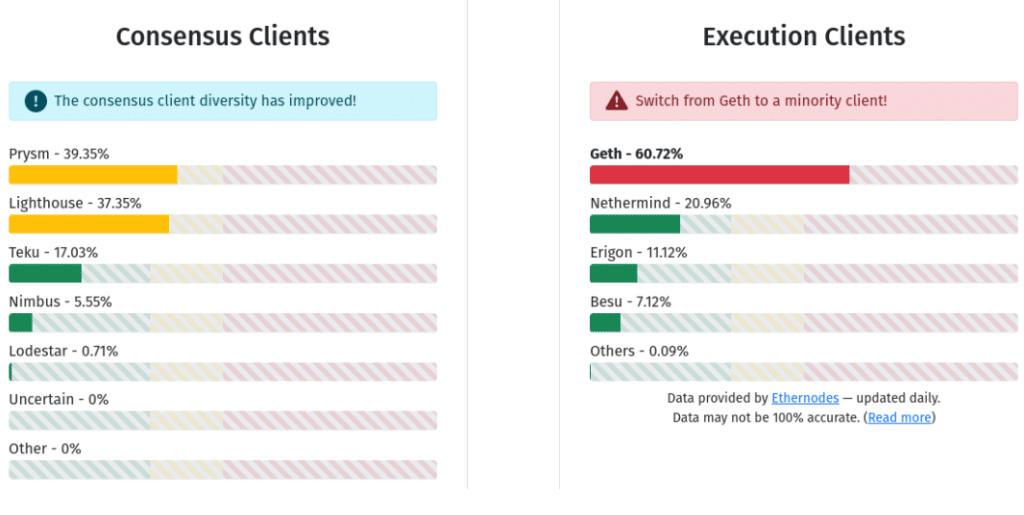 This approach preserves the "multi-client" paradigm and encourages the development of new clients, thus reinforcing the decentralization of Ethereum at the base layer.
"Each Ethereum node runs a consensus client and a runtime client. To date, no consensus or runtime client represents more than 2/3 of the network. If a client with less than 1/3 share in its category has a bug (crash), the network will just continue as usual. If a client with between 1/3 and 2/3 share in its category (ex: Prism, light house Or Geth) had a bug, the chain would continue to add blocks, but it would stop finalizing blocks, giving developers time to intervene."
– Source Vitalik's blog post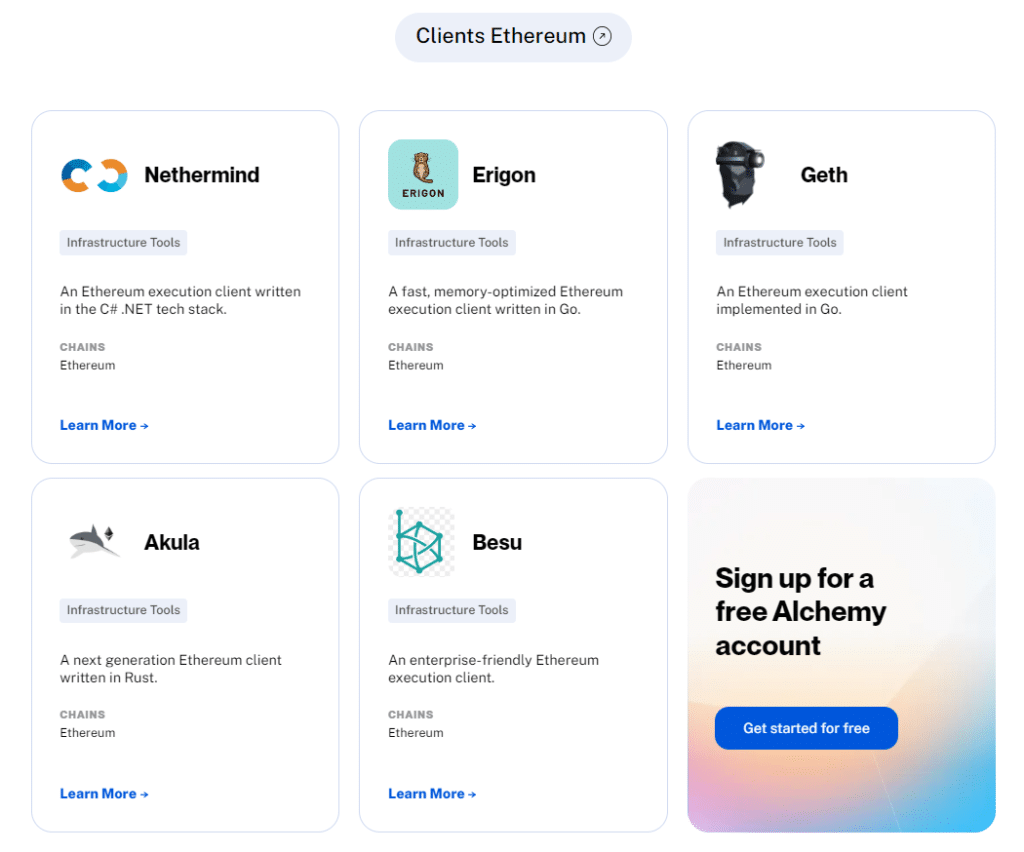 The digital euro (CBDC) will control payments
Unsurprisingly, the President of the European Central Bank (ECB), Christine Lagardeacknowledged that the digital euro would involve a certain level of payment control during a video chat.
Russian comedians Vladimir Kuznetsov (aka "Vovan") And Alexei Stolaryov ("Lexus") trapped dozens of world personalities including Christine Lagarde and François Hollande. By imitating Zelensky (the President of Ukraine), one of the comedians pushed Christine Lagarde to admit a form of payment control thanks to the digital euro.
The comments of the President of the ECB have been criticized by the community crypto. Indeed, a digital euro could allow governments and the central bank to spy on consumption habits of individuals and their transactions.
Learn more FATF: the governments plan to control your crypto currencies!
Ultra reveals a release date for its Ultra Games platform
Video game distribution platform Ultra finally unveils an official release date for its Ultra Games platform. An event eagerly awaited by gamers and investors in the Web3 who consider gaming to be one of the main narratives of the mass adoption of cryptocurrencies.
Ultra is a competing platform of Steam & Epic Games for tokenizing games on the blockchain. The project offers its own forked blockchain infrastructure of the project EOSusers do not pay gas fees to make transactions and the platform claims to be able to manage more than 12,000 transactions per second in parallel with a transaction finality of only a few seconds.
Developers and content creators will be able to easily tokenize their games for resale, but it will also be possible to tokenize different types of assets such as tokens dedicated to games, skins, DLCs, ingame content such as weapons, armor or cashprice for Esports tournaments directly hosted on the platform Ultra Arena.
If you want to learn more about Ultra

Grayscale could win its lawsuit against the SEC and launch its Bitcoin ETF
GrayScale and the regulatory body Securities and Exchange Commission (SEC) are engaged in a legal tussle over the conversion of the Bitcoin Trust (GBTC) from Grayscale into a Bitcoin ETF on the spot market.
Rumors are circulating that SEC officials are losing confidence in their chances of winning this lawsuit. Last month, judges questioned the SEC over its multiple refusals to approve the application of Grayscale for its Bitcoin Spot ETF.
If the fund Grayscale wins his case against the DRYthis could lead to theapproval of the first Bitcoin spot ETF and a massive influx of institutional investment.
Gaming company Bitkraft raises $220 million for Web3 fund
Bitkraft Venturesa venture capital firm specializing in technologies around the gaming and of theesports has raised more than $220 million for its new fund dedicated to investments in companies and tokens related to Gaming on the Web3.
It is important to note that the amount raised is colossal, especially at this time when investors are particularly vigilant in traditional and crypto markets.
The video game industry is growing rapidly. The creation of quality games is becoming easier and easier thanks to the many development tools offered by engines such asUnrealEngine And Unity.
Tokenization via the blockchain can improve the experience of players and strengthen the digital economy video games. Despite the emergence of professions related to gaming, it is often difficult for enthusiasts to live from their passion. Entrepreneurs are betting on cryptocurrencies to boost the gaming economy and allow more gamers to make a living from it.
Learn more Bitkraft raises $220.6 million for its new fund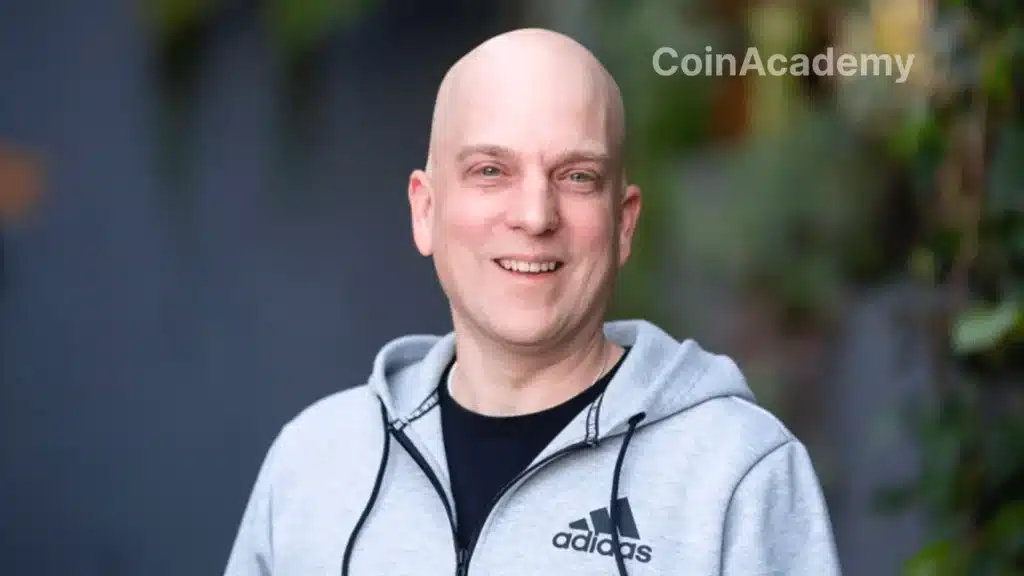 Up to $30 offered in BTC for the purchase of a Ledger wallet
Until April 18, Ledger offers gift cards from $20 in BTC for the purchase of a Ledger Nano S Plus And $30 in BTC for the purchase of a wallet Ledger Nano X.
Ledger hardware wallets give you the ability to personally sign your transactions and retain control of your assets, even if your Ledger is lost or damaged. Transacting with a Ledger Nano is easy and secure. The transaction information appears on the secure screen of your Ledger, and a few clicks are enough to verify and approve it.
By securing your cryptocurrencies on a Ledger, hackers cannot hijack your funds remotelybecause physical access to the wallet is necessary and your seed phrase (passphrase to access your funds) remains offline, it is never broadcast on the internet.
Ledger Nano Xour opinion on the crypto wallet and its security
Ledger Nano S Plus

our opinion on the crypto wallet and its security
The article Crypto news for the week of April 3, 2023: Coin Hebdo #92 appeared first on Corner Academy