The tax declaration period is approaching for the French and should once again bring its share of incomprehension. To overcome this problem, Waltio has just unveiled its new completely free offer to support French people holding crypto currencies in their tax declaration.
Waltio is a startup launched in 2019 who wants to accelerate the adoption of crypto currencies and Bitcoin by simplifying the taxation and accounting related to this field. The company quickly stood out in the French landscape since it supported more than 10,000 investors over the years.
Nevertheless, according to a recent study, 81% of French people do not declare their taxable transfers or do so poorly. However, in France, more than 5 million people possess assets digital. Therefore, the inaccuracies or lack of declarations are both a threat to individuals who do not declare their cryptobut also a certain shortfall for the French administration.
Learn more about : Multi-million scam: The AVI collective filed a complaint against influencers
Waltio unveils its new free offer
Aware of the great difficulty encountered by the French in calculating their capital gains, Waltio wished to update its offers in order to be able to offer to more people its tax return calculation software.
From now on, alongside paid formulas at 179 euros or at a personalized price, a new offer is offered to users. The great novelty of this offer is that it is free, but certain conditions must be met to be eligible for it.
Thus, this offer only concerns people who have carried out only up to 50 transactions over the past fiscal year. In comparison, the paid offer at 179 euros proposes to carry out the tax declaration of crypto holders who have made up to 10,000 transactions.
However, during the years 2019,2020 and 2021, Waltio realized that 20% of its users made less than 50 transactions per year. Therefore, based on the aforementioned figure of 5 million crypto owners in France, more than one million people would be eligible for Waltio's free crypto tax declaration.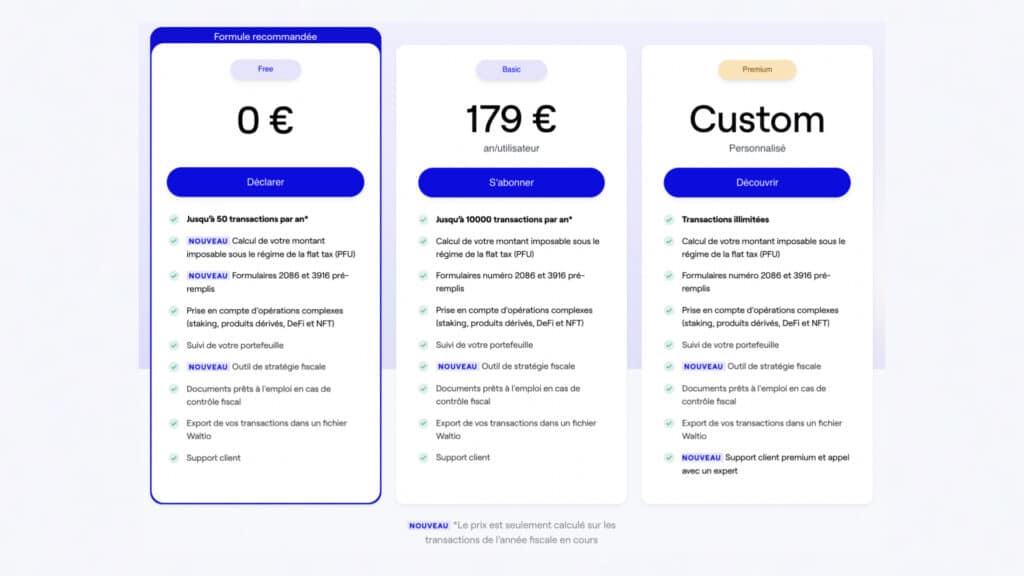 What is the service offered by this free offer?
Specifically, Waltio wants this offer to be used by users in the most convenient way possible. Therefore, people eligible for the free offer will not need to enter their bank card on the site and will be able to benefit from a service without obligation.
By retrieving the transaction history of its customers from of more than 200 buy/sell platforms and by analyzing taxable capital gainsWaltio will be able to provide its users with 4 tax documents allowing them to easily complete their tax declarations.
Pierre Morizot, co-founder and CEO of Waltio, is delighted with this new offer and explains that "Walgio wishes to continue its mission of making crypto tax reporting as simple as possible". He adds that "this new offer also makes it possible to drive adoption of digital assets by making the tax declaration accessible to all investors".
The article Crypto tax expert Waltio unveils a completely free offer appeared first on Corner Academy