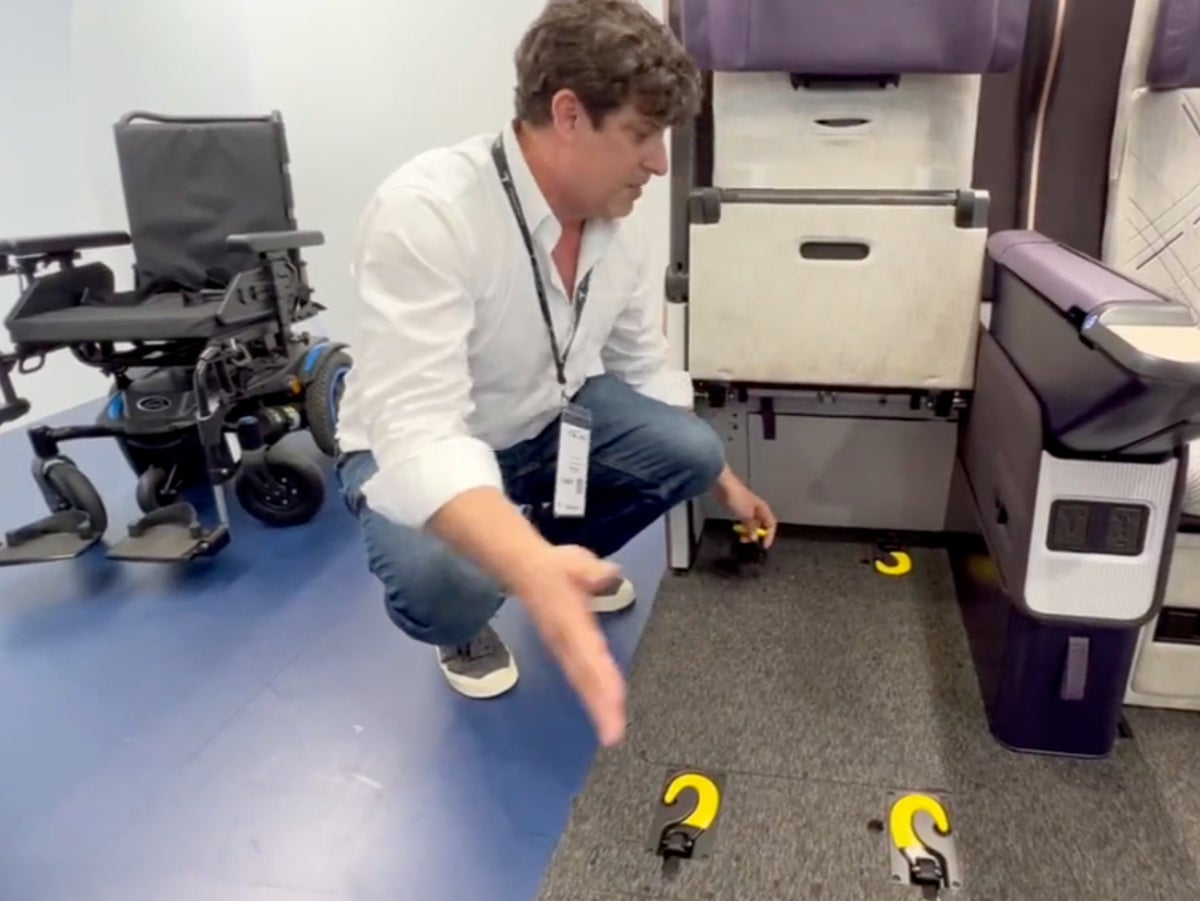 Delta Air Lines has unveiled a new accessible plane seat to accommodate power wheelchair users.
Tea seat prototype was introduced this week at the Aircraft Interiors Expo in Hamburg, Germany.
It's been created in partnership with UK company Air4All, and would enable passengers to be seated in their own power wheelchair throughout a flight.
"Commercial aviation is the only mode of transport that has no regulations to allow power wheelchair users to travel safely and with dignity seated in their own chair in an aircraft cabin," Air4All said on its website.
Visitors to the expo saw the patented design in person, and aviation journalist Seth Miller called it "the star of the show."
Mr Miller shared a video on Twitter detailing how the seat works. After removing the cushions and storing them underneath the seat next door, you lift the arm rest, and the base can then be pulled up too.
These actions mean the standard seat converts into a designated space for a power wheelchair to be secured.
"Very simple mechanisms, and Delta Flight Products is making it happen. Kudos to @flyingdisabled for his efforts to make it happen," he tweeted.
One of the members of the Air4All team is aviation access consultant Christopher Wood MBE, who is the founder of Flying Disabled and travels around the world campaigning to make commercial air travel accessible for power wheelchair users.
President of Delta Airlines subsidiary Delta Flight Products, Rick Salanitri, said: "Air4All is collaborating with DFP and our strong production and manufacturing capabilities to explore new ways to deliver equal access to comfort, safety, and dignity for all customers."
The seat can be used in both standard mode and to enable power wheelchair access.
As outlined by Air4All: "Airlines have been resistant to provide a wheelchair space as this would result in a loss of seat count."
Chair of the UK Civil Aviation Authority, Sir Stephen Hillier, said: "We believe that everyone should have access to air travel, and we welcome the significant improvements in accessibility made by UK airlines and airports in recent years."
Mr Salanitri said that "this patented design offers new possibilities for customers with disabilities to enjoy a travel experience they truly deserve."
Last November, a passenger's wheelchair was irreversibly damaged after being thrown onto Gatwick's baggage carousel "like a suitcase."
In February this year, meanwhile, TV presenter Sophie Morgan described £5,000 worth of damage to her wheelchair by British Airways as "an assault."