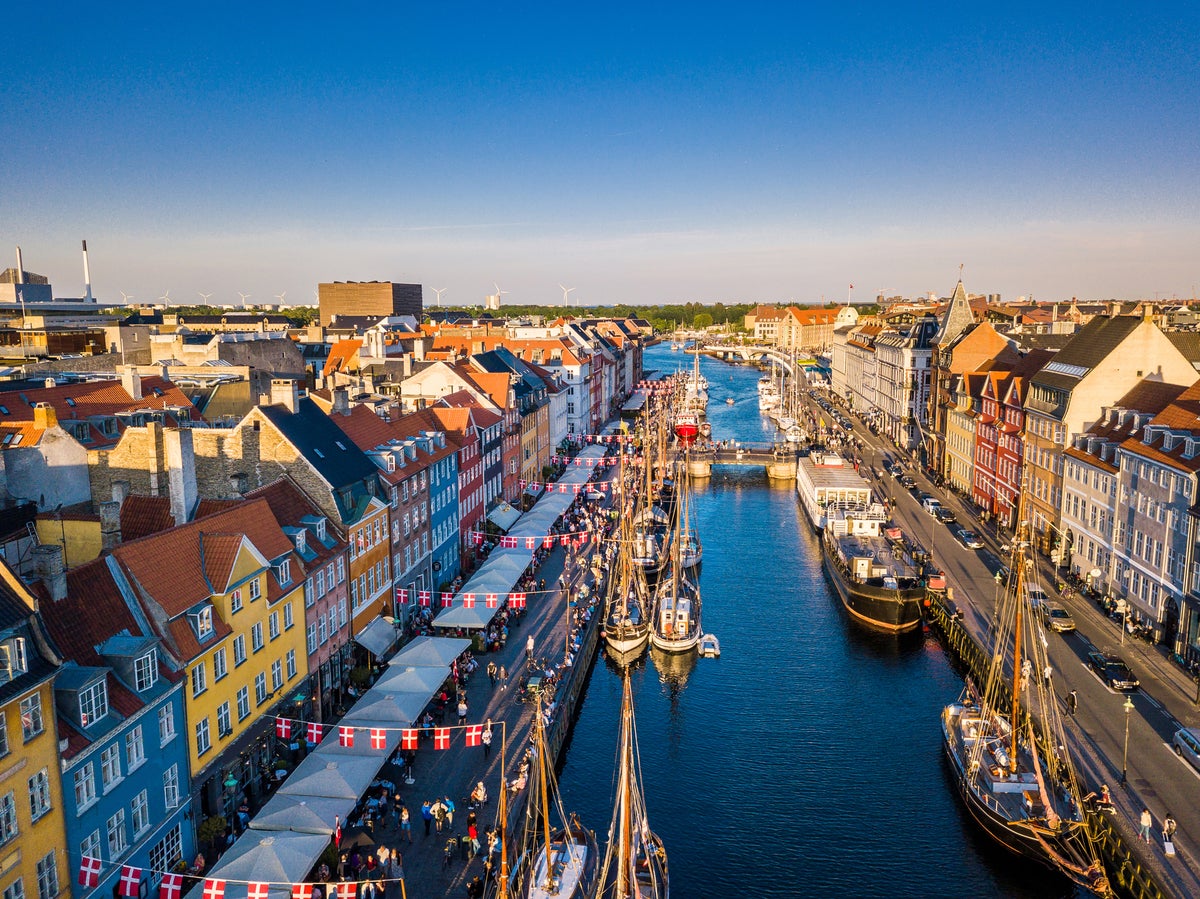 Somewhere in the Danish countryside – amid the swan-filled lakes, royal gardens, and oak woods – lie the settings where Hans Christian Andersen was inspired to pen the world's best-selling fairy tales. In the 19th century, the writer was taken by his homeland's lily ponds and castle estates, riverbanks and chalk cliffs, and yet still today, it's not hard to fall for such superlative landscapes. For Denmark is a kingdom with scenery and stories to set anyone dreaming.
To begin, copenhagen has been one of the world's most appealing capitals for some years, with culture, design, architecture, canals, castles, and Carlsberg on tap – admittedly, it's tough to squeeze it all in, no matter how much time you have. And if your wallet can take it, the city is a hub for Michelin-star dining.
Away from the tourist crowds, many prefer the cities of Aarhus, Aalborg, and Odense – each is bewitchingly attractive – while the spaces in between are filled with jigsaw-piece fjords, more than 400 islands, beach towns, theme parks and epic Viking sites that live up to their billing. Life is good in Denmark, so it's hardly surprising the Danish are regularly voted amongst the world's happiest. Lucky them.
Travel restrictions
Since 2021, travelers arriving in Denmark have not been subject to any Covid-19 limitations. No proof of vaccination, recovery, or testing is required for entry and the country has done away with all mask and social distancing.
best time to go
Whether there's a more rewarding time to visit Denmark than any other is a topic of speculation, but – for most travelers – the country is at its most playful in summer. Cities roll out festivals galore (Roskilde in late June is Glastonbury-gone-Scandi) and, with every second Dane heading to a wood-clad cabin or holiday cottage, sand-swept beach destinations from Klitmoller (aka Cold Hawaii) to Bornholm do their best to recast the North and Baltic Seas as something akin to the Mediterranean.
Read more on Denmark travel:
It could also be claimed that the Danes know how to do December travel-bragging better than anywhere: Copenhagen and its seasonal Tivoli Gardens, in particular, are devoted to spice-laden cookies, festive merry-go-rounds and an explosion of fairy-lit decorations in the cold still air. For the ultimate festive hit, splurge at Nimb Hotelthe park's beginning point into pinch-yourself fantasy.
Top regions and cities
copenhagen
Possibly the world's best city? To the Danes, it's sacred – and perhaps you'll think so too. For the uninitiated, it's a green powerhouse with cycle superhighways, vitreously clear harbor swimming pools, upcycled warehouse districts and fair trade food courts, plus Hamlet-style castles next to bohemian districts. In truth, there's no real guidebook itinerary to follow, as Copenhagen is a city that rewards a freewheeling approach (and that also means it's best explored by bike). Discovering the latest food or drink fad is also a local obsession.
Read our Copenhagen travel guide
For 2023, Copenhagen has been announced as Unesco's latest World Capital of Architecture. Additionally, Designmuseum Denmarkwhich tells the proud and unequaled story of Danish design, is to reopen after two years of renovation.
Odense
The country's most atmospheric medieval city is chock-a-block with fairy tale tropes: witch's hat churches, hunched streets, royal gardens and even a Cinderella-worthy palace. That it was the birthplace of Hans Christian Andersen helps fuel such interpretation, but so does the imagination-inspiring HC Andersen's Hus, a museum tribute to the author that's now rooted above and below the heart of the historic core. Beyond the city limits, expect scenery fit for royalty, from unmissable Egeskov Castle and its rose gardens to Broholma living estate and museum now run as a swanky hotel.
Limfjord
The stunning Limfjord, the inland sea that slices through North Jutland, is a region of old secrets and old stories. Viking ships once sailed there and precious seafood cargo was shipped from it to the palaces of Catherine the Great in Saint Petersburg across the Baltic Sea – this kind of history ripples along the fjord. In Nykobing bityou can join tours from the Danish Shellfish Center on a hunt for some of Europe's last remaining wild oysters – what you find you can slurp straight from the shell. The fjord is home to a rich vein of belt-loosening restaurants. Two places to get stuck in are Sallingsund Faergerkoa historic inn that opened in 1694, and Limfjordens Ostersbara raw bar in Glyngøre with a stellar fjord panorama.
Billund
Factor in less hyperbole and more cultural refinement than at Disneyland and you have this sleepy town turned Lego headquarters, with a Legoland theme park, Lego-themed hotels and a carousel of absolutely terrific family-friendly attractions. For the backstory, the Danish toy company invented its interlocking bricks there 90 years ago – opening its first theme park beside the factory in 1968 – and it's obvious that, over time, play has percolated into the town's DNA. It packs out with nearly four million visitors every year, so avoid the summer influx and stick to the quieter months of late spring or early autumn. And if the plastic blocks brought comfort to you while growing up, don't miss the terrific lego housea hybrid of museum and playground, with jaw-dropping models and ingenious interactive displays.
Best under-the-radar destinations
Wadden Sea
The bridge across the Wadden Sea causeway to the island of Rømø is the gateway to Unesco-listed Wadden Sea National Park, a swathe of beaches and estuaries and the largest protected area in the country. If the pace of modern life is too frenetic for you, then harmony can be found on beach walks in company with spoonbills, starlings and the odd seal – this is the Denmark that most Danes aren't familiar with. There's even an argument that says this is west coast Denmark's ultimate foodie hangout: oysters are an undervalued currency in Denmark, yet an astonishing 72,000 tonnes of the bivalves lie on Rømø's seabed. At low-tide you can fill a bucket with free pearl-shaped shells right from the shore; understandably, the local catchphrase is "if you can't beat 'em, eat 'em". To finish your west coast experience, visit gloriously pretty Tonderthe oldest market town in Denmark.
Fyn vineyards
Denmark was only accepted as a commercial wine growing area within the European Union in 2000, but what's remarkable is how the country has one of the fastest growing viticulture industries on the planet. Utter delight can be found along the coasts of Zealand, Jutland and, most recently, Fyn. In truth, some of the sparkling wines and rielsings are still a little experimental (and pricier than those from more established vineyards), but with climate change pushing grape harvests further north every year, the intentions of Danish winemakers are clear: things are only going to get better. Seek out Kimesbjerggaard Vingaardoverlooking the island of Lyø; Svendborg Vingard on the south coast of Fyn'or Stokkebye — one of the country's most successful producers of pinot noir.
Samso
Hiking clifftop paths, cycling fertile farmlands, swimming on child-friendly beaches, watching sunrise while fishing the coast – the island of Samso offers all the usual holiday draws, but with one major exception: it's the world's first renewable energy island and is completely self-sufficient (indeed, 90% of the island's wind turbines are owned by locals). Which is to say, holidaying here without guilt and without compromise is the real deal. Thankfully, the beaches, bays, and country walks are as beautiful as anywhere in the country and, as the island is nicknamed Denmark's 'vegetable garden', rest assured that eating out is just as sustainable and green.
Best things to do
Cycle Copenhagen
From much-photographed Nyhavn to up-and-coming Opera Park on the waterfront, Copenhagen is a city designed for cyclists and its matrix-like layout of bike pathways and car-free lanes speaks to the sort of smart urbanism that every city could benefit from. The pinnacle is the Harbor Ring, a 10-mile loop past many of the capital's must-sees – gear shifting past the Royal Danish Opera House and Black Diamond Library is rather the point of coming to this forward-thinking capital in the first place.
Stay in a 'badehoteller'
Flitting between sun-drenched shoreline and wind-whipped wild coast, the Danish seaside offers up a hit-or-miss proposition, but nevertheless the country has a strong tradition of beach hotels. Known as badehoteller, these luxurious boltholes and architectural spa properties are as much destinations as the postcard towns and villages they inhabit, with a clear-sighted focus on the slow pace of living and a rich celebration of local food. Rodvig Kro & Badehotel near the chalk and limestone cliffs of Stevns Klint is a favourite, while Skagen at the tip of North Jutland is home to Ruth's Hotel, a slice of The Hamptons transported to the North Sea coast. Coming in 2024 is Gilleleje Sø- og Havbad (literally, sea and ocean bath), a historical town hall transformed into a boutique hotel in popular Zealand resort town Gileleje.
Drive the Marguerite Route
Which Denmark do you want? How about all of it. The country-wide Margeurite Road was inaugurated in 1991 as a tribute to Queen Margrethe II and takes in a whopping collection of 1,000-odd castles and attractions to best showcase Danish landscape and history away from the main roads. In one direction that could take you from Holsteinborg Castle on the south coast of Zealand to Herreborgen Borreby, one of Scandinavia's best-preserved renaissance strongholds. Alternatively, it could begin in Jutland, with the road motoring between 12th-century Borglum Abbey north of Aalborg to Rubjerg Knude Lighthouse. Your roadside guide? A succession of signposts decorated with the queen's favorite flower: the Marguerite daisy.
Getting around
Denmark is a delight to road trip or "bikepack" around, with easy-on-the-eye roadside attractions and infrastructure as good as anywhere in Europe. For train travel, rail operator DSB offers bargain online 'Orange' train tickets, offering reduced prices outside rush hour and bigger discounts the sooner you buy. For further travel ideas, see Visit Denmark.
How to get there
The cheapest and quickest way to get to Denmark is on a budget flight into Copenhagen or Billund with the likes of easyJet and Ryanair. Train travel around the country is efficient, with services from Copenhagen running frequently to Odense, Aarhus and beyond.
Money-saving tip
Like all Scandinavian countries, Denmark is more expensive than the UK, but its forward-thinking culture means there are many ways to save money. Eating out isn't cheap, but a raft of world-class streetside eats means takeaway food is king — in fact, the humble pølser (hot dog) is the national snack of Denmark.
FAQ's
What's the weather like?
The Vikings worshiped many gods in Denmark, from Odin and Thor to Frey and Freyja, but today it's fair to say that it's Sól – the sun god – who lodges in the mind. The Danes love the sun, but the temperate Nordic climate means it rains consistently throughout the year, with temperature highs of around 22°C in summer and winter lows hovering between −2 and 4°C.
What time zone is it in?
GMT+1.
What currency do I need?
Danish Krone (DKK)
What language is spoken?
Danish. Helpfully, English is widely spoken everywhere.
Read more on the best Denmark hotels