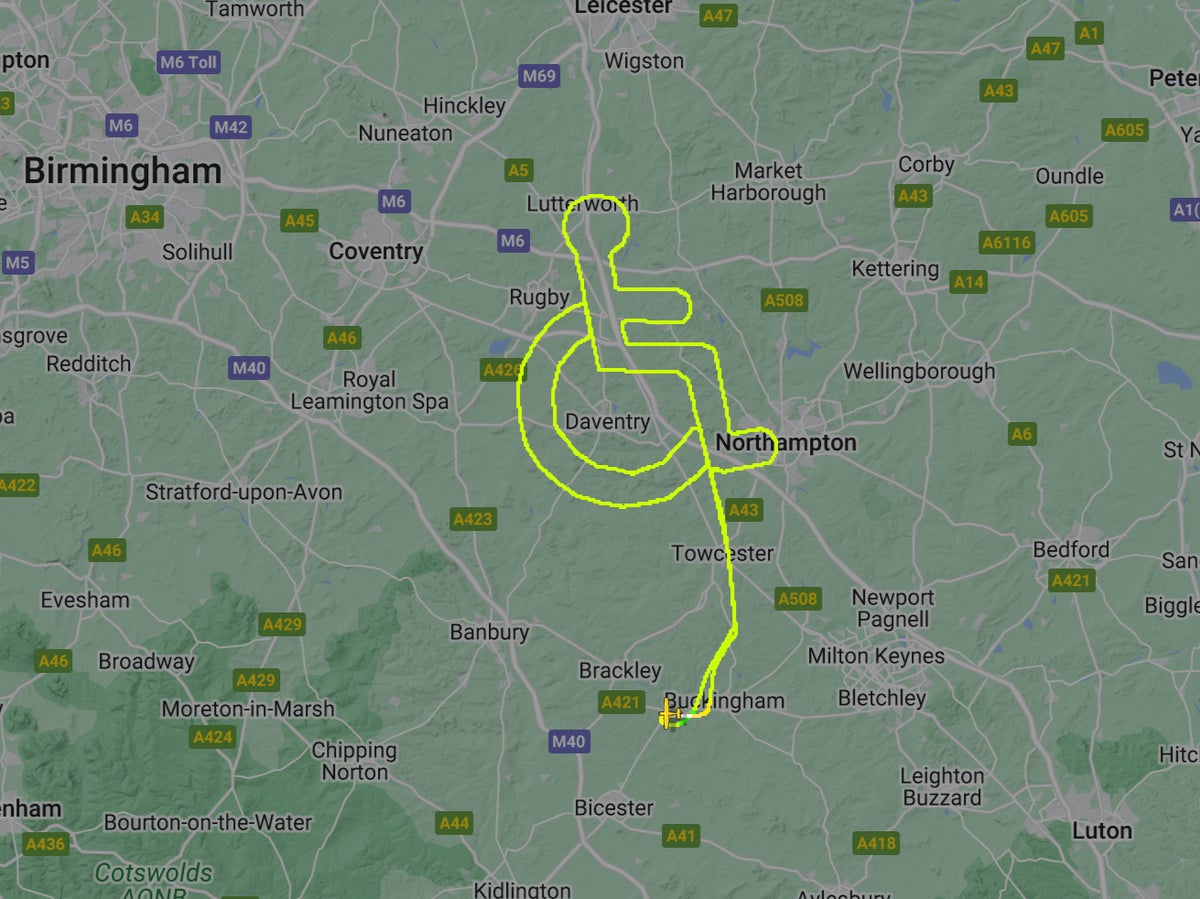 A disabled pilot has "drawn" a wheelchair in the sky on a recent flight over the UK.
Russ Pinder set off in his two-seater ultralight Aeroprakt A22LS Foxbat on Monday (27 March) to create what he called an "appropriate" image.
The one hour and 41 minute flight took off in Buckinghamshire before flying over Towcester, Northampton, Daventry and Lutterworth.
The unusual route came to the attention of aviation tracking site FlightRadar24who tweeted an image of the path with the question: "Does anyone have any information on the nature of the flight?"
Mr Pinder, who describes himself as "That Wheely Plane Bloke on Twitter", piped up: "It was me, I'm a wheelchair using pilot. No real story behind it other than I wanted to dry (sic) out drawing pictures and it seemed appropriate."
"Makes good sense to us!" responded Flightradar24.
"How did he make it so perfect?" marveled one user, prompting other users to cite GPS and LNav as the explanation.
"Yep, they plan it on a software and let autopilot take over with the flight to 'draw' it," explained one user.
"That's still incredibly impressive," noted another.
Another user had a more emotional response to the image.
"This is amazing, I've been feeling self conscious about becoming a wheelchair user (into my 4th week) [but] the amount of people I've come across (online) that [have] done something that has made me feel differently each time I have one of those moments.
"Thank you and keep up the good flying."
Pilots taking bespoke routes to create pictures in the sky have become increasingly common in recent years.
In 2020, a pilot "draw" a picture of Pac-Man chasing a ghost in the sky above Lincolnshire.
And in 2017, a pilot created a giant christmas tree in the sky over Germany while doing a test flight of an Airbus A380 aircraft for Emirates.