We started the tradition of celebratingDisneyland Birthdays when our two oldest were 1 & 3. It was our way of escaping with them for one last day before they graduated onto their next year in life. One last time to soak them up without all the fuss & chaos of party guests.
Over the years our Disneyland Birthdays expanded to include Disney World, Aulani and Disney Cruise Line. But, one thing remained the same. We made time STOP, we poured out tons of love on our babes and we created a tradition and memories that I hold close to my heart.
With all of our experience, we have also learned a thing or two about making the most out of your Disneyland Birthdays so below are some tips and ideas to help you make your day EXTRA magical!!!
15 Ways to Make Disneyland Birthdays Special
We broke all our ideas down for you so that you are ready to celebrate your Disneyland Birthday and have a magical day!
---
1. Dress Up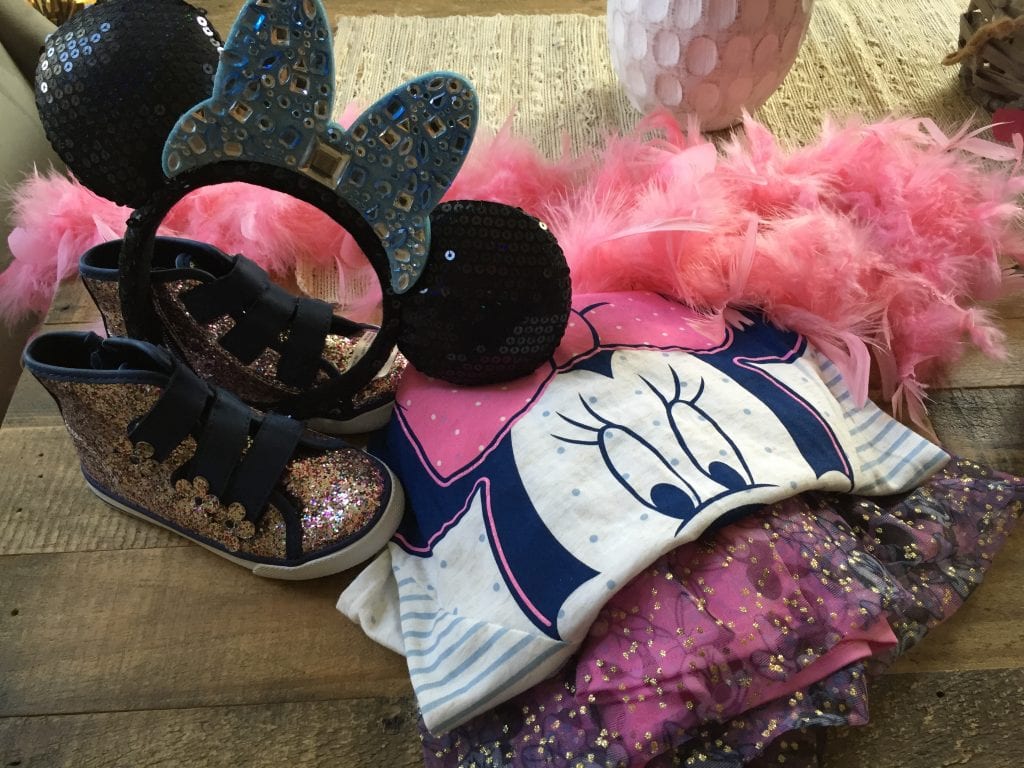 Celebrating a birthday at disneyland is more magical when you get all dressed up. When your kids are little the idea of dressing up at the parks is super fun… especially with girls (in my case anyway).
With my daughters who have fall birthdays I planned their Halloween costumes around a Disney character to save a bit of money on costumes.
You can also order Disney themed costumes online at Amazon and save that way too. Or Target and H&M usually have some great options when it comes to Disney Themed Shirts like the outfit I found above at Target.
Check out some of our favorite Disney themed Birthday Shirts here!
For my boys we went a different route. We purchased a Disneyland Birthday Cake Hat at the Mad Hatter's Store in Fantasyland and they would wear that on their big day with a character shirt. The birthday hat for the day was an OVERALL HIT!
One year I purchased personalized ones from the Disney Store Online and they really loved them because no missed wishing them a "Happy Birthday" with the big label on the back- ha!
Treat your Kid to the Bibbidi Bobbed Boutique
The Bibbidi Bobbidi Boutique at the Disneyland Resort is an enchanting experience for children, especially those celebrating their birthday. The boutique offers a magical transformation for kids, where they can dress up like their favorite Disney princesses and princes.
The experience begins with a fairy godmother-in-training greeting the child and escorting them to the boutique where they can choose from a variety of hairstyles, makeup, and accessories. The child can select their favorite Disney princess or prince costume and have their hair styled to match the character. They can also get their makeup done and choose from a variety of accessories like tiaras, wands, and jewelry.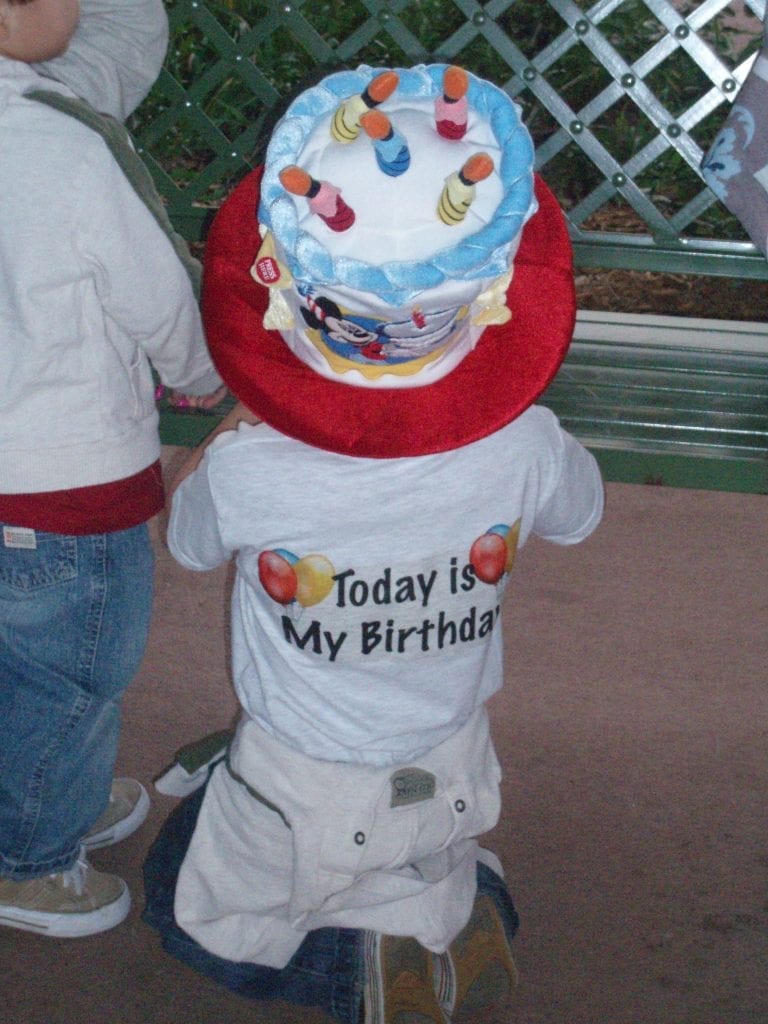 ---
2. Enjoy Character Dining
Of course there is no better place to dine with little ones than at a restaurant with their favorite characters. I will never forget my daughters 2nd birthday (above) when she locked eyes with her role model for the first time- PRICELESS!!!
When it comes to Character Dining at the Disneyland Parks there are some great options including:
---
Goofy's Kitchen | Breakfast or Dinner with Goofy & Friends
Goofy's Kitchen is an American style restaurant served buffet style so there are a ton of options for even the pickiest eaters. If you are there for breakfast you have to try their famous Mickey Waffles or if you want to eat healthy made to order omelettes are available too.
You can usually catch Goofy himself + Pluto, Minnie, Chip & Dale there too!
Goofy's Kitchen is located at the Disneyland Resort Hotel!
---
Princess Breakfast Adventures at the Grand Californian
Disneyland birthdays are super special so if you want to go all out on a breakfast, this is the place. You don't need to stay at the Grand Californian to experience this incredible breakfast. However this is by far the most extravagant character breakfast you will ever go to.
You will see a wide variety of princesses including Jasmine, Aurora, Pocahontas and more. There is a special gift the children will receive along with an autograph book. It is a one of a kind event. Check out my full review for more details.
---
Plaza Inn | Minnie & Friends Breakfast in the Park (Park Admission Required)
This is actually our FAVORITE place to dine… especially if you are looking to find characters that you wouldn't normally see walking around the parks. Plaza Inn is another breakfast buffet like Goofy's Kitchen but I think the food here is a little bit better. My kids love that they find unique characters and can score awesome autographs from people like: The Fairy Godmother, Suzy, Captain Hook, Winnie the Pooh, Eeyore, Tigger, Max Goof, Rafiki, Geppeto & Pinocchio.
*Pro Tip- book the earliest reservation as you are let into the park to dine prior to opening. By the time you are done you will still be one of the first people at Disneyland that day!!!
---
Storyteller's Cafe | Chip & Dale's Critter Breakfast
This restaurant has fantastic food options and I wish they would extend their character experience to include dinner. But, currently they only have a character option at breakfast. Still better food than the other options available in my opinion but the character line up is a little ho hum (or great if you like those hard to find characters). Here you will most likely find woodland & jungle animals like: Brer Bear, Brer Fox, Kenai, Koda, Meeko and Turk.
---
Disney's PCH Grill | Surf's Up Mickey & Friends Breakfast
This one is a bit off the beaten path and usually a tad easier to get a reservation at because it is located at Disney's Paradise Pier Hotel. Here you will find a California inspired menu including omelettes, frittatas, beef chilaquiles and not to miss banana fosters french toast!!! The characters are dressed in their finest beach attire and you can usually catch: Daisy, Goofy, Mickey, Minnie, Pluto & Stitch here.
*Pro Tip- this is the ONLY breakfast where you can dine with BOTH Mickey & Minnie!

Of course, if you happen to be visiting Walt Disney World they have a bunch of options too. But, our personal favorite is the Chef Mickey's Restaurant!!!
---
3. FREE Disneyland Birthday Button + Fun Way to Make it Extra Fun!
And, of course… you HAVE to get your Free BIRTHDAY BUTTON. Disney Cast Members all over the parks will greet Birthday Button wearers and wish them a "Happy Birthday".
I also have noticed some special treatment like being picked for shows, announced over the loud speaker on certain rides and a little extra love from the characters. And, if you grab front row for the parade you will grab some extra attention there as well.
Fun way to make an Extra Special Birthday Button! – Take your button to Plaza Point and have a Disney Artist decorate your button for just a few dollars. It will look magical.
Buttons are available inside at City Hall on Main Street, U.S.A. in Disneyland Park or at Guest Services in Disney California Adventure Park. Park Admission is required.
*Pro Tip- if you wear a tiara + a birthday button you will be addressed as a "Birthday Princess" which your little girls will eat up!
---
4. Birthday Themed Rides
You definitly won't want to miss riding on the three birthday themed rides in Disneyland including: Winnie the Pooh, Alice in Wonderland and The Haunted Mansion!
---
5. Disneyland Birthday Hotel Stay
Not your cheapest option but the hotels are definitely a way to extend the magic and if you contact them at the time of booking they usually will through in something a little extra for your birthday boy & girl like an autographed birthday card from their favorite character (pictured above) for FREE.
We like to pack additional birthday decorations and one of us (parents) sneaks off and decorates the room before the kids come in and even sometimes we bring a celebratory cake for the hotel room. Their excitement level is off the charts when they walk in… I highly recommend it!
---
6. New Orleans Band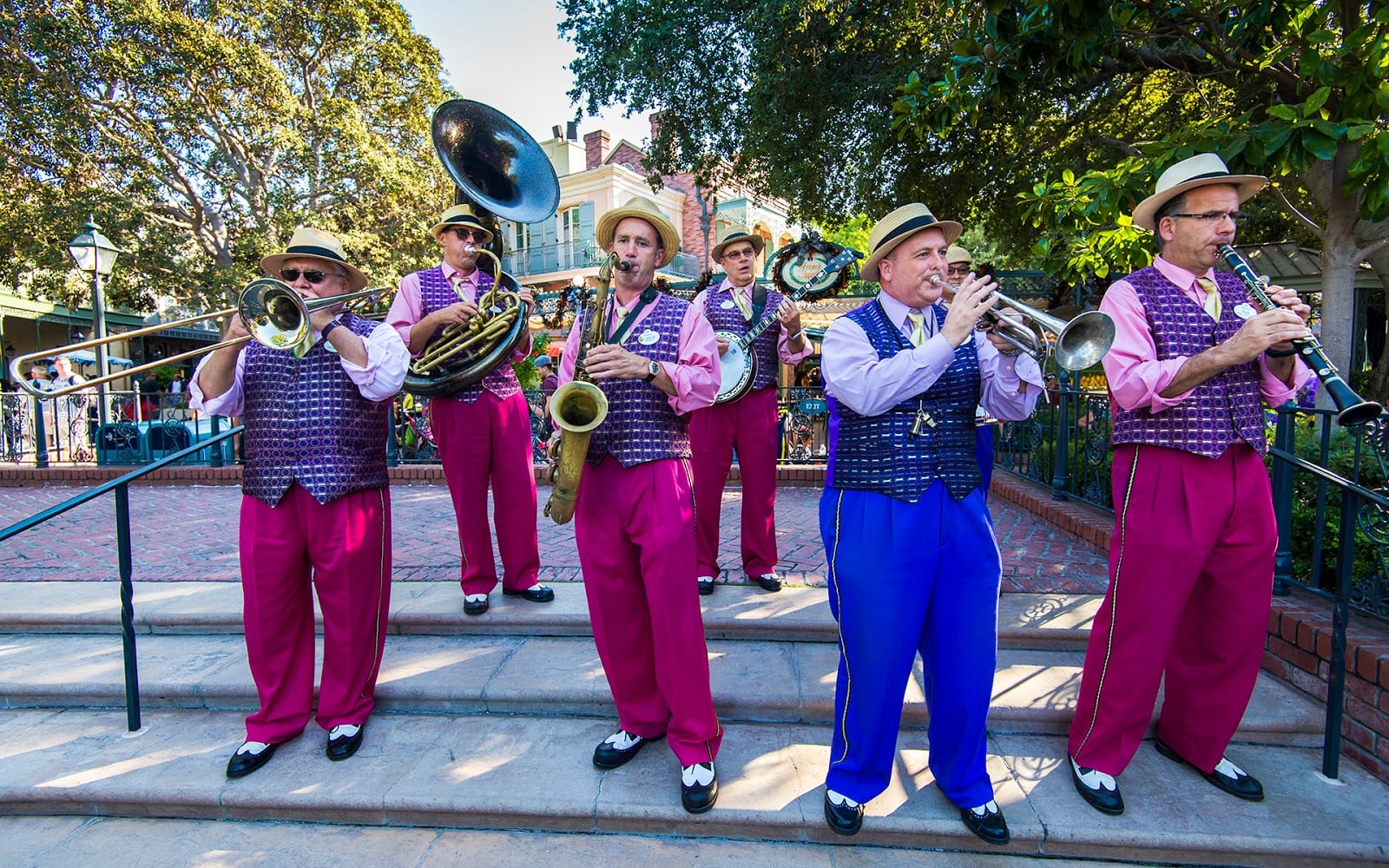 Did you know that the band in New Orleans Square will sing you a special Happy Birthday Song upon request when you show them your Birthday Button? Pretty cool right!!
---
7. TREATS!!! (Even Free Ones)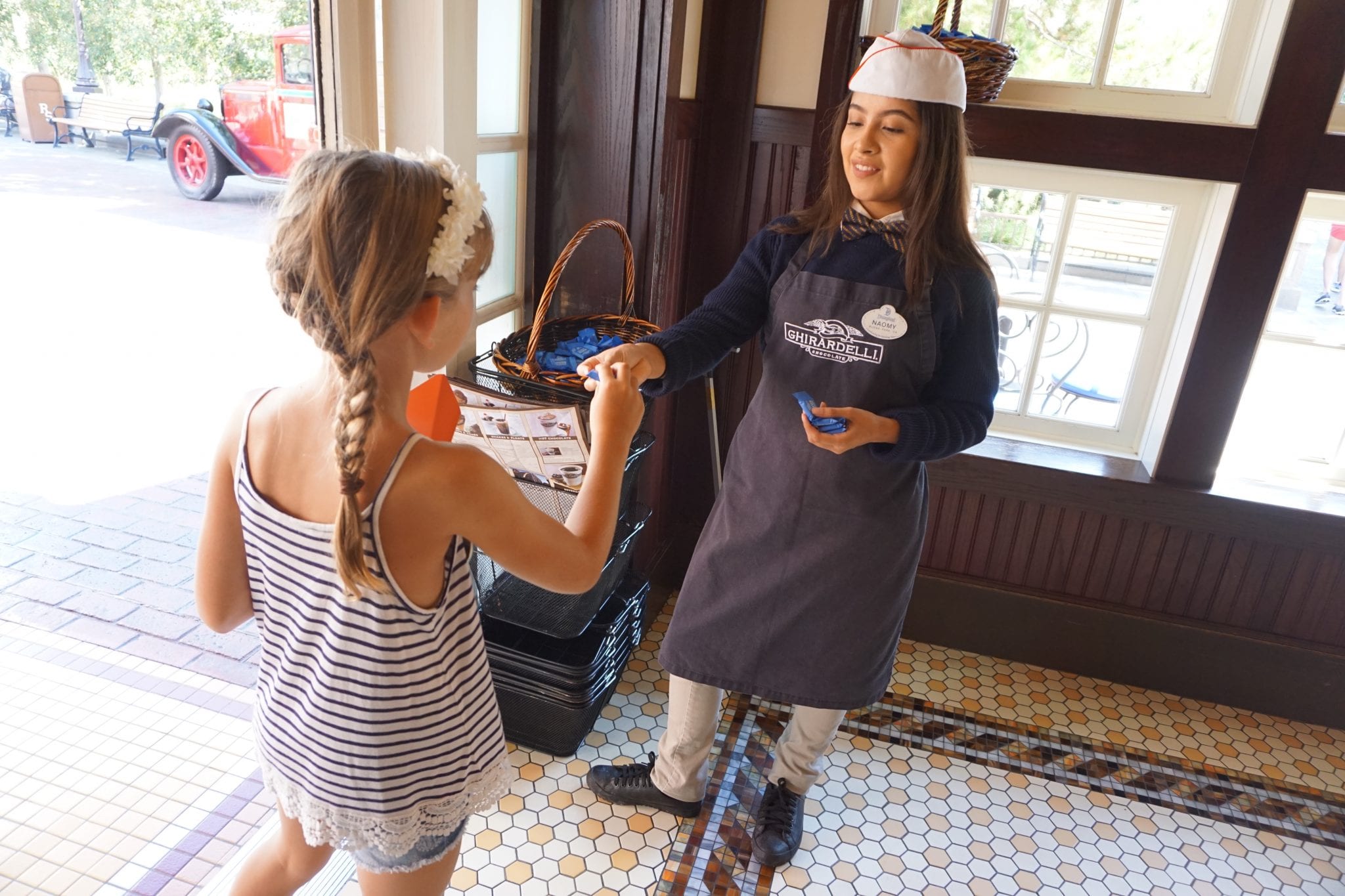 In our house birthdays = sweet treats and LOTS of them! So, we make our rounds. Ghiradelli's is a great place to start. They hand out FREE samples and usually on your birthday you score a few extra.
Of course there are tons of cupcakes, ice creams, chocolate and candy all over the park. But, a few of them we think are a little extra special like character caramel apples (ask for a knife to make them easier to eat).
A Cotton Candy Lemonade is sure to put a smile on your kids' faces… probably mine too!
And, a hand-dipped chocolate ice cream bar from Clarabelle's is sure to dazzle them… Ella likes her's rolled in sprinkles and pop rocks 😉
---
8. Balloons
We also save balloon buying specifically for birthday celebrations because nothing screams birthday than a bright shiny balloon hanging over your head.
Also, if for some reason the balloon gets lost or flies away, simply reach out to guest services and they will happily replace it for you.
---
9. Autograph Book
With all the character meet and greets you are likely to hit on your child's special visit make sure to pack an autograph book and a few pens. When characters notice your kiddo's birthday pin they may even write them a special note 😉
---
10. Custom Cakes & Treats
Besides grabbing a cupcake or candy at one of the stores you can also order a custom cake and have it delivered to one of the select table service dining spots around the parks or the Disneyland hotel. For more info on that see the Disneyland website here.
---
3. Disneyland Birthday Party – Currently Unavailable
Yes, you can book a Disneyland Birthday Party in Disneyland inside toontown for up to 10 people. The cost of the party is $350 for the entire group (tickets to the park not included) Here is what you'll get:
During this festive, 90-minute gathering at Mickey's House you will receive the following:
Take a group photo with Mickey Mouse, and receive complimentary downloads of Disney PhotoPass digital photos taken during the event
Decorate cupcakes
Participate in hands-on crafts and games designed to delight little ones and grown-ups alike
Get quicker entry toGadget's Go Coasterat the end of your celebration
Best of all, you can relax and leave the party-planning to Disney! They will create a magical celebration brimming with fun for all ages—including coloring, crafts and cupcake decorating.
Disney PhotoPass Downloads Included
ADisney PhotoPassphotographer will be on hand to capture magical moments from your celebration. You'll be able to download complimentary digital photos captured during your experience!
Dates
This experience takes place January 19, 2022 through March 6, 2022.
Price
The cost of this experience is $350 per group. Gratuity is not included or required.
---
12. Book a Dining Package & Watch Fantasmic
Disneyland has dining packages that get you guaranteed seats for one of their most iconic shows, Fantasmic. There are two different restaurants to choose from, from River Belle Terrace to the Blue Bayou which is definitely the nicest restaurant on property. Check availability here. Reservations can be made up to 60 days in advance.
---
13. Make a Light Saber at Savi's Workshop
If you head over to Star Wars land (Galaxy's Edge) you can enjoy everything Star Wars including making your own droid or even light saber. The light saber is created at Savi's Workshop and it is more than just making a light saber, it is definitely an experience.
---
Bonus!
Kick off the first seconds of their birthday by staying up til midnight and singing them Happy Birthday on Main St. as you ride down the trolley. We did this last year with our son Owen and he loved it. (Dad had to run alongside the trolley as the baby was asleep in the stroller. Check out the video!
---
Overall
Celebrating in this way has created some incredible memories for our family. As our number of littles grew we also added a new element to save money and that is taking each child alone. Our kids LOVE the special time they get with mom and dad all to themselves and we soak up every second!
---
Disneyland Birthday Myth Busters:
Front of Line Birthday Passes are sadly not real:We have never seen this in all the years, so as far as we know, this one is a Myth!
FREE Ice Cream:At Disney World, we heard about this and asked a cast member at an Ice Cream Cart, he said, "Do you mean a Magical Moment" and he offered an Ice Cream to my son who just turned six. Other times we have asked the cast members seemed confused.
Our kids have received the ice cream about 50% of the time. So this one is neither myth, nor true. I say give it a shot.
If you wear your birthday button, you'll get lots of greetings. People might even sing to you while standing in line, but your special day won't get you to the front of it.
---
---
If you need help planning and booking your magical Disneyland vacation, contact our friends atTink's Magical Vacations. They are truly Disney Experts, and not only are their services FREE, but they will save you both time and money. Plus, they will definitely have some great Disneyland Birthday Ideas.
---
If you enjoyed reading about Disneyland Birthdays, you might also enjoy:
50 [AMAZING] DISNEYLAND TIPS FROM A PRO – SAVE TIME & MONEY
9 OF THE BEST DISNEYLAND GOOD NEIGHBOR HOTELS FOR YOUR FAMILY
35 AMAZING THINGS TO DO IN ANAHEIM BEYOND DISNEYLAND
WHAT YOU CAN & CAN'T BRING INTO DISNEYLAND – 3 ITEMS WILL SURPRISE YOU!
DISNEYLAND HEIGHT REQUIREMENTS – EVERYTHING YOU NEED TO KNOW + AWESOME PRO TIPS
---
Pin for later- Disneyland Birthdays
Coming soon… Celebrating Birthday on the Disney Cruise Line!!!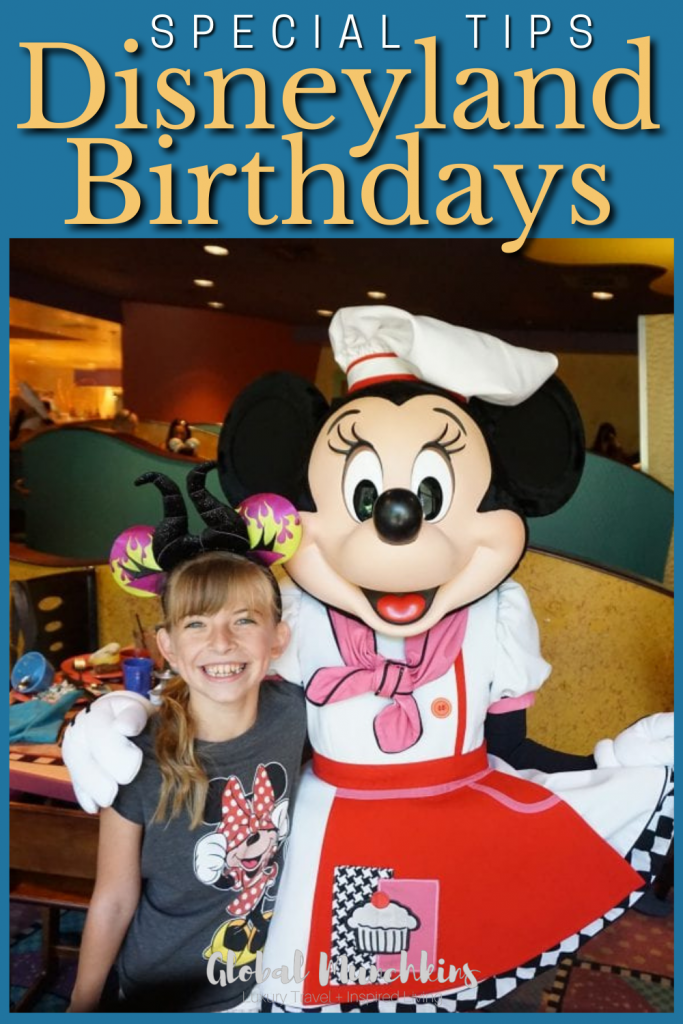 ---
Did you know that Disneyland also celebrates their own birthday on July 17th? Check out one of their past Birthday Celebrations below!