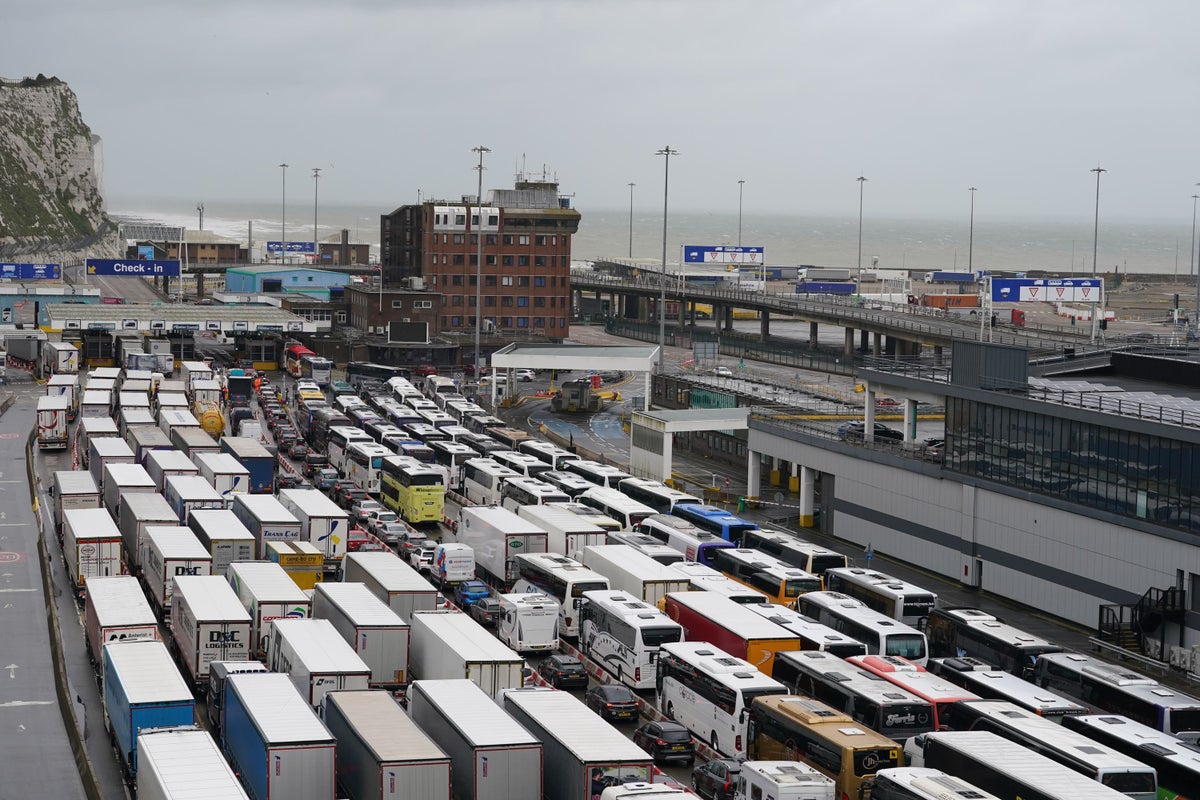 Officials at the Port of Dover say they are "deeply frustrated" about significant traffic delays that have seen thousands of travelers queuing for up to 12 hours as the Easter getaway begins.
A critical incident was declared overnight on Friday and operators P&O Ferries and DFDS Seaways reported delays to ferry and coach services, citing bad weather and hold-ups at French border controls as partly responsible.
In a statement on Saturday, the port blamed the delays on "lengthy French border processes and sheer volume" of people travelling.
It said: "Despite considerable pre-planning with our ferry operators, border agency partners and the Kent Resilience Forum and the success of similar plans for processing substantial numbers of coaches during the most recent half-term period, the additional coach bookings taken by ferry operators for Easter, has impacted operations for the port."
Later on Saturday, a spokesperson said that queues were easing and it was taking approximately two to three hours for coaches to clear the relevant checks, and around one to two hours for cars.
In a tweet, P&O Ferries Apologized for the delays but said it had "no control over the processes at border control" and "cannot confirm how long it will take to pass through".
DFDS said it will be operating a cross-channel shuttle service where all passengers will be shipped on the first available departure upon arrival at check-in.
A number of coaches stuck in the backlog are carrying school children heading on Easter holiday trips.
Simon Lyons, who has been stuck on a coach waiting to travel to Amsterdam with his son's football team, said they had been told they were 48th in the queue to board the ferry – but still faced up to eight hours of waiting to reach France.
"The current ferries aren't departing though because there's so much traffic in the area they can't get people into the terminal itself," he told Sky News. "The staff here are being very friendly and helpful, but what they're telling us is that there is a real lack of French border staff trying to get people checked and into the terminal."
Staff, however, were "entirely" blaming Brexit, he added, given that coaches can no longer merely be "waved on" to the ferry.
There is "no movement whatsoever" on the roads around the port, with traffic "just back to back", Mr Lyons said, calling the situation "a real disaster".
An environmental campaigner named Rosie, who persuaded her family to take the coach rather than fly to France, said the situation was "absolute carnage".
She told Sky News that she had waited for 12 hours and they were facing at least another two-hour delay before being processed, adding: "Nobody has come to see us to say anything."
Travelers also aired their frustrations on Twitter, saying the delays had put a damper on the start of the Easter break.
One person said she has been stuck in a queue for 18 hours and counting, while another criticized P&O Ferries for a lack of support.
Louise Hancock tweeted: "My daughter's been on a bus since 10am yesterday morning and will now lose the first night of her trip due to this.
"She is tired and hasn't eaten since yesterday lunchtime with no proper food provided, what you have made these kids endure isn't acceptable."
Meanwhile, Sir Keir Starmer urged the government to "get a grip" of the situation at Dover.
"I really feel for people trying to get through Dover. There will have been families who have booked holidays and now they are frustrated yet again and I think the nature of the frustration will be 'not again'.
"And so the government needs to get a grip on this and actually help people out in who are just trying to get away for a few days holiday."
The Independent's travel match Simon Calder warned on Saturday that one of the key reasons behind the delays – namely passport processing delays imposed as a result of Brexit – are only going to get worse"
He wrote: "We asked to become subject to the "90/180-day" rule [by voting for Brexit], which means that our stays in the EU are strictly limited. For that to be policed, passports must be stamped – with, in theory, every page being examined for evidence of a recent stay in Europe.
"For a coachload of 50 people that is going to take a very long time, and if dozens of coaches are heading for Dover, trouble awaits."