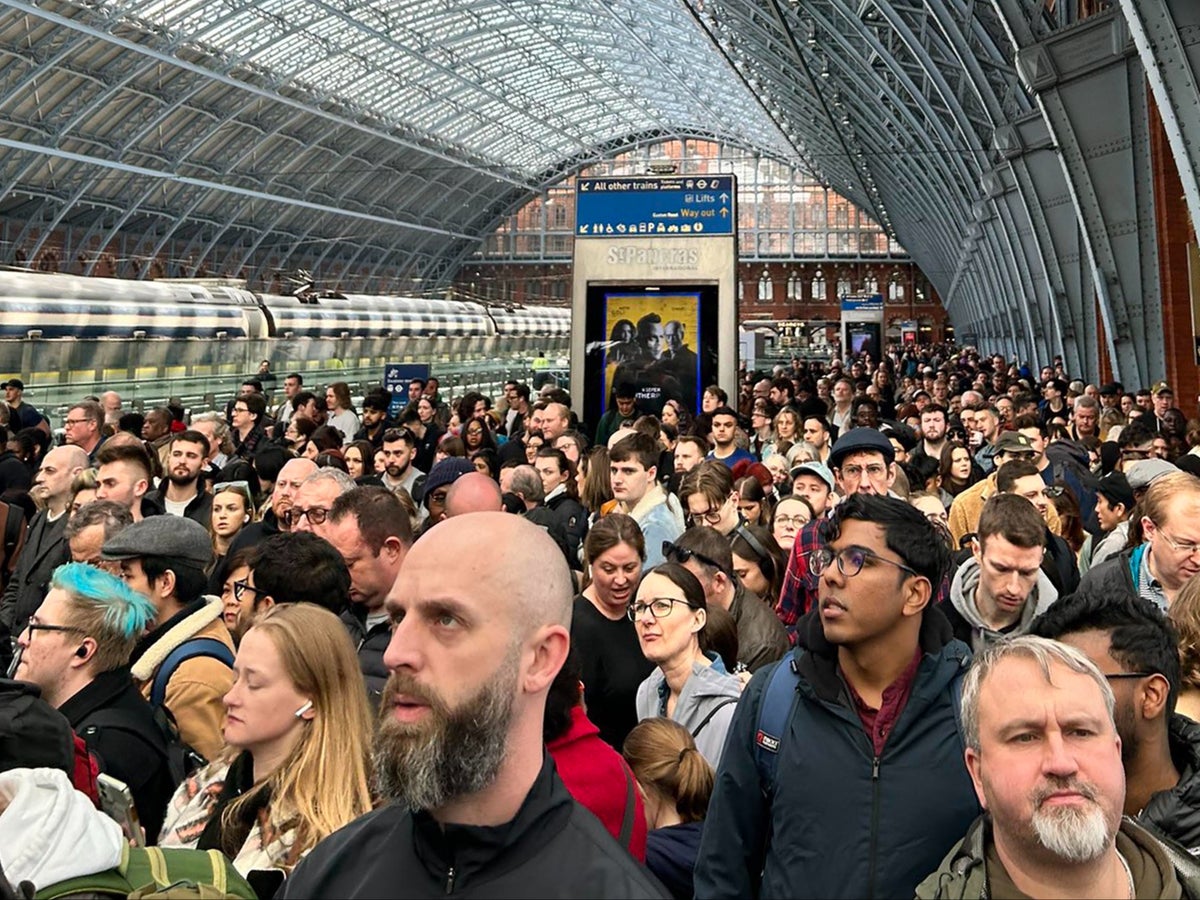 travelers caught up in a "chaotic" thousands-strong crowd at a London train station have liked the "mayhem" sparked by widespread easter rail disruption to boarding "the last train out of Saigon".
Network Rail is using the bank holiday weekend, as "the lowest period of passenger traffic", to carry out more than 600 engineering works across the country.
That includes the closure of 50 miles of the West Coast main line between London Euston and Milton Keynes Central, which affects passengers traveling to and from the West Midlands, northwest England, North Wales and southern Scotland.
Images posted to social media by shocked and disgruntled would-be travelers showed a sea of ​​thousands of people standing stationary and shoulder-to-shoulder in queues at London st pancras.
Ruairidh Pritchard, a writer from the capital, was delayed for three hours on his way to Stockport for an Easter weekend with friends and described "arguing and pushing" in the crowds.
"St Pancras was mayhem, limited crowd control," the 33-year-old said. "Staff are doing the best they could under the circumstances. Lots of people arguing and pushing – it was like the last train out of Saigon.
"[It has] kind of put a dampener on the weekend, I've lost half a day of Easter."
Euston was not the only London station impacted, with half of Victoria station closed as engineers worked on the lines to Gatwick and Brighton, and disruption on several London Underground routes.
Sophie Earish, a student from Wembley Park, said her normal 20-minute Tube journey to St Pancras took an hour due to closures on the Metropolitan and Jubilee lines.
When she arrived at St Pancras Station, on her way to visit her partner in Loughborough, the 26-year-old said she then had to queue for an hour and a half for a train north.
"I didn't realize Euston was closed this weekend causing this mess," she said. "The queues to get to trains on the platforms were chaotic … why do they think it's acceptable to do engineering works over the Easter weekend? It's ridiculous, it seems to be the same every year."
A statement on London Euston's Twitter account said: "To avoid changes on other routes and rail replacements coaches joining busy roads, travel after the Easter weekend. Thank you for understanding while our project teams work hard to deliver improvements to the network."
In addition to the rail disruption, Easter holidaymakers were warned on Friday of delays of up to 90 minutes at the Port of Dover – although the bottleneck-style port appeared to be faring significantly better than the previous weekend which was marked by reports of travelers stuck on coaches for up to 18 hours.
Road traffic was also set to double on parts of the M25, M5 and A303, with some 17 million cars predicted by the RAC to hit the roads for leisure purposes on Friday.
Meanwhile, a portion of the roughly two million people planning foreign holidays over the Easter weekend faced cancellations caused by striking French air-traffic controllers, as a walkout by security at Heathrow Terminal 5 saw British Airways cancel dozens of flights.
Additional reporting by PA