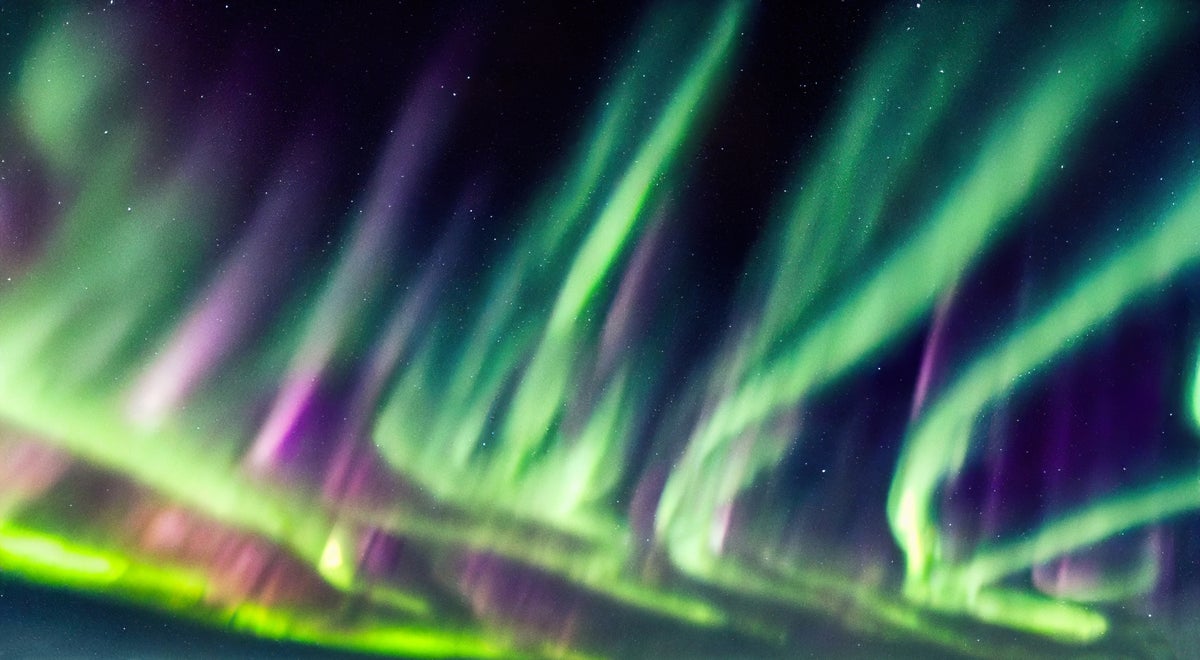 Year easyJet pilot made a 360-degree turn over the ocean on Monday night (27 February) in a bid to ensure all passengers were treated to an "incredible" view of the Northern Lights.
The aircraft, which was flying from ReykjavíkIceland, to Manchester Airportgot a bird's eye view of the incredible natural phenomenon which was visible in the night sky due to "transitory cloud breaks".
Pictures taken by a passenger onboard show green, purple and pink streaks across the night sky.
Photographer Adam Groves, who had returned from an engagement weekend away in Iceland, told Manchester Evening News: "We had been half expecting them as the aurora forecast was high, but low cloud cover in Iceland over the past week meant we didn't see them from land. We were hoping to see them while we were out there but didn't get the chance.
Northern Lights travel guide: where, when and how to spot them
"We took off and halfway into the flight the pilot turned all the lights off and the view was out the left window. We were sat on the right hand side and after two to three minutes the pilot switched back and did a 360 loop around for everyone to see," he said.
The flight path was also recorded by FlightRadar24showing the route over the ocean, and the exact spot where the plane loops in the air.
"Do you need permission for that or can pilots just do it?" inquired one user on Twitter.
FlightRadar replied: "Pilots will inform ATC [air traffic control] to ensure it is safe to perform."
Mr Groves shared his pictures to Twitterwith the caption: "Big thanks to the @easyJet pilot of EZY1806 from Reykjavik to Manchester who did a 360 fly by mid flight to make sure all passengers could see the incredible Northern Lights."
The unique experience marked the second of two nights in which the Aurora Borealis could be seen in the UK.
While northern Scotland was the best place to catch the natural phenomenon, parts of southern England, such as Kent and Cornwall reported sightings on Sunday evening.
The head of space weather at the Met Office, Mark Gibbs, said: "(Sunday's) sighting saw the coincidence of perfect conditions, making the aurora visible on the north horizon in the south of England."
He added that Sunday night saw the combination of a cloud-free sky, clear air, and a dim moon, which allowed members of the public to see over long distances with little light pollution, and spot the northern lights.
The activity was the result of a solar storm, which Mr Gibbs said was not unusual for this point in the solar cycle.