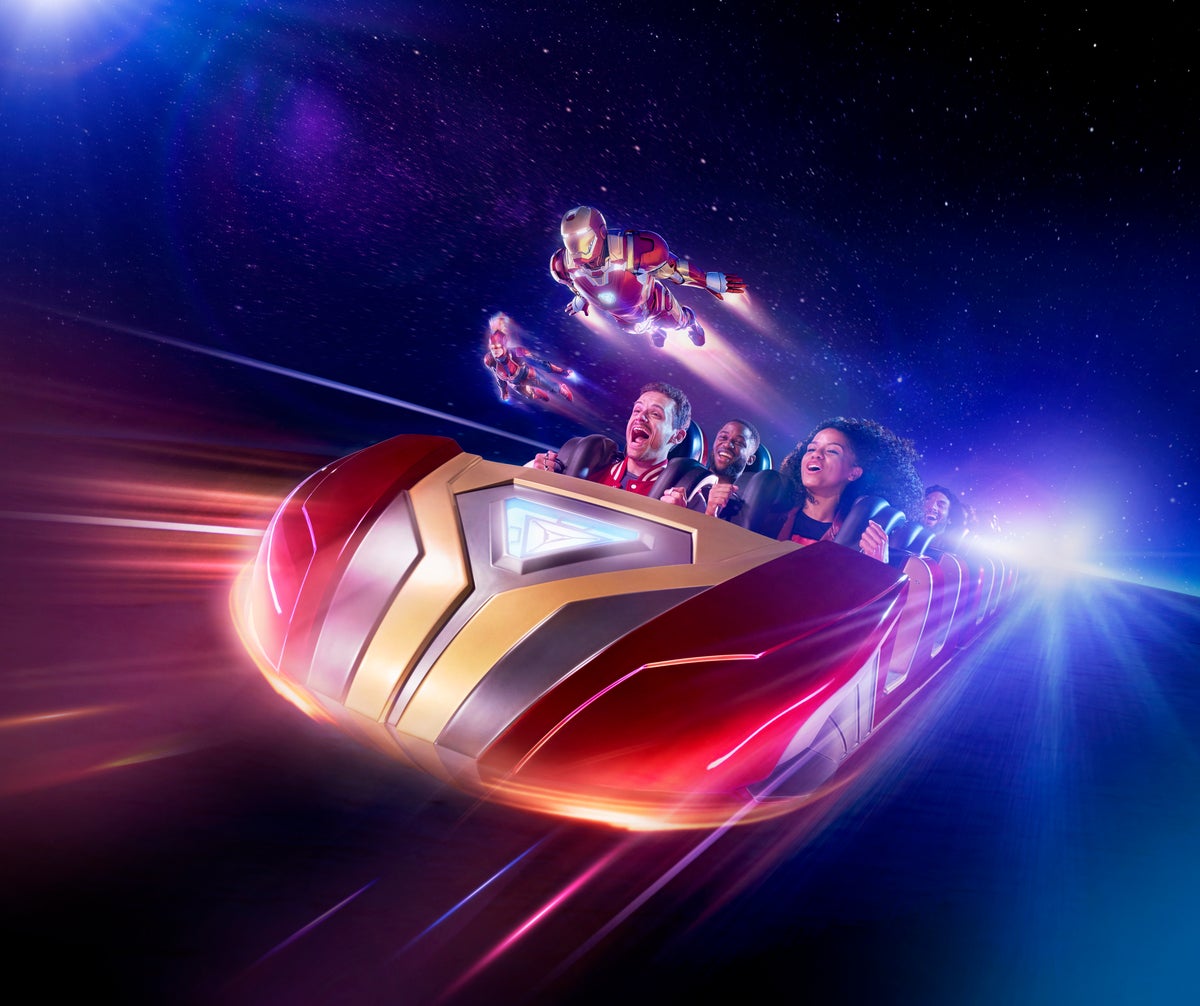 Calling all heroes! Assemble in an epic land in Walt Disney Studios Park, where you'll team up with the Avengers and take on the mightiest MARVEL missions! The new Marvel Avengers Campus is open for business, and the team is ready to train you to help fight extraterrestrial threats.
Attractions and encounters with your favorite Super Heroes
Of course, you can expect plenty of new attractions on the campus, including Avengers Assemble: Flight Force. You'll jump on one of Stark Industries' new hypersonic vehicles and embark on an expedition with Iron Man and Captain Marvel to save the world from an intergalactic threat. Expect to launch from 0 to 60mph, followed by twists, turns and corkscrews, including a double roll.
If you'd rather join forces with Spider-Man, begin on a once-in-a-lifetime mission on Spider-Man WEB Adventure. Use innovative new technology to sling your very own web and catch troublemaking Spider-Bots before they're unleashed around the Campus.
Or learn from the best at the Hero Training Centre, where Marvel's top Super Hero will teach you their epic moves in this training camp designed by Tony Stark himself, more commonly known as Iron Man and a founding member of the Avengers.
Stay alert… the Super Heroes make unexpected appearances several times an hour. Super Heroes like Thor and Black Panther are ready to drop in and recruit you to help them save the day! So keep an eye out because MARVEL excitement can strike at any time. Prepare for the unexpected.
While you're there keep a look out of for Shuri, Princess of Wakanda, King T'Challa's gifted younger sister and worthy successor as the Black Panther. Be sure to welcome the latest Wakanda warrior as she roams Marvel Avengers Campus looking for talented new recruits to train for the next generation of Heroes!
One gift store in the Marvel Avengers Campus stocks everything you'll ever need to become the world's next best superhero. Pick up Spider-Bots, Power Bands, WEB Tech and general Avengers memorabilia, all designed to get you mission-ready.
Dining: recharge between missions!
Brace yourself for an epic eating experience. Because at Marvel Avengers Campus, your super story continues in two restaurants, a diner and two food trucks – all serving up a multiverse of flavors for everyone.
PYM Kitchen is an all-you-can-eat buffet in an experimental lab that uses technology to shrink and grow ingredients, so you can enjoy delectable dishes at unusual scales, including both gigantic shareable pretzel sandwiches, hot dogs, burgers, vegetables, cakes , and their tiniest, cutest versions for those who wish to sample a piece of everything. Over at Stark Factory you'll spot relics of past SHIELD missions and artifacts built by Tony Stark as you fuel up on pizzas, pastas and salads. Fans can take a seat at one of the work tables and enjoy a meal surrounded by hi-tech gear and plans, including schematics for a new wing-pack for Falcon… and a giant Hulkbuster armor complete with dings and scratches from previous battles .
Feel all the power of the MARVEL Super Heroes in the New York-style hotel
If you want to embrace the whole MARVEL experience even off the campus, then opt to stay at Disney Hotel New York – The Art of Marvelthe park's premium hotel, dedicated to the artwork of Marvel, including comics and films.
It's been crafted with Manhattan-style comfort in mind, complete with personalized service and more than 350 pieces of superhero artwork by 110 incredible international artists – the largest collection in the world. It's described as a "Super Hero's playground", filled with thrilling activities and extras to ensure your stay is memorable and brimming with Super Hero energy.
They don't scrimp on amenities here either; there are heated indoor and outdoor pools, a kids' pool, a hot tub, a sauna, and a steam room for the adults to relax and recharge after a day of conquering the park with the kids.
You might forget you're in Paris for a moment with a stay at this hotel, especially when you hit the stylish bars and restaurants. There's a modern Manhattan spot for fresh Italian dishes in an elegant and sophisticated setting, including a central Asgardian chandelier, a striking piece inspired by Thor's planet, Asgard.
There's also an art-deco restaurant serving contemporary New York-style fare in a space where the walls are adorned with framed sketches by Marvel artists. Make sure you head to the Skyline Bar after dinner for a cocktail with epic views of the park, but keep your eyes peeled for superheroes soaring past in the night sky.
There is a variety of enticing experiences to get stuck into at the hotel: become a comic book artist at The Marvel Design Studio, where little ones can unleash their creativity to learn how to create their own artistic masterpiece. Or head to the Super Hero station for an immersive photography experience with a professional Disney photographer.
Disneyland® Paris is offering Independent and Evening Standard readers the chance to win a magical two-night all-inclusive trip to the park. To enter now via Evening Standard CLICK HERE