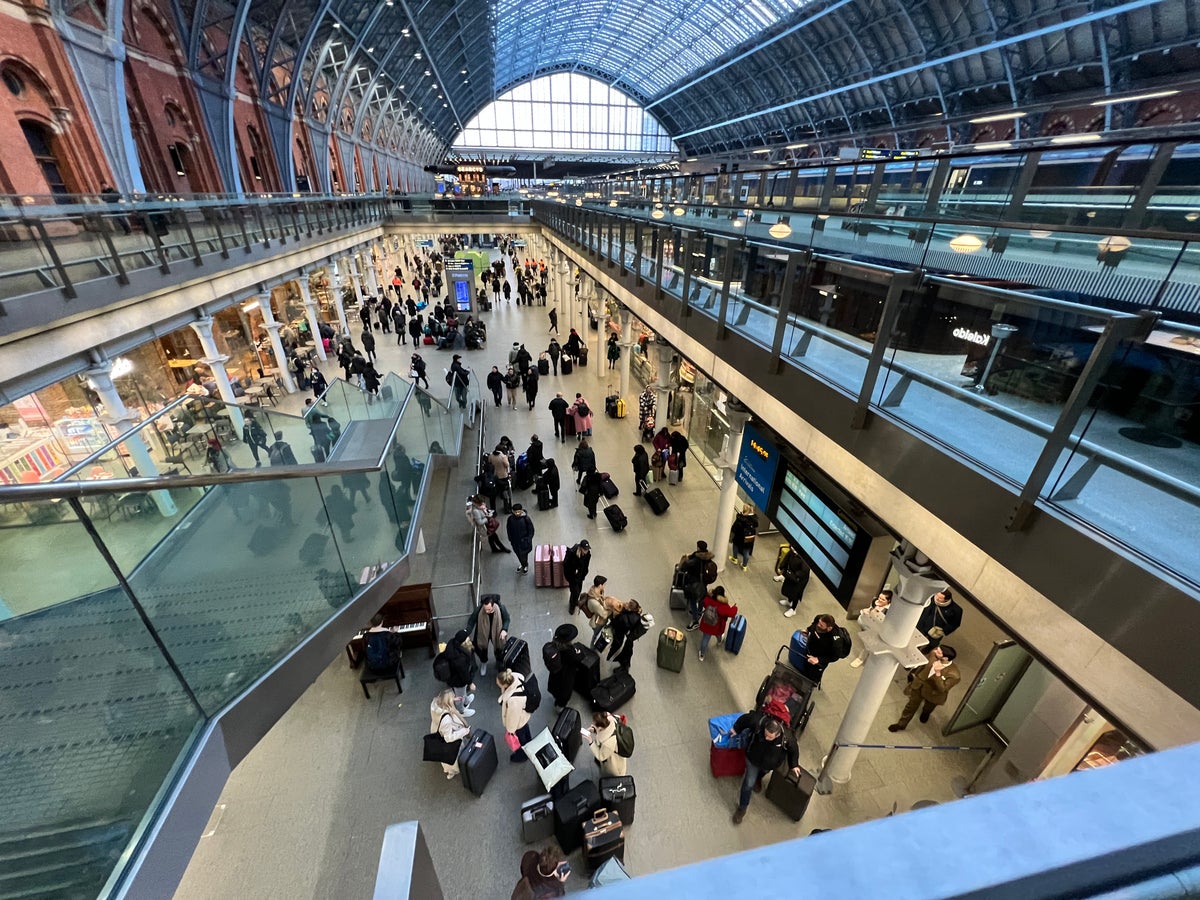 After months of disruption for millions of rail passengers, with national strikes leading to cancellations on more than 20 days, the latest bout of industrial action has been announced across Britain.
Who is going on strike?
Train drivers belonging to the Aslef union have announced two further strike dates in pursuit of a demand for higher pay plus guarantees on jobs and working arrangements.
The pay offer made by the Rail Delivery Group (RDG) and agreed by the government, involves a pay increase of 4 per cent for 2022 (paid restrospectively) and 2023, contingent on modernisation.
The union has flatly rejected the offer. Members working for the affected companies will walk out for 24 hours on Wednesday 1 and Friday 3 February.
Which trains will be affected?
Six leading intercity operators will see drivers walk out:
Avanti West Coast
Cross country
East Midlands Railway
Great Western Railway
LNER
Trans Pennine Express
In addition, train operators that are mainly shorter distance are affected:
Chiltern Railways
Gatwick Express
Greater Anglia
Great Northern
Island Line
Northern
southeastern
Southern
Thameslink
West Midlands Trains
Will all the trains stop?
At some train operators this is likely to be the case. So far this year Aslef has staged six national strikes. On key intercity routes and many commuter routes, most or all services are cancelled.
Expect near or total close-down on Avanti West CoastChiltern Railways, CrossCountry, East Midlands Railway, Gatwick Express, Greater Anglia, Great Northern, Thameslink, Northern, Southeastern and TransPennine Express.
Of the companies likely to run a service, Great Western Railway will operate an hourly shuttle between London Paddington and Bristol Temple Meads and possibly Cardiff, with links from Reading running to Oxford and Basingstoke.
LNER has is likely to schedule trains running hourly from London King's Cross to York and every two hours extending to Newcastle and Edinburgh.
Southern may operate a limited service between London, Gatwick airport and Brighton.
South Western Railway is also involved, but only depot drivers. This will have some effects on operations to and from London Waterloo.
Will other days be hit?
If rolling stock – and drivers – are out of position, there may be some disruption on the afternoon and evening of Tuesday 31 January, during Thursday 2 February and on the morning of Saturday 4 February
Are all train firms affected?
No. In Wales many trains will run – Transport for Wales is not in dispute with Aslef. Its trains will be busy, especially on the Carmarthen-Swansea-Cardiff-Newport-Gloucester and North Wales-Manchester links. This will also provide some links in England close to the border.
ScotRail will be unaffected. Some of its trains are likely to be busier than usual due to the absence of LNER and CrossCountry on some routes, but conversely there may be lighter loads due to the removal of connecting traffic – particularly to and from Glasgow.
"Open access" operators on the East Coast main line, notably Lumo (London-Newcastle-Edinburgh), Grand Central (London-Bradford and Sunderland) and Hull Trains will run a normal service. Trains are likely to be very crowded.
I have an advance ticket for one of the affected firms on a strike day. What are my rights?
Assuming your train is not running, you can obtain a full refund from the retailer who sold you the ticket (eg the train firm direct, or Trainline). You are also likely to be offered the chance to travel on several days before or after the strike dates.
Is the London Underground affected?
No, and nor is the London Overground or the Elizabeth Line – though they are likely to be extremely crowded on lines from the suburbs that lose their normal rail services.
Will Eurostar be affected?
No. When the RMT union calls out members working for Network Rail, the cross-Channel train operator has to cancel some of its early and late services (or, in the case of 26 December, all of them). But Aslef has struck a deal with Eurostar and no services to Paris, Brussels and Amsterdam will be affected – though of course there will be few rail connections to and from London St Pancras.
Could the strike be called off?
Unlikely. Aslef gave the minimum two weeks' notice that is legally required before a strike can take place, which does not allow much room for negotiation.
The Aslef general secretary, Mick Whelan, is angry about the pay deal on offer from the Rail Delivery Group (RDG), claiming it "is not and could not ever be acceptable".
Although he added the union was "willing to engage in further discussions" all the signs are that the government – ​​which ultimately will decide on a better offer – is prepared to sustain another strike.
Even if I am wrong and another deal is struck in, say, 10 days, that would not give time for many services to be reinstated due to rostering requirements.
Could we see more strikes called?
Very likely. While the main rail union, the RMT, and the white-collar TSSAare in talks with the RDG that are understood to be making progress, there is still no agreement between the RMT and Network Rail.
Furthermore, the train drivers are a very long way apart from the government and train operators.
The employers describe their offer as "a landmark outline proposal that would deliver more reliable services for passengers".
But Mr Whelan says: "I cannot recommend any one element of it and it may destroy the ability to go back to those talks in future."
What are the main differences between the two sides?
The train firms, all of whom are contracted by the government to provide services, say the railway's finances are in a terrible state. Restoring the railway to financial health and attracting back passengers can only happen, they say, if changes are made on a wide range of practices, notably:
Sunday to be made part of the working week where it is not already
Training to be shortened with the use of new technology
Part-time workers to enable efficient staffing of peak demand commuting days, which post-Covid are Tuesdays, Wednesdays and Thursdays
The Aslef leader refuses to accept that his members are relatively well paid. Mr Whelan is seeking a significantly higher pay offer than the "4 + 4" per cent currently on offer. Also, he wants all the attached strings removed (or "bought" with extra percentages extracted for each one).
The union believes the railways are indispensable and that they will win – with the government forced to offer more cash.
Will there be any winners?
In the short term, train operators who have already reached agreements with Aslef should benefit from extra revenue from travelers displaced from those where train drivers are striking.
Longer term, long-distance coach companies and domestic airlines should benefit from the perceived unreliabilty of rail.