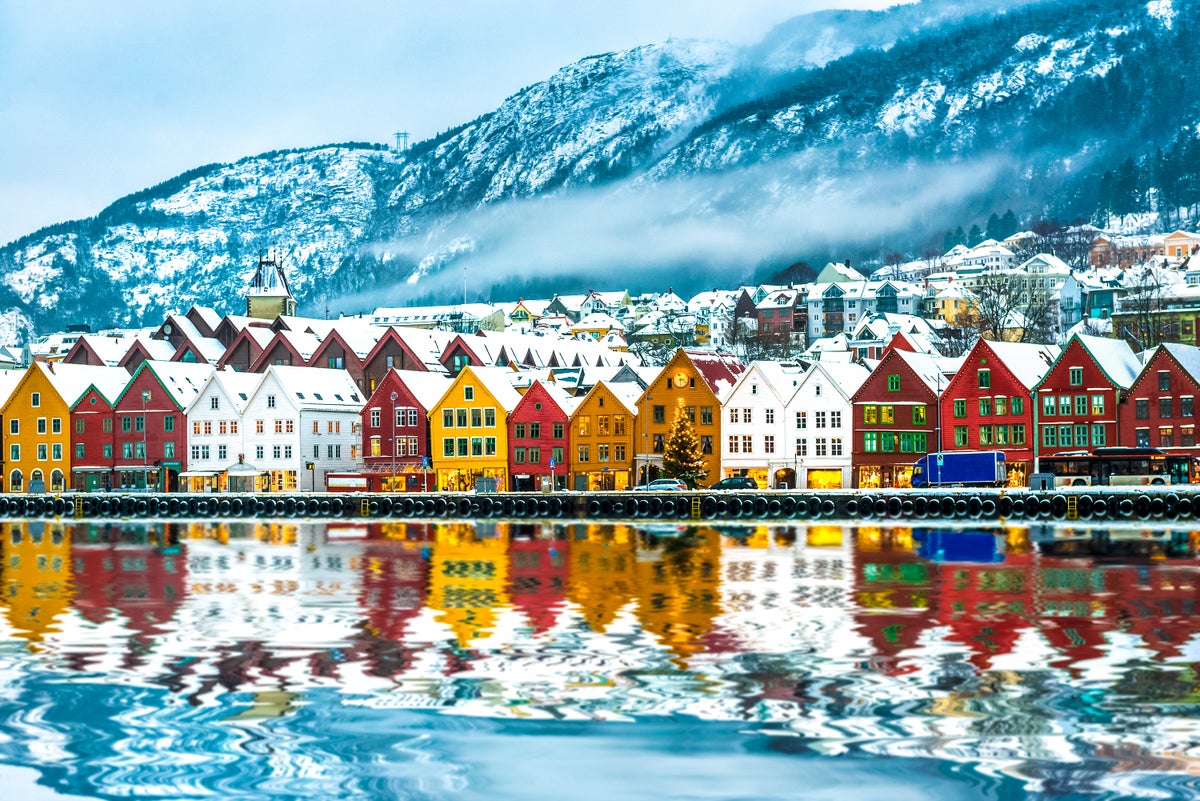 NOTis between mountains, Bergen's compact center has the feel of a small cozy town despite its status as norway's second biggest city. The outdoor lifestyle rules on west coast Norway, even in the cities. By day, you'll find locals pounding the hiking trails that surround the city. But by night, Bergen comes alive as those locals mix with students and tourists in the city's bars and clubs.
Many of the bars around the UNESCO World Heritage neighborhood Bryggen are a pricey tourist trap. To make the most of a night out in Bergen, instead head to the lively streets around Nygårdsgaten, where the city center meets the university district.
It's impossible to talk about Bergen's bar scene without mentioning the prices. Alcohol in Norway is expensive. At £8 for a basic pilsner and at least £10 for anything else, a night out is rarely budget friendly. Long sessions in pubs are not common. Instead, Norwegians start off their evenings with parties at home, moving on to bars and clubs later.
If you choose to go dry, you won't be the only one. There's a growing trend among younger Norwegians to shun alcohol. To meet this demand, Norway's breweries produce alcohol-free versions of pilsners and IPAs, while many bars offer tasty mocktails, with berry flavors proving especially popular.
Neighborhood: Vaskerelven
Ask any local for their view on the city's best bar and this Bergen institution will likely top their list. AT gastropub with a strong focus on Norwegian food, expect rustic stews, buttery cod and traditional meatballs, washed down with local beers. When the kitchen closes at 10pm, Pingvinen transforms into a meeting place for a diverse range of Bergen locals, young and old.
Neighbourhood: Nedre Ole Bulls Plass
Add a touch of class to your evening at this historic Bergen hotel, elegantly renovated by Scandic in recent years. Whether you're staying the night or not, the Lobby Bar provides a striking welcome, while the ground floor Café Norge serves its signature egg white cocktails to the soundtrack of a live DJ through the evenings. Raspberry lemonade, non-alcoholic bubbles and the sweet and sour cranberry delight are among the alcohol-free options.
Neighbourhood: Hollendergaten
Mismatched furniture, colorful murals, video games and low lighting lend a retro vibe to this central cocktail bar. There are no reservations so arrive early if you want a table. Alternatively hop on a bar stool to watch the expert bartenders smash tomatoes for the traditional Bloody Mary. Their in-house raspberry chilli syrup gives a modern twist to the martini or an intense bite to a mocktail.
Neighbourhood: Nygårdsgaten
This unusual mix of vinyl record store and craft beer bar has been a hit with Bergen locals since the 1970s. More than 40 draft beers make Apollon a must-visit for beer lovers, with hazy IPAs and sours well represented. For a true taste of Bergen, sample at least one beer from local brewery 7 Fjell, named after the mountains that envelop the city. Can't decide? Most beers can be ordered in smaller sample sizes.
Neighbourhood: Nygårdsgaten
Bergen's only queer nightspot attracts a friendly crowd with a mix of ages. The diverse clientele is reflected in the music, with everything from pop through the ages to house and techno DJ sets. Visit early in the evening if you want to chat as the venue rapidly transitions into nightclub mode as the hours tick by.
Neighborhood: Vaskerelven
The international wall of gin is the main attraction at Ginial, a bar associated with the popular carnivore restaurant RoykBBQ. More than 100 gins are on offer, some produced in-house and from other artisan distilleries in Norway, but many more are guest stars from England and Scotland. Choose from an impressive range of tonics to accompany your choice of gin or give one of the inventive gin-based cocktails a try.
Neighbourhood: Magnus Barfots gate
A creative solution for groups of friends who want to hit the dance floor together but whose music tastes vary, Vaskeriet hosts a nightly silent disco from Wednesday to Saturday. Never been to one? Grab a headset from the bar (free if you're there in the first hour), choose your preferred personal soundtrack and hit the dance floor.
Read more on Norway travel:
Neighbourhood: Olaf Ryes vei
Said to be the oldest rock club in Northern Europe, this air raid shelter turned concert venue has hosted the likes of Motorpsycho, Turbonegro, Kaizers Orchestra and Raga Rockers since its 1969 opening. Only open for concerts, this student-run venue is the ideal spot to discover new Norwegian music.
Neighbourhood: Georgernes verft
Once Norway's largest sardine cannery, USF is now home to a cluster of creative arts venues. A 90-seat cinema, a black box performance stage, jazz club and concert venue are stitched together by the waterfront Kafe Kippers. Book a table on the large outdoor terrace to enjoy your evening with a fjord view, if Bergen's notorious wet weather is on your side.