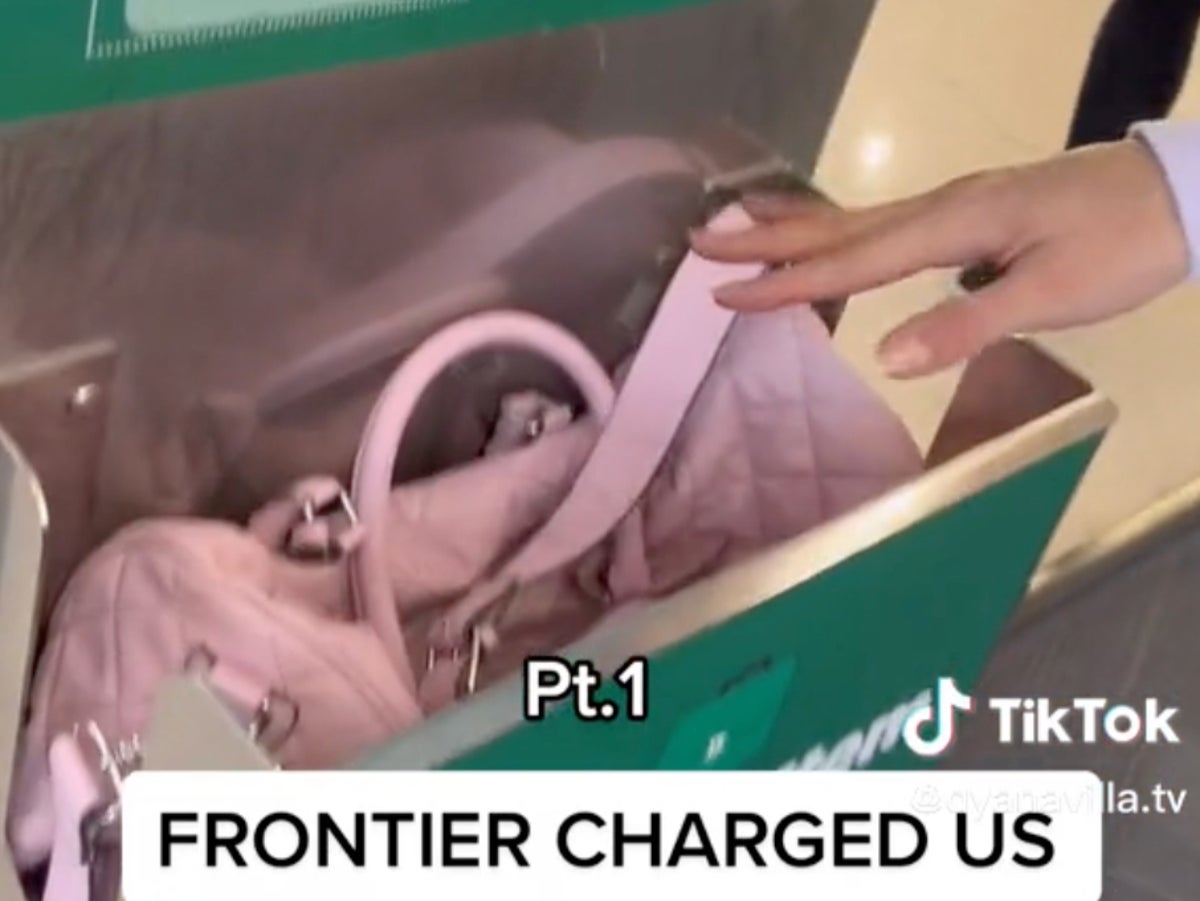 AT Frontier Airlines passenger claims to have been charged $100 (£85) to check a bag which appears to fit the size requirements.
Dyana Villa shared a video of her experience traveling with the budget airline to social mediain which she and her friends can be seen fitting their baggage into the luggage sizer, which dictates what constitutes hand luggage.
The woman and her friends were left in disbelief after being told they must pay an additional fee, despite them demonstrating that the bags "clearly fit in the bag sizer".
In the video, which has been viewed nearly 100,000 times, the airline employee can be heard saying, "They don't fit, you're forcing them down".
As the passengers and member of staff hash it out, a second Frontier worker comes over to inspect the bag in the sizer and says: "That's our policy, ma'am."
In the caption, Ms Villa writes: "Please make this go viral! The Frontier front desk and supervisor were not cooperating with their guest. PLEASE HELP US GET THIS TO FRONTIER!"
Many commenters were outraged at what they felt was an unnecessary charge, with others claiming that Frontier's baggage fees were inconsistent.
"Frontier did the same thing to us two months ago and we always fly with the same bags," wrote one person, while another said: "I flew with the same backpack as a personal item on Spirit and Frontier for years and never had a problem – only at the Denver airport did they charge [me] $60."
According to Frontier, passengers are entitled to one personal item, measuring 14"HX 18"WX 8"D, including handles, wheels and straps.
"Think purses, totes, computer bags, briefcases, diaper bags and kids backpacks," it reads.
"Note: the size of your personal item will be checked during boarding," it states.
"Items larger than the allowed dimensions are subject to an additional charge."
The Independent has contacted Frontier Airlines for comment.