It is said the Morne mountains of Northern Ireland were "born of fire and shaped by ice", molded from 400 million years of geological history into a landscape of dark peaks, drowned glacial lakes and lush green farmland, patchworked by stone walls.
Now, that jaw-dropping beauty, as well as sustainable tourism projects and 25 years of peace, is being celebrated. Unesco has named the Morne Gullion Strangford region in the south-east corner of the country as the UK's newest Global Geopark in tribute to its geological past and culturally rich present.
The geopark includes three areas of natural beauty: the Ring of Gullion, the Morne mountains with the 850-metre peak of Slieve Donard, and wildlife-rich Strangford Lough, the UK's largest coastal lough.
This is a funny part of the UK – and while it's bang in-between Dublin and Belfast, it feels about as far as you can get from a city. Verdant hilltops, known as "drumlins", sweep down to the ocean, interspersed with the occasional unsightly cluster of pebbledash bungalows along winding country roads. Inland, the countryside is crowned by the forbidding granite peaks of the Mournes, while lowland forests and the jagged coastline were perfectly cast as dramatic backdrops in Game of Thrones.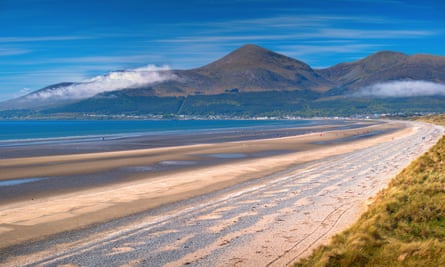 Morne granite has been used to shape this landscape since Neolithic times, from building the Morne Wall's 22 miles, which meanders along 15 different mountains in the region, to being shipped off to New York to form buildings. At Green Holiday Cottages, near Newcastle, I meet Mark Hanna, who runs dry-stone walling workshops from an old flax mill he has renovated. As we practice the (surprisingly mindful) art of stacking stone on stone and "coggle and skim the skelfs and spalls" one by one, which he calls "early Irish Lego", he teaches me the lyrical vocabulary of this 5,000-year-old artform born of hard necessity.
Mark was born and bred in the local fishing town of Kilkeel. "The lore is that this area was its own little land – they say Saint Patrick never made it this far! This was once an isolated country community where people grew flax or were subsistence farmers, tending to vegetables and owning a cow if they were lucky," he says.
What does the new geopark status mean for the 180,000 people who live in the area? "Some local farmers are afraid that the label means more restrictions, but I think we take for granted how beautiful our back yard is – it needs protecting," Mark adds.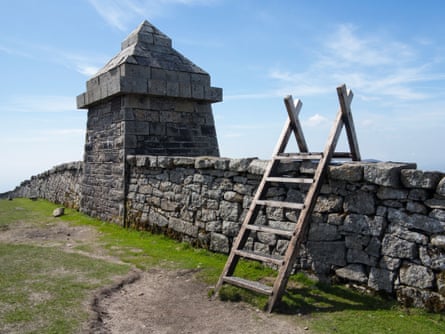 Part of getting – and keeping – Unesco Global Geopark status involves championing sustainable and local tourism experiences like Mark's dry-stone walling course. This is an area that spills over with makers and creatives, from the smallest distillery in Ireland to woodturners, storytellers, Celtic harpists, farmhouse bread makers, foragers and hiking guides all sharing their expertise with visitors.
Pádraig Carragher is one such creative, a man on a mission to rewild eight hectares (20 acres) at the foot of the Ring of Gullion. Where once there was farmland ravaged by the potato famine is now Bluebell Lane Glamping, wooden pods in a grove of young trees that he runs alongside his woodworking shop – where he makes bowls and pendants from native Irish timber. It's an idyllic, fairytale glade, graced on one side by a necklace of the rising hills of the Ring of Gullion, and so peaceful it's hard to picture the tumult this part of the country has known: the village of Crossmaglen, a notoriously violent zone in what was known as "bandit country" during the Troubles, is 10 minutes away.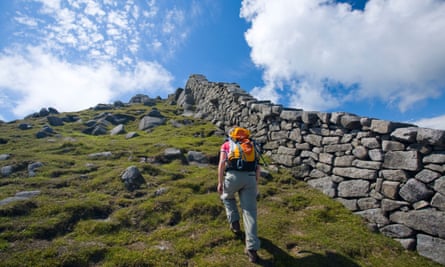 As we walk through the trees, Pádraig explains that encouraging international travelers is still a slow process. "There's little international tourism here – it's the colored history of south Armagh. I see getting visitors to come here as a marathon, not a sprint," he says. The 23,000 native saplings he's planted across his land show as surely as his words that he's in this for the long haul.
On a hike to the summit of Slieve Donard the next day, the visitors Pádraig has been waiting for come thick and fast – cheery hikers of all ages are trekking along the well-cared-for path, which winds through pine forest before emerging on to a mountain saddle with views along the Morne Wall and across to the Isle of Man, Wales and Scotland on the clearest days. I meet an 82-year-old local man striding to the top who tells me that last year he climbed to this mountain's peak no less than 60 times. He gives my advice that's as fitting for the future of tourism in this corner of Northern Ireland as it is for my tired legs: "Sure – you just have to put one foot in front of the other."
Stay at Bluebell Lane Glamping camping from 30 poundsglamping pods from £90 and cottage from £135 at night. Stay at Green Holiday Cottages from £280 a nightminimum two nights, dry-stone walling experiences £50pp