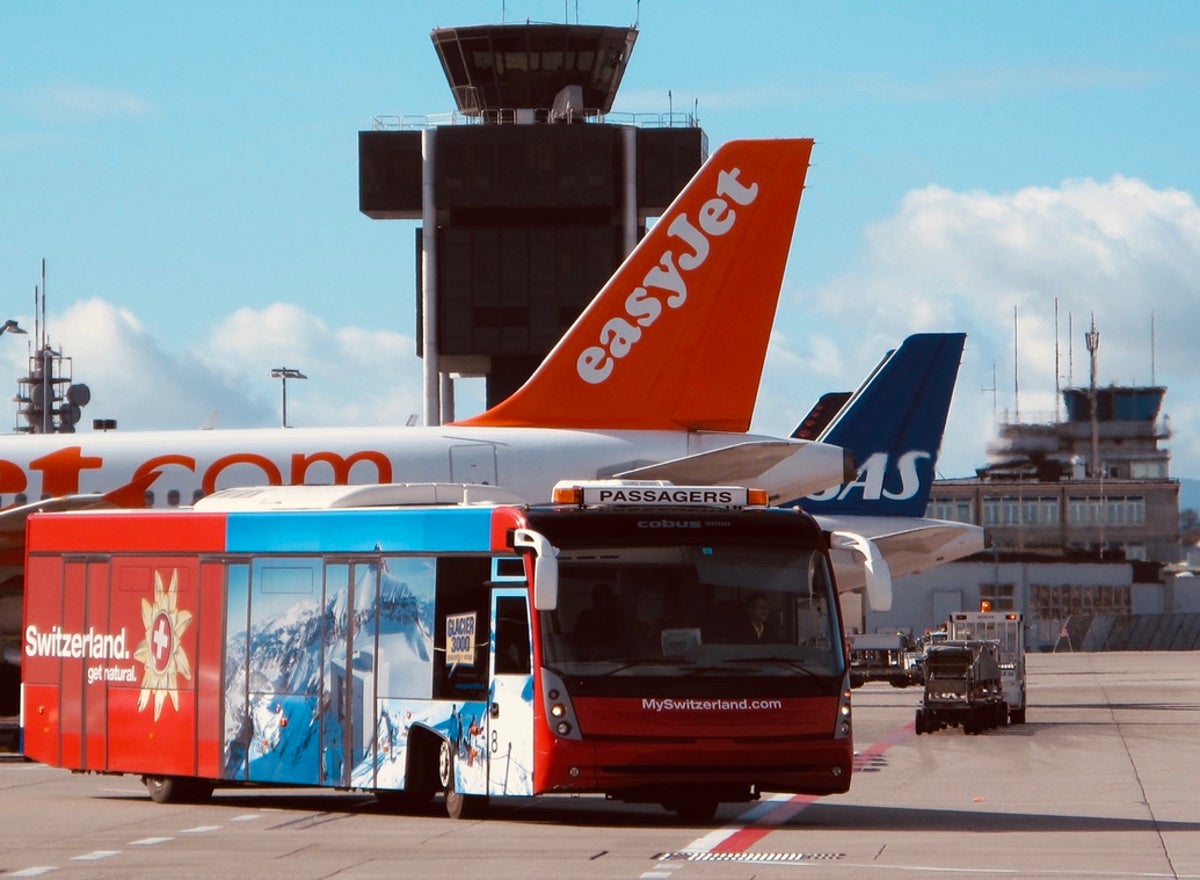 Half-term air fares have soared to unprecedented levels as pent-up demand combines with a reduced supply of flights.
On the benchmark link from London Gatwick to Geneva, easyJet departures on Saturday 11 February between 7am and lunchtime are selling at £606 one-way, with inbound early afternoon services a week later at £730. The total for a return trip of less than 900 miles is £1,336 – excluding baggage.
The rate-per-mile is £1.50, roughly the same as the London-New York fare on Concorde before it stopped flying 20 years ago.
The cheapest easyJet deal on those dates is £655, with just one seat remaining outbound at 8.05pm at that price.
British Airways has only one flight available on the route on those dates, with a return fare of £1,093, though that includes a 23kg bag each way.
For comparison, United Airlines is selling return flights from London Heathrow to Los Angeles for £781, covering almost 11,000 miles. That works out at 7p per mile.
From Manchester to Tenerife, the only Ryanair flight on 11 February, returning a week later, is £577 return – with only one seat remaining in each direction.
Fares from Newcastle to neighboring Gran Canaria on Sunday 12 February, returning a week later, are significantly cheaper at £414 return.
Families seeking a last-minute package holiday can flight from Bristol to Faro, staying self-catering at the Paraiso Albufeira on the Algarve, for £541 per person with You including transfers, though they must pay extra for anything more than hand luggage on the flight.
According to research from the flight data specialist, CIrium, the number of flights from UK airports is down 19 per cent compared with February half-term in 2019.
Paul Charles, chief executive of travel consultancy The PC Agency, said: "Airlines are making hay while the sun shines. High inflation is enabling them to put up prices but they are also benefiting from high demand for fewer flights.
"There's no real incentive for carriers to get back to 100 per cent of their pre-Covid operations. They are making more money with fewer services. Why change anything?"
Eurostar has seats between London and Paris for £258 return on the "half-term Saturdays," though to Amsterdam the lowest fare is £360 return.
The cheapest deal for overseas flights leaving on 11 February and returning a week later that The Independent has identified is just £125 return from London Heathrow to Madrid, sold online through British Airways but actually operated by its partner, Iberia.
Travelers could travel on to mainland Spanish resorts such as Malaga by train.
Ferries are sailing once again between Dover and Calais following the closure of the French port on Thursday due to a strike. At the end of the half-term holiday, though, the Home Office is warning of disruption at Calais and Dunkirk due to a walk-out by UK Border Force officers belonging to the PCS union.