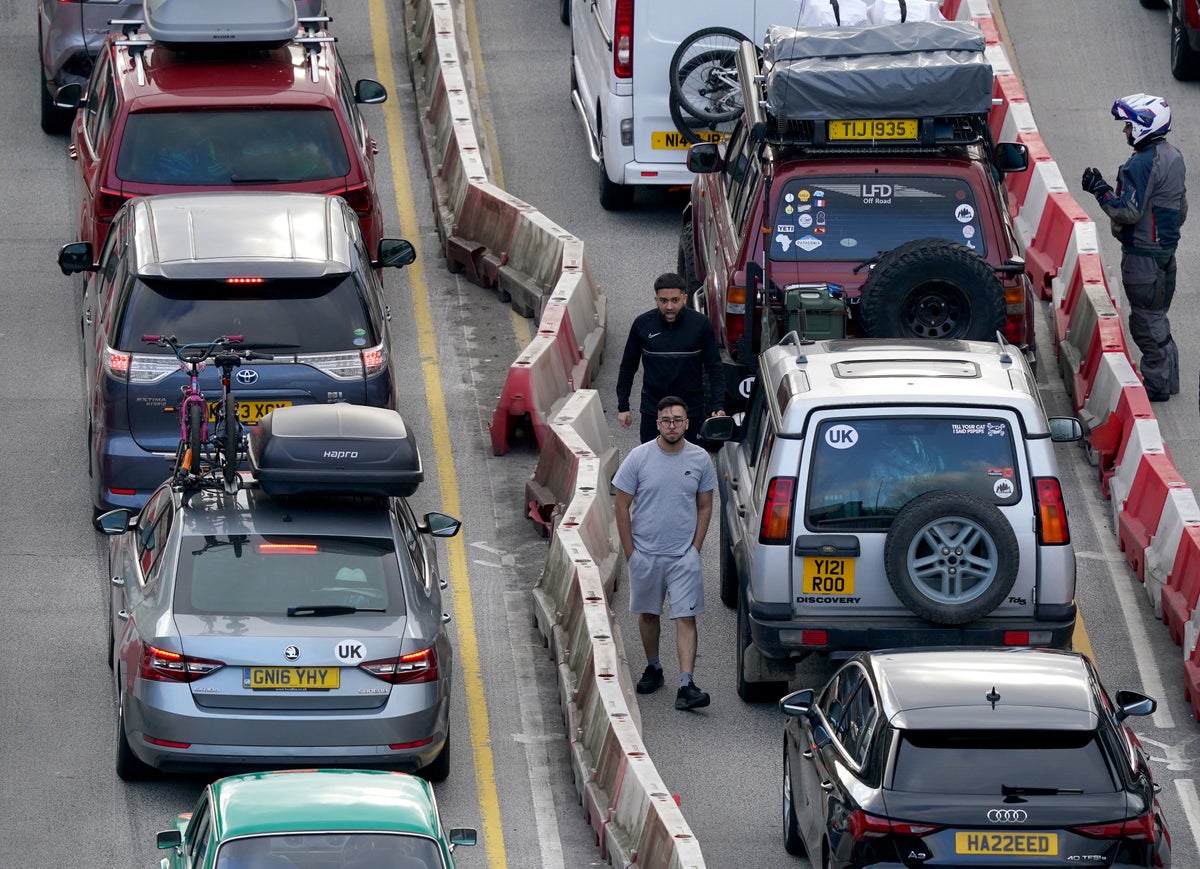 As millions of families begin half-term week, and many others start bank holiday weekend getaways, British Airways will enter its third day of disruption and cancellations on Saturday.
The carrier has canceled at least 200 flights since its systems were crippled by an outage on Thursday, with several Saturday services now affected.
Even allowing for the canceled flights, Friday was already forecast to be the busiest day for flying from the UK since before the Covid pandemic. More than 3,000 flight departures were expected, carrying an estimated half-a-million passengers.
BA must buy tickets on rival airlines for disrupted passengers to get them to their destinations on the same day as originally booked, if space is available. But at the start of the half-term week for many schools and the bank holiday weekend, few spare seats are available.
Tea BA disruption is not yet on the scale of the late May bank holiday 2017, when another IT failure led to all of the airline's operations at Heathrow and Gatwick being grounded. But the cost in lost revenue, hotel costs and passenger compensation will run into many millions of pounds.
One passenger described the situation as "absolutely shocking" as he and his wife tried to get to Berlin.
Antony Knights, 44, said: "Terminal 5 turned into absolute chaos and pretty much everybody was queuing to speak to the desk, and there were only two members of BA staff on it and zero announcements.
"There were only two members of staff manning the queue, which was probably around 100 meters long. There were people everywhere needing assistance.
"It was pretty disappointing and frustrating. Things happen from time to time but this is not the first time British Airways systems have impacted people."
Rory Boland, editor of consumer magazine Which? Travelsaid: "The busy holiday season is only just beginning but already BA is breaking its promises to its customers that it would avoid a repeat of last year's travel chaos, with thousands of passengers now finding themselves in holiday hell as a result of yet another IT disaster.
"Occurrences like this are becoming all too familiar.
"BA has a legal responsibility to refund or reroute any passenger caught up in the chaos, and travelers shouldn't be shy about enforcing their rights."
Partly as a result of the British Airways cancellations, day two of a strike by security staff at Terminal 5, BA's main base, is having little effect.
At other leading airports, journeys were proving smooth – with the main issue at Manchester, Edinburgh and Glasgow being cancellations of BA flights to and from Heathrow.
Staff working at Edinburgh airport have voted strongly in favor of a strike over pay but no industrial action has yet been called.
The Unite union clearly expects the airport bosses to come back with an improved offer – but warns of "travel chaos" in the summer if a walkout goes ahead. The airport said it had already made a "fair and generous" pay proposal.
At Doverwhere the first weekend of the Easter school holidays was marked by long delays for coaches traveling to France, contingency plans appeared to be working. Coaches were being marshalled away from the main port, but once they reach the French border checks processing is swift.
The port said that private cars faced a wait of an hour for passport checks. After Brexit a hard EU border was imposed in the port, with all British travelers required to have their passport inspected and stamped.
Truck traffic is being controlled to limit delays for tourists.
With fine weather predicted, the RAC was warning motorists to prepare for "the busiest late May bank holiday since 2019".
According to the traffic analyst Inrix, there could be severe delays on key routes.
On Saturday, Sunday and bank holiday Monday, roads will be busiest between 2pm and 7pm. The M25 will be under pressure, especially anti-clockwise from junction 4 to the Dartford Crossing.
The M6 ​​in Cheshire and Lancashire is predicted to be busy on Sunday afternoon.
Tea latest round of national rail strikes will blight the second half of the half-term week.
From Wednesday 31 May to Saturday 3 June, train drivers belonging to Aslef, along with other rail workers belonging to the RMT and working for more than a dozen train operators, will walk out again in their long and bitter dispute over pay and working arrangements.
Both unions say strikes could continue through the summer.
Transport for Wales and Scotrail services are unaffected.