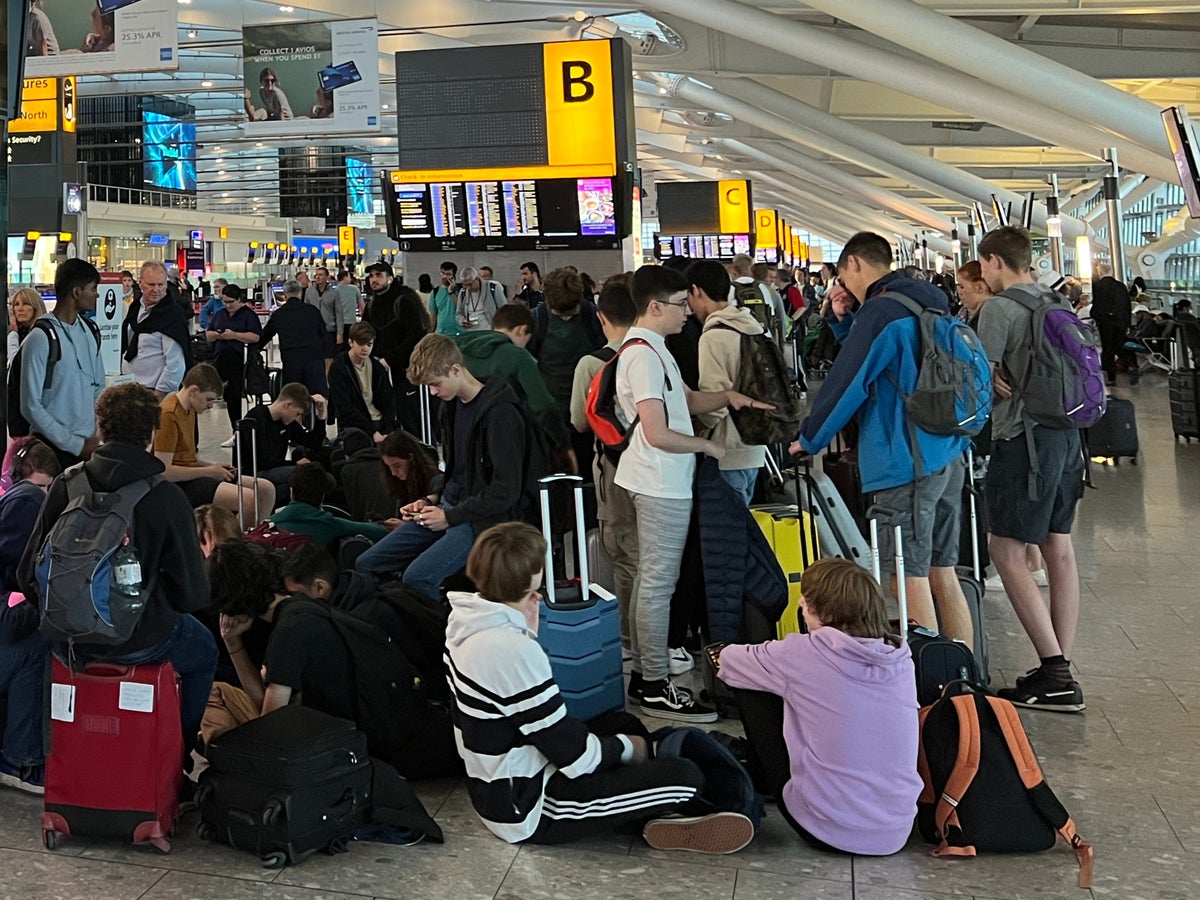 As the Easter holidays approach, some British Airways passengers flying to and from Europe's busiest airport, London Heathroware being told their flights have been canceled.
With a strike by security staff planned to start next Friday, 31 March, the airline has been told to ground 32 of its planned departures on Friday, Saturday and Sunday. BA has also taken outbound flights off sale, even on departures where some seats are empty.
Around 1,400 members of the Unit union working in security at Heathrow airport are walking out from Friday 31 March until Easter Sunday, 9 April. The majority work at security checkpoints at Terminal 5, with others staffing control posts across the airport where vehicles go "airside".
Unite's general secretary, Sharon Graham, says the Heathrow security staff are "on poverty wages" and "unable to make ends". Heathrow insists the security staff have been given a 10 per cent pay rise plus "further enhancements".
But talks broke down last week and no further negotiations are planned before the strike begins.
Here are the key questions and answers.
What effect could a strike have?
Friday 31 March, Saturday 1 April and Sunday 2 April are likely to be the days of maximum pressure at Britain's busiest airport, with many schools breaking up ahead of Easter.
Taking so many professional, trained staff out of the system at a time of peak demand is bound to have an effect. Heathrow's management says: "Our contingency plans will keep the airport operating as normal throughout." But the airport adds: "As at any busy time, it may take a little longer than usual to get through security, but this will be well managed and kept flowing."
It's important to stress that Terminal 5 is the only terminal affected – which means passengers on all other airlines should not face problems. The same goes for British Airways passengers flying from Heathrow Terminal 3.
But some BA flights have been cancelled?
Yes, in a bid to reduce the number of passengers passing through security, and therefore cut the scope for congestion, British Airways has been ordered to cancel 5 per cent of flights that would normally operate at Terminal 5 over the first weekend of the industrial action .
That amounts to 32 departures (16 round trips) on each day, affecting around 5,000 passengers per day.
Which destinations are affected, and what are passengers' rights?
Among domestic destinations, Aberdeen, Belfast City, Edinburgh and Glasgow are seeing cancellations on British Airways.
In Europe, services to Amsterdam, Barcelona, ​​Berlin, Dublin, Nice and Stockholm are affected.
Passengers are entitled to be flown to their destination on the same day as originally booked, including on another airline if BA has no availability.
They cannot claim compensation under European air passengers' rights rules because the cancellations are beyond the airline's control.
What other steps are being taken?
British Airways has taken its outbound flights from Heathrow off sale for the coming weekend. Passengers seeking flights at ba.com on 31 March to destinations that are normally served from Terminal 5 – including New York, Singapore and Dubai – are seeing no availability. New York passengers are being offered availability on American Airlines, BA's partner, flying from Heathrow Terminal 3. To Dubai and Singapore, prospective travelers are being told to use Qatar Airways via Doha.
Heathrow airport, which employs the security staff, has canceled all leave for managers this coming weekend – they will all be on duty helping travellers. A spokesman said: "We are deploying 1,000 additional colleagues and the entire management team, who will be in the terminals providing assistance to passengers over the busy Easter getaway."
Are passengers being given specific advice?
Yes. Unless you have been told your flight is cancelled, which is affecting a small number of BA departures, you can assume it will be operating normally. Heathrow airport says you should arrive no earlier than two hours before short-haul flights and three hours before long-haul flights.
There are concerns about passengers being unfamiliar with the security rules – and that the number of "secondary searches" could be high. Heathrow has implored passengers to be "ready for security with their compliant liquids and electronics out of their hand luggage".
In a bid to reduce the number of bags going through security, British Airways says passengers who are booked with cabin baggage only can check in a case without paying extra.