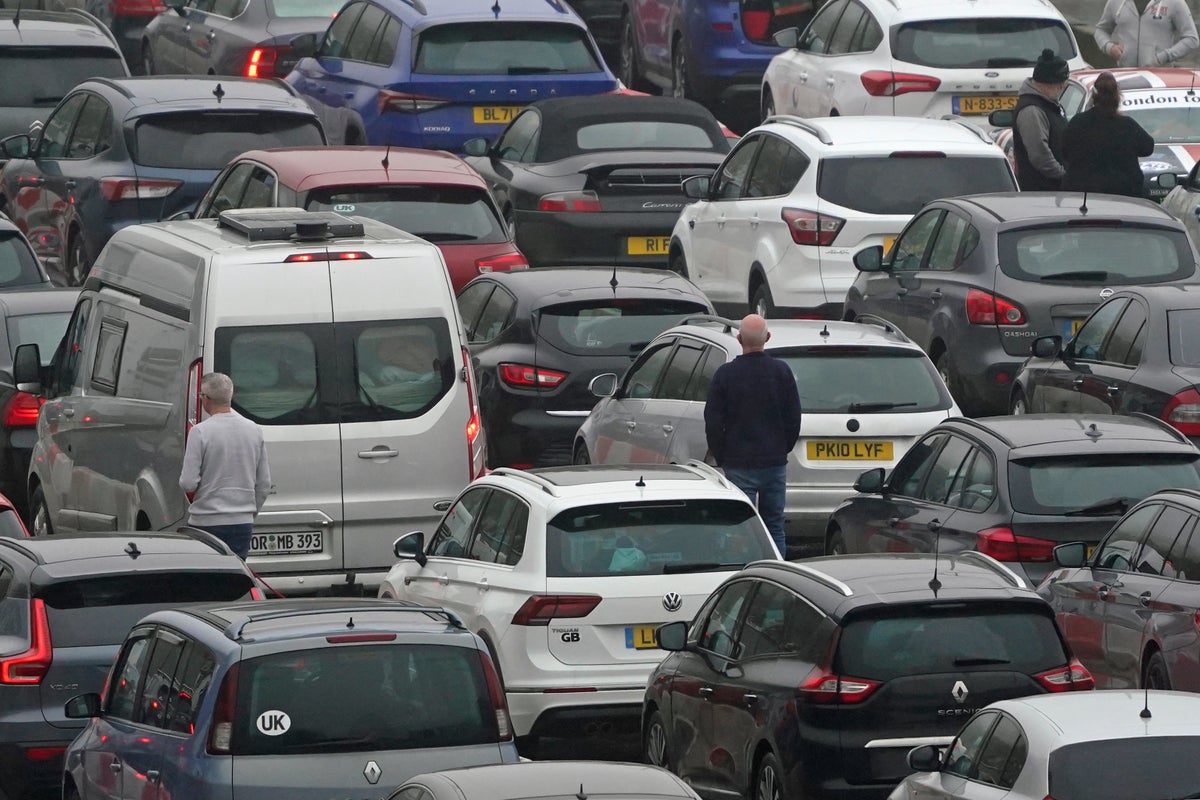 Britons are facing travel chaos this weekend with flights grounded, trains canceled and traffic already building up at Dover as the Easter weekend getaway begins.
The four days between Good Friday to Easter Monday are expected to be the busiest since 2019, with post-Brexit passport checks, railway works and strikes in France all set to cause delays for travellers.
The mayhem began on both sides of the Channel on Thursday morning when French protestors blocked traffic around a mile from Paris Charles de Gaulle airport, forcing travelers to walk. In Dover, holidaymakers booked on cross-Channel ferries faced queues of 90 minutes for passport checks by French officials due to a "high volume" of traffic.
The strike in France – over President Macron's pension reform plans – is set to cause widespread disruption for the rest of the weekend, with Air France, easyJet and RyanAir among the airlines who have canceled flights due to air traffic controllers joining the walkout.
Dozens of British Airways flights have also been grounded as security staff walk out at London Heathrow.
Elsewhere, drivers are being warned to expect long delays on popular routes over the coming days, with the RAC predicting that vehicle speeds could be reduced to just 12mph at some points on Good Friday. The M25, M5 and A303, as well as the M20 and A20 to Dover, are among the roads expected to be worst hit.
Eurostar also canceled trains between London and Paris on Thursday because of the national strikewhile widespread engineering work will begin across the UK on Good Friday, disrupting services until Easter Sunday.
It comes after chaotic scenes at Dover last weekend – the start of the school holidays – when tens of thousands of people were delayed, reportedly by up to 12 hours, as a post-Covid surge of coach trips came up against tougher post-Brexit border checks.
Ferries
There were already queues of around 90 minutes from Dover, the main departure point by sea to Continental Europe, on Thursday morning, as Britons began their journeys.
P&O Ferries told travelers to allow extra time for journeys.
ferry operator DFDS – which sails from Dover to Calais and Dunkirk – wrote on Twitter: "Unfortunately due to high volumes of traffic there are queues at border controls. Once you arrive at check-in we will get you away as quick as we can."
Coach and car drivers are being advised not to arrive early for sailings.
Following the delays last weekendthe port has installed extra facilities for handling coach passengers and has urged operators to consider moving schedules away from the anticipated Good Friday peak.
Speaking on Thursday, the roads minister rejected the suggestion that much longer border processing times contributed to the chaos.
Richard Holden, MP for North West Durham, was asked by Nick Ferrari on LBC: "Is this a result of Brexit?"
He replied: "No, we've always seen issues around our road network at peak getaway times."
But Doug Bannister, chief executive of the Port of Dover, told The Independent that the post-Brexit passport checks the UK insisted upon are slowing the flow of traffic through the port. "There is clearly no doubt that the processing through the border takes more time now than it did before," he said.
"As it stands right now, Good Friday is going to be the busiest for coach traffic – the busiest of the three days. It is that day that we're looking to try and smooth out a bit.
"But we're not stopping there. We're also installing some new temporary coach-processing infrastructure in the port and working with Police aux Frontieres to be able to man that in a good way – so that we can have some resilience in the operation, to make doubly sure that the processing for this weekend for coaches is going to work much better."
The CEO said the Police aux Frontieres had been "very, very good" at responding to the build-up of traffic last weekend.
Flights
British Airways has made dozens of flight cancellations each day through Easter Sunday due to a walk-out by 1,400 members of the Unite union working in security at Heathrow airport Terminal 5 – used only by BA.
Heathrow airport is telling passengers to turn up no earlier than two hours before European flights, or three hours before intercontinental flights.
More widely, striking French air-traffic controllers are causing widespread disruption.
French airspace is used by tens of thousands of British passengers every day, but flights are being impacted by repeated walk-outs by staff protesting against President Macron's plans for pension reform. Air France, easyJet, Ryanair and Vueling of Spain have canceled some flights to, from, within or over France on Friday.
Ryanair tweeted saying: "French air-traffic controllers are entitled to go on strike, but if there is going to be cancellations it is French flights that should take these cancellations, not overflights."
The airline has launched a petition calling on the European Commission to protect flights that cross French airspace.
BA's website is showing three round-trips from Heathrow to Nice canceled on Thursday, as well as two to Paris CDG and individual flights to Toulouse and Barcelona.
A spokesperson for British Airways said: "Due to the continued French air-traffic control industrial action we've been forced to make a small number of adjustments to our schedule. We're sorry for the disruption to our customers' travel plans."
Larger aircraft are being operated by BA where possible on routes with flight cancellations.
Travelers to France may well experience disruption on the ground because of the national strike taking place against plans to raise the pension age by two years to 64.
The Foreign Office says: "Since mid-March there have been spontaneous protests in central Paris and elsewhere in France. Protests are likely to take place and could occur with little notice. Some protests have turned violent. The protests may lead to disruptions to road travel."
trains
Eurostar has canceled a pair of trains between London and Paris on Thursday because of the national strike. The cross-Channel train operator warns: "New days of mobilization may be announced by French unions at short notice.
"Public transport and train connections may continue to be disrupted in France."
In the UK, widespread engineering work will begin on Good Friday, disrupting services until Easter Sunday.
The most significant disruption is the closure of the southern 50 miles of the West Coast main line between London Euston and Milton Keynes Central.
Travelers to and from the West Midlands, northwest England, North Wales and southern Scotland will need to find alternative routes. Avanti West Coast intercity trains will be terminating at Milton Keynes Central or Rugby, with some rail replacement buses operating.
There will be no trains from London Victoria to Gatwick Airport and Brighton over the Easter weekend, but services will run from London Bridge station.
Between Sheffield and Manchester, the line through Hope and Edale in the Peak District is closed on Easter Saturday and Sunday, with some services across the Pennines diverted via Huddersfield – adding half-an-hour to the journey.
Also on the West Coast main line, major disruption between Carlisle and southern Scotland will continue until 4 June due to engineering work at Carstairs.
No national rail strikes are currently scheduled.
Roads
The motoring organizations predict that Easter traffic will be especially heavy on Good Friday.
The worst jams are predicted to be on the western side of the M25; the M5 south of Bristol; the A303 in Wiltshire, near Stonehenge; approaches to the Lake District; and the M20 and A20 to Dover.
Passports
On Monday, 1,000 workers at HM Passport Office began a five-week strike with warnings that more than one million passport applications could be stuck in a bottleneck.
The strike is a "significant escalation" of a dispute over jobs, pay and conditions by the Public and Commercial Services (PCS) union, which says the walkout will have a "significant impact" on the delivery of passports as the summer approaches.
The government says it has contingency plans in place. Travelers are told to allow 10 weeks for passport processing, and have been warned not to book travel before they have a valid travel document.
The Scottish airline Loganair is seeking to attract business from travelers who are waiting for passports. The carrier tweeted: "Not booked your summer holiday yet? Passport or no passport, you can still head to these stunning UK beaches."