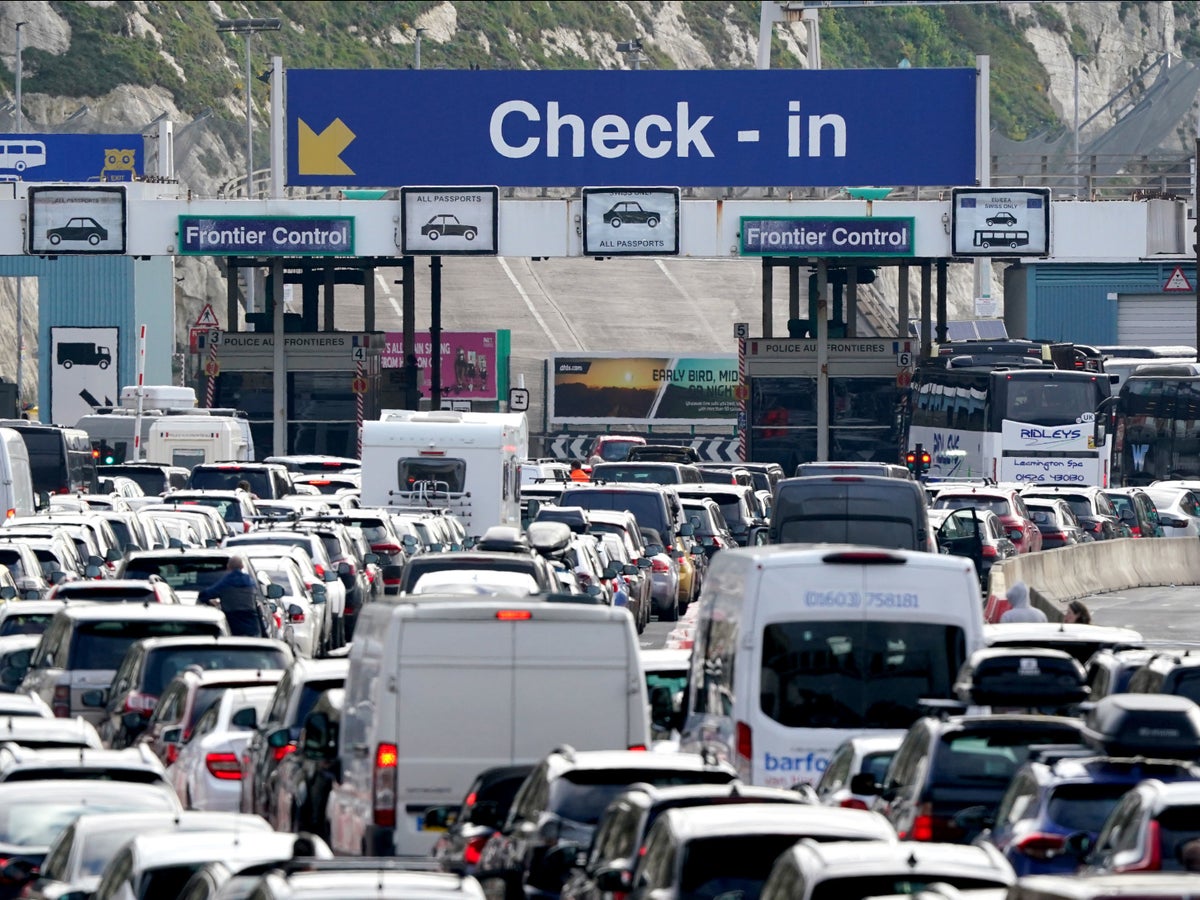 Easter holidaymakers have been warned of delays of up to 90 minutes at the Port of Dover, while car traffic is expected to double on some major road networks.
As bank holiday getaways begin, a walkout by security at Heathrow Terminal 5 has also seen British Airways cancel dozens of flights, while striking French air-traffic controllers have also prompted cancellations.
After people were left stuck on coaches for up to 18 hours last weekend in chaos at Dover, officials stressed that "extra measures" were in place for Easter, but warned people to bring supplies in case of delays as the holiday rush kicked off with " high volumes of traffic".
As of 9am on Good Friday, ferry operator DFDS said traffic was still "free flowing through check-in" at Dover, but warned of queues of between an hour and 90 minutes at border controls, as intensified post-Brexit passport checks continued to take their toll.
But the worst disruption was expected for those traveling by train, with an £88m program of more than 600 engineering works taking place over the Easter weekend.
Most severe is the closure of 50 miles of the West Coast main line between London Euston and Milton Keynes Central, forcing those traveling to and from the West Midlands, northwest England, North Wales and southern Scotland to find alternative routes.
Other notable routes affected are those from London Victoria to Gatwick and Brighton, and the line through Hope and Edale between Sheffield and Manchester, alongside ongoing major works at Carstairs.
Network Rail route director James Dean defended the timing, telling the BBC: "The bank holiday period is still the lowest period of passenger traffic, so we do keep an eye on that and make sure we're disrupting as [few] people as possible."
The RAC warned that 17 million cars were expected on the roads for leisure purposes on Good Friday, hitting highways in the south of England particularly hard.
More than double the typical amount was expected on the A303 westbound near Stonehenge, M5 south between Bristol and Bridgwater, and a large western section of the M25 – with vehicle speeds expected to reach as low as 12mph.
The RAC's Rod Dennis urged those in affected areas to "get on the road as early as possible on Good Friday, or travel on a different day entirely". However, Easter Sunday is predicted to see similar levels of traffic, with Easter Saturday and Easter Monday only marginally better.
Meanwhile, the roughly two million people attempting foreign holidays over Easter also faced numerous potential obstacles, with strikes by French air traffic controllers against president Emmanuel Macron's pension age reforms causing knock-on disruption in the UK.
British Airways focused at least 20 flights which would have used French airspace on Thursday, after domestic strikes by Heathrow security staff with the Unite union also forced the airline to cancel dozens of flights at Terminal 5.
French airspace is used by tens of thousands of British passengers every day, with Air FranceeasyJet and among those to have canceled flights on Friday due to the strikes in France, which unions claimed brought 400,000 people to the streets of Paris on Thursday.
Those hoping to reach the continent by ferry from Dover will be eyeing headlines anxiously this weekend, after poor weather, Easter holiday traffic and increased Brexit checks were blamed for delays branded "unacceptable" by transport minister Richard Holden.
Port officials said they held an "urgent review" with ferry operators and the French authorities in an attempt to avoid a repeat of last weekend's delays.
Ferry companies are asking coach operators booked on sailings on Good Friday – expected to be the busiest day for outbound Easter travel from Dover – to "spread the travel" across the three-day period from Thursday to Saturday.
The port's chief executive Doug Bannister told BBC Radio 4's Today program on Friday: "First of all, the weather's clear, the ferries are sailing well, and all that sort of stuff, this weekend was always scheduled to be about 30 per cent lighter than last weekend, today being the busier day."
Current waiting times at the border of 60 to 90 minutes "will peak through probably early afternoon, and then it will start to slow down after that", he predicted, as he also pointed to a "new facility to expand our processing at the borders for coaches", adding: "I just saw one goes through in just shy of 10 minutes."
He said holidaymakers should bring drinks, food and entertainment for children if they are arriving at the port from 10am, while Nichola Mallon of Logistics UK urged truck drivers also to remain stocked up.
"If they're waiting considerable periods of time, that becomes a driver welfare issue and so that's why we're working very closely with the Kent resilience forum and to make sure that we can minimize delays," she told Sky News.
"Our message to our members would be to check with your ferry operator to make sure that you're aware of the latest guidance, make sure that you've completed all your paperwork before you head there and have supplies there, just in case, and make sure that you leave enough time to accommodate any delays."
Additional reporting by PA