Ina large sunlit kitchen on Eumelia farm, an idyllic agritourism and wellness retreat set amid the endless olive groves of Greece's southern Peloponnese, my classmates and I take turns using a long dowel-like rolling pin to stretch and roll balls of dough that we hope will become filo pastry. It won't be the flaky, paper-thin kind sold frozen in supermarkets though; the pastry we're striving for is two to three millimeters thick, the kind you're likely to catch a whiff of while walking past this area's many outdoor wood-fired ovens.
When we've each created an approximation of our host and teacher Marilena Karadima's perfect circle of pastry, we use them to make savory spinach pies that we snack on while we learn to cook other traditional dishes, including a hummus-like dip called favmade from yellow split peas, a roasted eggplant dish brought to Greece by refugees and mustalevriaa pudding made with Eumelia olive oil, local walnuts, flour, sesame seeds, and must (juice) from the farm's grapes.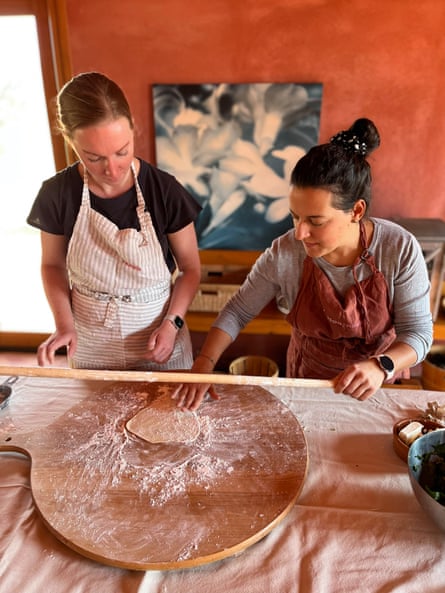 Before class, we worked in the garden with Marilena and her young son, harvesting spinach, rocket, a colorful variety of lettuces, purple-striped aubergines and aromatic herbs. Cooking done, we gather around a long outdoor table, enjoying wine produced on the farm and the dishes we've made together. Lunch doesn't end until the evening sun slings a golden hue across the silver canopy of the farm's organic olive grove.
Whether it's through garden-to-table cooking classes like this or a chance to help with the olive or grape harvest, Eumelia's guests are invited to roll up their sleeves, get back to the land and experience a slower, more traditional side of Greece.
The farm is near Gouves village in the Laconia region and a world away from modern life. Together with her husband, Frangiskos Karelas, Marilena offers a variety of experiences that vary with the seasons. During August and September's grape harvest, guests can join in and "stomp", pressing the grapes to music, learning to make wine and tasting natural wines from across the Peloponnese. A five-day immersive olive oil experience in October and November sees guests harvesting olives from centuries-old trees and learning about olive history, oil varieties and pairings, and organic production. Cooking classes, culinary tours, yoga and massage are available year-round. Five cottages shaded by olive trees offer a comfortable night after a long day in the fields.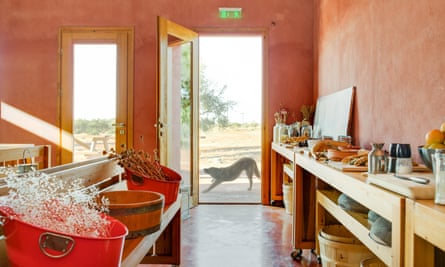 While Eumelia is among the best known agritourism destinations on the Peloponnese, it is one of many across the peninsula and throughout Greece – and the opportunities for visiting farms and food artisans in this region are growing. As producers look to diversify in response to challenges posed by a volatile market and climate change, more and more are turning to agricultural and culinary tourism. The Greek government is paying attention, spearheading new efforts to support them through funding and legislation. "Greek farms are treasures," says Tasos Kannavos, cofounder of Cellarhopping, which works to connect travel professionals with agritourism destinations across Greece. "This kind of tourism is a wonderful way for visitors to know a different, more sustainable side of Greece – and help support Greek agriculture."
Double ats Eumelia farm cost €300 a night including breakfast, farm-to-table dinner, olive oil tasting and farm tour
Three more foodie experiences in the Peloponnese
Magna Grecia AgriturismoAncient Olympia, Ilias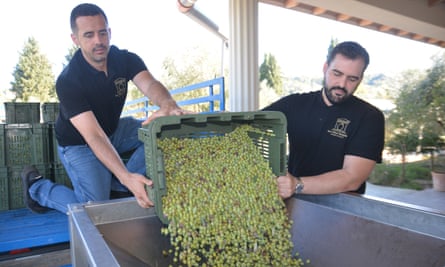 Alexis and Francesco Karabelas grew up learning to produce high-quality olive oil on their family's farm a short walk from Ancient Olympia. The brothers returned to the farm after university, bringing new ideas for sustainable cultivation: they implemented organic practices and designed a modern olive oil mill to streamline production. In 2022 and again this year, Karabelas oil won gold awards at the World Olive Oil Competition.
Taking a cue from their parents who began a modest agritourism business in 2008 in response to low market prices for olive oil, the brothers now run a fully fledged "oleotourism" enterprise, offering guided tours of the olive groves and mill, olive oil and wine tastings, a chance to participate in the harvest and lively lunch or dinner gatherings complete with folk dancing. The Karabelas family and their neighbors are no strangers to the challenges posed by climate change: in 2021, devastating wildfires scorched more than 425,000 olive trees in their area. Today, the family is part of an initiative to restore the region's groves and support olive farmers.
Experiences from €15pp
Orias mountain guest house & farmKerpini, Arkadia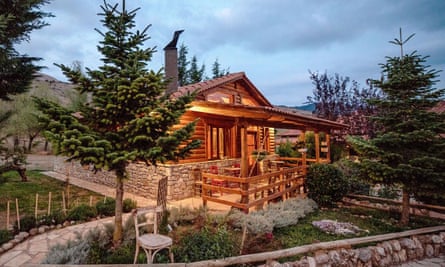 This down-to-earth guesthouse is on a 20-acre organic farm at nearly 1,000 meters at the foot of Mount Chelmos in the northern Peloponnese. Giannis Chouliaras and his colleagues invite guests and day visitors to work in the gardens, help with the farm animals and, each October, participate in the grape harvest and pressing.
They also offer cooking classes, guided mushroom hunts, hiking, backcountry skiing, mountain biking and an annual summer camp for kids and teens. Ingredients from the Orias gardens and nearby producers are on the menu at the farm's restaurant. All this takes place amid herb and flower gardens, a cherry orchard and fir trees with a stunning view of Mount Chelmos.
Doubles from €130 B&B
Mama's FlavorsKalamata, Messinia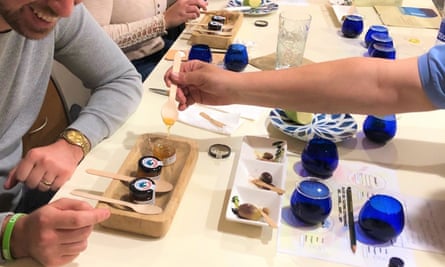 Mama's Flavours' tours are rooted in the founders' belief in supporting Greece's farmers and food artisans, particularly rural women. "Greece isn't just Mykonos, the Acropolis, and souvlaki," says Maria Monastirioti, who founded Mama's Flavors in 2018 with a group of friends. "It's a place of rich gastronomic traditions based on what's fresh, local and in season – and it's a place of filoxenia, or hospitality. But producers are really struggling to earn money for the food they work so hard to grow and make. If we can work together, maybe we can help each other."
To this end, Maria and her partners lead culinary and agricultural tours and experiences in the seaside city of Kalamata and across the Peloponnese, offering access to small-scale farmers and other producers. Guests can choose from a variety of experiences including visits to cheesemakers, vineyards and wineries, an organic olive farm and traditional stone mill, urban food tours, wine tastings and cooking classes.
On the day I join, Maria leads a half-day tour that includes a visit to an olive press and an olive oil tasting followed by a delicious and convivial lunch of local fare at a taverna next door. Maria says: "I don't want to be rich and neither do the producers we work with. We just want to live with dignity and do work that comes from our hearts."
Experiences from €50pp
More information on Greek agritourism from hellasagrotourism.org