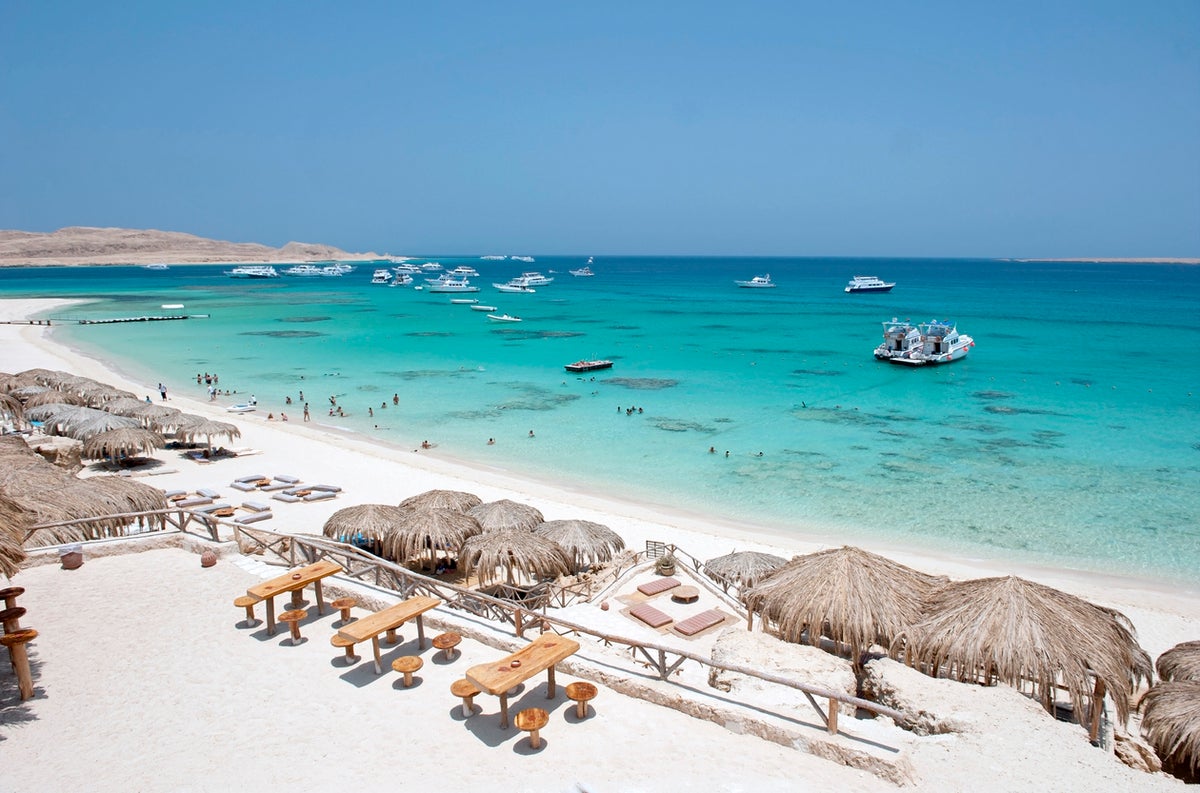 It is surprising how quickly the desert gets cold once the sun goes down.
I'd heard this said many times before, but never been able to personally put it to the test – till now. Fortunately, Sytze had warned the group to come prepared with extra layers, and his team of Bedouin were already lighting a fire to cook dinner. But before that, we had a yoga session to do, with the disappearing sun to our west and the rising full moon to the east. It was one of those moments that makes you give thanks for being alive.
And not just because of the perfect peace coupled with the splendor of the sunset and moonrise. The complete half day's experience with Sytze Boomsma's El Gouna Mountain Goats – driving up a sandy wadi into the RedSea Mountains in a fleet of Land Cruisers, hiking into the desert for an hour, plus dinner – had cost just £28. Particularly good value for an exotic, invigorating and inspirational adventure.
Even if yoga in the desert isn't your thing, Egypt's Hurghada coast represents good value for money when it comes to winter sun. Skies are blue, and temperatures are in the mid-twenties, although you do need to stay out of the stiff breeze that the kite-surfers adore in order to experience full warmth.
Hurghada is the key town on the section of the Red Sea coast that is part of the Egyptian mainland (as opposed to Sharm el-Sheikh, which is more isolated out on the Sinai peninsula). Unlike Sharm, the town is within driving distance of the Nile, and is more a part of normal Egyptian life, with prices to match. Plus it has beaches, islands, and self-contained resorts.
I was staying in El Gouna, a purpose-built and hugely well-organized resort enclave about 15 miles north of Hurghada. Here, some 18 hotels and several thousand villas sit on an elaborate network of artificial lagoons, along with a couple of marinas, a football stadium, a university faculty and several beaches, many directly accessed from the hotels.
El Gouna is a huge and well-conceived endeavor, and it has attracted a big semi-resident population of expat villa owners, some of whom were on the Mountain Goats hike with me. And although it has restaurants by the marinas, most of the hotels, as along much of this coast, offer meal-included packages, with half-board offered from around £100 a night for two (hotels.elgouna.com). Recently it has added more top-end addresses, such as the Chedi El Gouna and Casa Cook, the latter particularly popular with kite-surfers, with room rates north of £200.
Read more on Egypt travel:
Prices are lower if you're happy to stay in downtown Hurghada, which is more lively and therefore noisier, and particularly convenient if you like to fall out of the airport and into the pool. Here, a property such as the giant Sinbad Clubpopular with a mix of Europeans, has doubles from £73, all inclusive.
Alternatively you can book room-only and then eat out. At popular Olie's in a pricey location on the Hurghada marina, great for people-watching as the daytrip boats come and go, a salad will cost you £1.20 and a main meal £4.50. And over by the fish market just to the north of the marina, at fish restaurants such as El Halaka, the prices are even lower, and the quality higher.
Hurghada started out as a fishing village no more than 100 years ago, and that fish market – about to be moved to bigger premises – is an insight into all the reef species still being caught locally. The fast-growing town is not a particularly pretty place, but it is well adjusted for tourism, with a substantial chunk of its population originally from overseas. The shops along Sheraton Street, its main drag, are filled with typically Egyptian souvenirs and what locals call "high copy" fashion: good quality fakes, in other words.
What downtown Hurghada doesn't have is great beaches. That's easily remedied thanks to sand-surrounded Giftun Island, just offshore. The island is served by fleets of boats that head out every day to its range of beaches. Each of these – Paradise, Eden, Orange, and Mahmya – is sold as a separate destination, with packages that can include snorkelling, lunch and even drinks. Mahmya is the most upmarket of the four, with a palm-thatched restaurant, silky white sand, and a distinctly Maldivian vibe. A day here, with boat transport and lunch, costs up to £60pp, while a similar trip to a mid-range beach like Orange costs from £20 (landioustravel.com).
The other big activity out of Hurghada is, of course, diving. The undersea life on the Red Sea reef systems – and you can clearly see the reefs from the Hurghada corniche – is holding up well, and serious divers tend to set off on several-day voyages on live-aboard boats that travel some distance away from the Hurghada hubbub. But if you want to stay local, you can go out for a half day with the likes of new dino for £33 for two dives, equipment included. I daresay nowhere in the world offers diving cheaper than that.
All of the above is for travelers who like some feeling of independence with their winter sun. If you prefer the security of tour-operator travel, then the likes of TUI, easyJetand specialist Discover Egypt all have competitive packages. In fact, easyJet was recently promoting £650-a-month holidays here, an amazing bargain. You may be too late to snag one of those, and prices have certainly gone up as demand has surged – but you can still bag a bargain all-inclusive break if you book in advance.