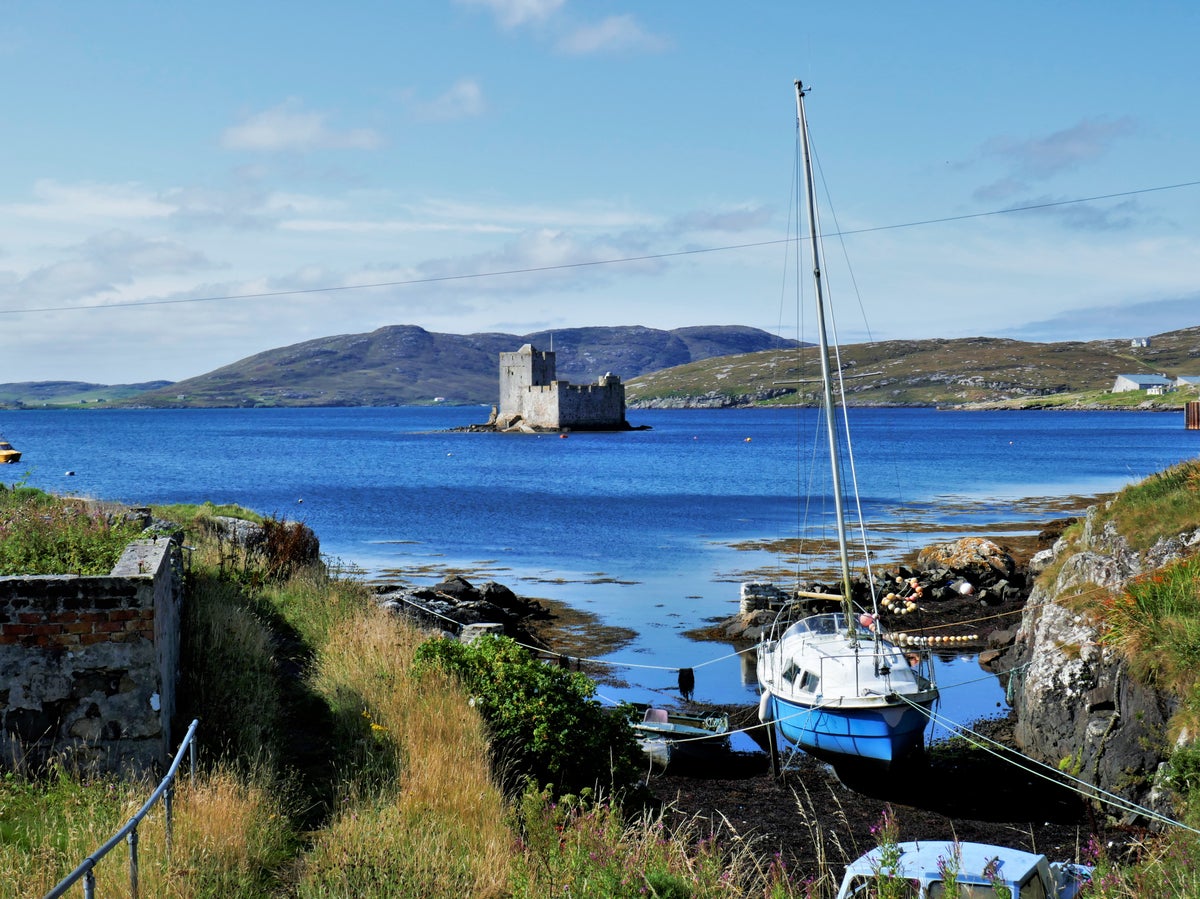 The Hebridean Way is a long-distance trail developed for cycling and walkingconnecting the string of islands making up the Outer Hebrides. The 156-mile walking route traverses landscapes teeming with wildlife, beautiful beaches with clear turquoise waters and historic landmarks of the forgotten past. All of this, coupled with the island's unique Gaelic culture, makes it one of the finest long-distance hiking routes in scotland.
The Route
The route passes through 10 of the 15 inhabited islands of the Outer Hebrides, which are connected by two ferry crossings and six causeways.
Officially, the route is sliced ​​into 12 sections of varying milage, walking approximately 5-7 hours per day depending on availability of accommodation at overnight stopping points. The route can be attempted on one epic multi-day hike or broken into shorter segments to allow for starting and stopping wherever there are transport options in and out of the isles.
When to go
The most pleasant weather for walking would be in the height of summer – but this unfortunately is also peak season for the infamous midges. The best time to attempt the Hebridean Way would therefore be during shoulder seasons, either around May and June when the wild flowers are in bloom, or in September when it's less crowded.
Itinerary
Day 1: Vatersay to Barra (Northbay), via one causeway
Approximately 13 Miles
The start of the Hebridean Way has some of the best beaches in Britain and is the perfect introduction for what's to come. There are also plenty of alternative routes to explore the attraction of Barra island.
Eat
There is a Co-Op and a cafe at Castlebay on Barra Island.
Stay
Heathbank hotel in North Bay; barrahotel.co.uk
highlights
Beautiful beaches of Vatersay Bay and Barra
Annie Jane Monument, commemorating the most tragic maritime disaster on Vatersay
Historical ruins dot the way, from standing stones to Neolithic remains
(Small diversion) Kisimul Castle off the coast at Castlebay on Barra island
Day 2: Barra to South Uist (Daliburgh), via one ferry crossing and one causeway
Approximately 15 miles (depending on where you thing to stay)
Today you'll cross from Barra to Eriskay on a scenic ferry ride; you'll need to ensure your walk to the ferry terminal is aligned with the timetable. At the end, you'll cross another causeway to end on South Uist.
Eat
Fuel up at the small cafe at the Barra ferry terminal. Lunch could be at the Am Politician pub on Eriskay or a café along the coast just after the causeway crossing on South Uist.
Stay
Borrodale Hotel at Daliburgh; isleshotelgroup.co.uk/borrodale-hotel
highlights
Barra Airport: the world's only commercial airport on the beach where scheduled flights use a tidal beach as the runway.
Coilleag a' Phrionnsa, the Prince's Strand, where Bonnie Prince Charlie landed in 1745 to launch his ill-fated Jacobite rebellion
Am Politician, Eriskay's only pub, where a bottle of whiskey from the famous Whiskey Galore shipwreck is stored behind the counter
Cladh Hallan Roundhouses, Bronze-Iron Age settlement on South Uist, just before the turn off to Daliburgh
Day 3: South Uist: Daliburgh to Howmore
Approximately 12 miles
A leisurely walking day through South Uist, ending at the picturesque village of Howmore. You'll come across plenty of freshwater lochs and machair lands that are typical of the Hebridean landscape.
Eat
Purchase supplies at the Co-Op in Daliburgh before setting off as there are no food stops along today's route
Stay
Howmore Youth Hostel; hostellingscotland.org.uk/hostels/howmore
highlights
Flora Macdonald's Birthplace
Day 4: South Uist to Benbecula (Linicate), via one causeway
Approximately 16 miles
Still staying on South Uist, you'll cross over to the wild east coast where there's more wildlife than humans. At the end, cross the causeway to the Isle of Benbecula for the night.
Eat
There are supermarkets just before and after the causeway onto Benbecula for supplies.
Stay
Isle Of Benbecula House Hotel; isleshotelgroup.co.uk/isle-of-benbecula-house-hotel
highlights
Watch out for golden eagles overhead around the east coast of South Uist
Day 5: Benbecula to North Uist, via two causeways
Approximately 16 miles
A varied day beginning with a beach walk, then climbing up Ruabhal, the "hill of the fords", for a breath-taking view of the surrounds. After a boggy descends you'll cross two causeways to the island of North Uist via Grimsay.
Eat
You'll find a couple of supermarkets enroute as you near the regional airport, as well as a bakery (when it's open). There is also a bistro on a side road off road around the same area.
Stay
Temple View Hotel; templeviewhotel.co.uk
highlights
Grimsay Wheelhouse ruins dating back to the Iron Age
Watch out for otters along the causeways
Day 6: North Uist: accommodation to Lochmaddy
Approximately 13 miles
A day filled with ancient ruins through this fjord-like landscape of freshwater lochs of the North Uist. It involves a lot of road walking, but there are still plenty of car free paths to enjoy.
Eat
Ask for a packed lunch from the hotel; there are no shops along the way until Lochmaddy.
Stay
Lochmaddy Hotel; lochmaddyhotel.co.uk
highlights
The screen fjord-like landscape with plenty of waterfowl to spot
Teampull Na Trionaid, ruins of a medieval church in Cairinish, just a little off the main Hebridean Way route
Barpa Langais, a 4,500-year-old chambered burial cairn
Neolithic stone circle of Pobull Fhinn, named after the legendary Irish Gaelic warrior Fionn mac Cumhaill
Day 7: North Uist to Berneray, via one causeway
Approximately 10 miles
Today is all about postcard perfect views and walking through one of the least visited places in the Uists. Water is everywhere as you trail the lochs on one side and the sea the other. Ending on the island of Berneray you'll have a chance to spot seals that often come ashore to rest.
Eat
No lunch options en route. There's a shop and bistro when you get to Berneray
Stay
Seal View B&B; sealview.com
highlights
A line of three stones called Na Fir Bhreige or The Three False Men, which comes with stories of spies or cheating husbands from Skye
Views of Dun an Sticir, an old island fort that was originally the site of a 2,000-year-old Iron Age fortification
Day 8: Berneray to Harris (Seilebost), via one ferry crossing
Approximately 13 miles
After a spectacular ferry crossing to the Isle of Harris, you'll be facing the most difficult day of the full Hebridean Way itinerary. There are a lot of damp, boggy paths to navigate; however, you'll be rewarded with the world-class beaches of Scarista, Horgabost and Luskentyre on Harris's west coast.
Eat
Stock up on Berneary or at the Harris Community Shop for both lunch and dinner, as accommodation options for today and tomorrow are mostly self-catering. If you're able to deviate, a café at Northton has lovely cakes and tea.
Stay
Luskentyre Beach House B&B; luskentyrebeachhouse.com
highlights
World-class beaches that seem too good to be in the UK
Day 9: Harris, Seilebost to Tarbert
Approximately 15 miles
Crossing over to the east side of south Harris, you'll be treated to a completely different landscape. Rocky but well-worn, single-track roads will guide you around the lochs and knolls of this wild side of Harris. You'll end in vibrant Tarbert where you can explore shops selling tweed and sample the local gin.
Eat
There is a food trailer once you're back on the main road towards Tarbert – but don't rely on this and carry supplies if you can.
Stay
Hotel Hebrides; hotel-hebrides.com
highlights
This section has what are considered some of the best walking paths in all of the Hebrides, with undulating landscapes dotted with small lochs among the rocky hollows.
Day 10: Harris: Tarbert to Scaladale
Approximately 10 miles
Leaving Tarbert, you'll have a day of fine roads across a couple of hill passes. From certain points you can look across to South Harris and the Isle of Skye.
There are very limited accommodation options today; it may be worthwhile checking for bus services back to Tarbert for the night, before getting the bus up again to pick up the route the next day.
Eat
Stock up on supplies in Tarbert for the next two days.
Stay
Mulag House B&B; mulaghouse.com
highlights
Isle of Harris Distillery is worth a visit
On this route, you'll pass Reinigeadal, which is the last village in Britain to be connected to the public road network (1990)
Day 11: Harris to Lewis (Balallan)
Approximately 13 miles
You'll cross to the last island of the chain today. The Isle of Lewis is the largest and most populous of the Outer Hebrides. It also boasts the only 'forest' in the Outer Hebrides, the Aline woodlands, which began as an experimental forest and is now a delight to walk or cycle through.
Eat
No food stops en route. There is a Bistro in Balallan as a dinner option.
Stay
Loch Erisort Inn; locherisortinn.co.uk
highlights
Walk through the Aline woodlands, a rare forest on the Outer Hebrides
The summit of Griamacleit, although only at 155m, has a gorgeous panoramic view across from the Loch Seaforth to Harris
Day 12: Lewis: Balallan to Stornoway
Approximately 18 miles
The last day is the longest day by distance, but with the end in sight you'll forget the miles and enjoy soaking in everything your experience on the Outer Hebrides had to offer. You'll traverse the hill of Beinn Ceadraiseal and cross the Lewis peatlands thriving with birdlife.
You'll end your journey at Lews Castle in the city of Stornoway. There are museums and art galleries, as well as plenty of accommodation and dining options here.
Eat
Ask on the night of arrival to purchase a lunch pack from the hotel, as there are no food stops enroute. There will be plenty of options for snacks and dinner in Stornoway centre.
Stay
The Royal Stornoway; royalstornoway.co.uk
highlights
Walk on Pentland Road, originally a planned railway route between Stornoway and the west coast village of Carloway
Ruins that are used as shielings along the way
Tips
While it is also possible to hike in either direction, we recommend walking from south to north due to the south-westerly winds.
Accommodation around the more remote parts of the Outer Hebrides may be scarce, or limited to bunk bed style hostels or camping. Plan your days based on accommodation availability and factor in the additional walking you may have to do to reach your nightly stop.
Much of the Hebridean Way is along remote paths. It's important to ensure you have adequate supplies when you set off each day.
It is likely you'll encounter four seasons in one day; it is the wild Atlantic after all! Pack layers and a water/windproof jacket no matter the time of year and make sure you have sturdy hiking boots.
Travel essentials
The Official Hebridean Way website has a wealth of information and guidance on planning your walking adventure. Visit visitouterhebrides.co.uk/hebrideanway.
Guidebook publisher Cicerone also has an excellent guide on the Hebridean Way for self-organized travel.