Don't come to Wilderness Wood and expect to lounge around in your lovely cabin all weekend. Lounging was certainly at the top of this townie's list, until I was informed that guests on the 62-acre site in East Sussex are asked to contribute towards the maintenance and understanding of the woodland by joining a woodworking, woodblock printing or carving session, a tree walk or an outdoor qigong lesson.
I had George, my slightly reluctant 14-year-old son, in tow, so the idea of ​​six hours patiently carving a spoon was never going to, erm, cut it. How about chopping logs into firewood with a bloody great axe? That sounded more like it, so we signed up for a 30-minute taster session. Two hours and buckets of sweat later, we had run out of logs. It was brilliant fun – the silent fall of the ax before the satisfying thwack as it meets the wood is at once exhilarating and meditative. (George loved it so much he'd reduced the pile of firewood logs in our cabin to kindling by the end of the weekend.)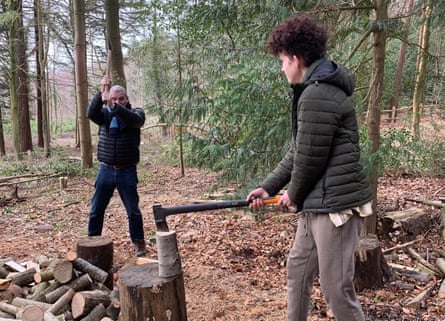 Wilderness Wood is more of a community than a holiday retreat – its two cabins, campsite and shepherds' huts are just a small part of the mix. On the Saturday morning the main hub was buzzing with families on two woodworking classes, local "members" walking and having fun in the forest, and volunteers helping out around the wood. Woodworking teacher Kent Thodsen exuded such wonderful Zen energy I regretted my decision not to join his class.
Owners Emily Charkin and Dan Morrish looked at 125 woodland plots around UK before choosing this one near Uckfield in 2014. It was the only one that met their criteria for a small building project: woodland that could be managed sustainably, a mix of soft and hardwood timbers at the right age and a felling license.
"Finding this place was a bit of a miracle," says Dan, an architect and builder. "It had been managed for 40 years by a forester who had always intended to plant to provide wood for a small building project. But then he reached 70 and wanted to sell. So when we bought it, it had exactly what we needed: sweet chestnut coppice for the building frames, plus stands of beech, scots pine, douglas fir, cedar and giant sequoia."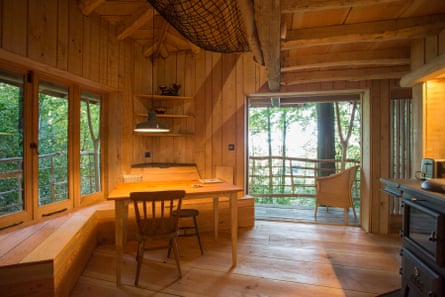 They have since built up a working community of artists, gardeners, woodworkers and designers who helped Dan create structures entirely from timber grown on site. Their craftsmanship is proudly on show in the two cabins: Dumbledore (an archaic word for bumblebee), where we stayed, and neighboring Yaffle (green woodpecker).
Handcrafted is such an overused term these days, but you can see and feel it here in the beauty and softness of the cabin's wooden surfaces, joinery and rounded, individually carved beams, which still look like parts of a tree. It's a stark contrast with the factory-milled planks that make up most modern holiday cabins.
To minimize damage to the forest floor, they use shire horses (rather than trucks) to pull the sawn trees across the site, and the cabins are built on stilts to avoid having to dig foundations. To make good use of the site's predominant timber, the cabins' design is based on a horreoa grainstore made from chestnut wood common in northern Spain.
The kitchen, with its homemade furniture, small range and woodburning stove, is the cabin's focal point. We had brought some marinated jerk chicken with us, which the small oven did to a turn. The following evening we tried barbecuing on the fire pit but were defeated by the cold and retreated to our toasty cabin. In summer, though, alfresco dining will be a treat, with views across the woodland's chop-your-own Christmas tree field to the South Downs. Next door, Yaffle even has a large balcony that opens up from the living area.
There is an en suite double bedroom at the back of the cabin and a second in the equally comfortable loft, although the lack of blinds on the window just above the bed meant I was up at the crack of dawn (perhaps they should provide eye masks ).
Outdoors, the wood is your playground. The highlight for George (OK, me too) was the enormous swing, which soars so high it feels like you're flying. We also came across a brilliant nest-like den built by campers the previous summer, a giant art installation hanging from the trees, an outdoor bunkhouse often booked by youth groups, and a beautifully designed, half-built stone bridge across a stream that will soon be damned to create a lake.
Wilderness Wood feels like an evolving project. Visitors can come for one-day courses, for a short break in a cabin or for an extended stay as a volunteer (Woofers are welcome). The whole place can be hired for a hippyish outdoor wedding, with guests staying in pre-erected bell tents (the site is licensed for marriages, although not for amplified music, sadly). Families can even book an extended stay over winter to dip their toes into alternative semi-offgrid living. There'll still be little lounging around, though.
Accommodation at Wilderness Wood was provided by Canopy & Stars; Yaffle and Dumbledore cabins both sleep four, from £167 a night. All activities can be booked at wildernesswood.org