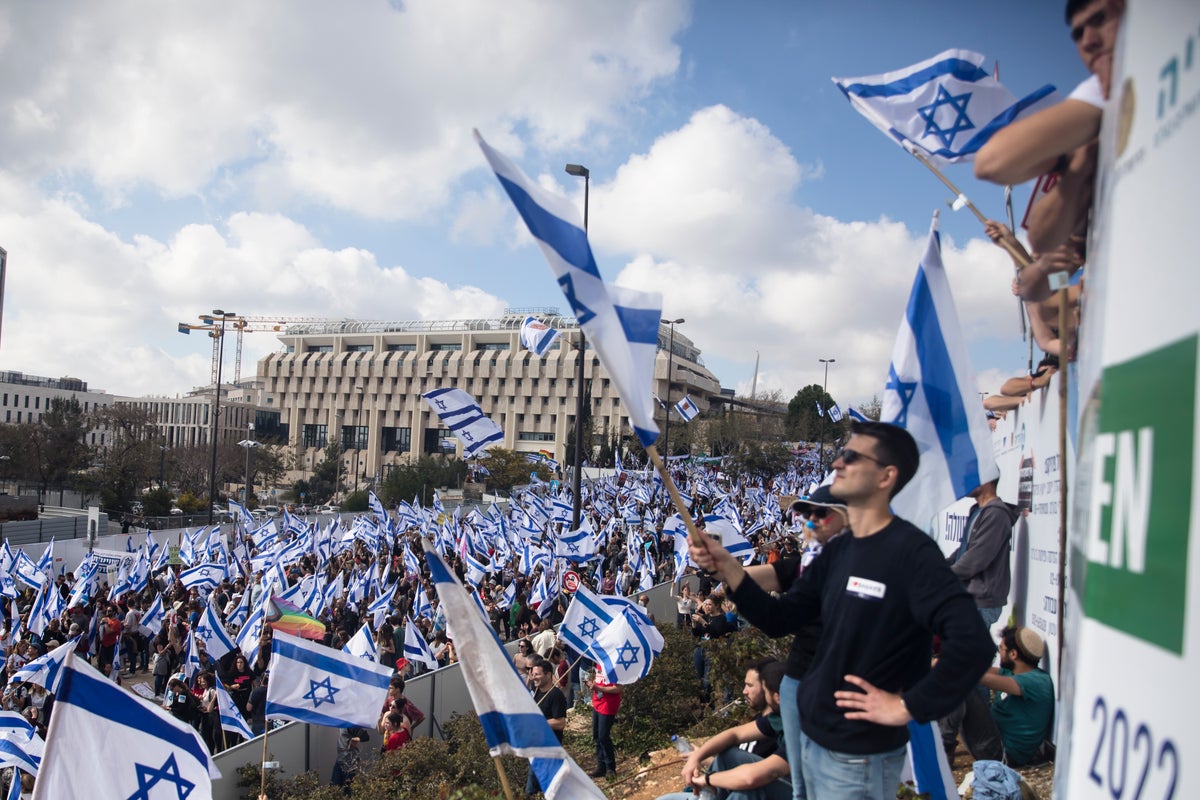 Tens of thousands of people have taken to the streets across Israel in a unified show of strength in protest against prime minister Benjamin Netanyahu.
Since the start of 2023, weekly protests have been held in opposition to Mr Netanyahu's controversial plans to overhaul the judiciary.
Protestors have called on the reforms to be scrapped and for the prime minister to resign. On Sunday (March 26), however, Mr Netanyahu fired his defense minister after the former army general echoed the protestors' calls to bring proposed reforms to a halt, prompting international concern.
In response, protests have escalated, with Israel's largest trade union launching a general cross-sector strike involving more than 700,000 workers in health, banking and transport.
On Monday, 27 March, the prime minister agreed to delay discussions over the plan until next month.
But how does this affect travel to Israel? Here's everything you need to know.
Can I travel to Israel?
At the time of writing, all flights leaving Tel Aviv's Ben-Gurion AirportIsrael's primary aviation hub, have been suspended until further notice due to widespread strikes announced by the Worker's Union.
Flights that are already in the air will be the only ones permitted to land, it has been reported.
Despite this, passengers continued the check-in process without knowing if their flights would depart.
The live departures board shows flights scheduled to leave later in the day, but these are not expected to go ahead.
A spokesperson for the Worker's Union said that if Mr Netanyahu stops the judicial reform legislation, flights will return to normal, the Jerusalem Post reports.
Members of the union joined thousands more workers across different sectors in walking out in protest at the Israeli prime minister.
Elsewhere, major roads and arteries around the country have been flooded with protestors, disrupting traffic.
In Jerusalem, more than 100,000 people have congregated outside the Knesset, the Israeli parliament building, while in Tel Aviv, a group of demonstrators have gathered on the Ayalon Highway, temporarily blocking traffic at Hashalom Interchange, according to the Times of Israel.
And on Sunday night, protestors chanting "the country is on fire" lit bonfires on Tel Aviv's main motorway, closing the road and many others throughout the country for hours.
Work at Haifa and Ashdod ports has also halted.
What is the current UK government advice on traveling to Israel?
Current guidance from the Foreign, Commonwealth and Development Office (FCDO) advise potential travelers to check with their travel company or airline for an update before travelling.
"In Israel, strikes were called on 27 March which will impact airports, ports, transport systems, hospitals and other sectors," it reads.
"There have also been large political demonstrations across Israel, including Tel Aviv and Jerusalem, which have the potential to escalate and become violent.
"You should check the local news before traveling to see if there have been recent clashes, be vigilant, avoid any large gatherings or demonstrations, avoid areas which have been the site of recent violence and follow the instructions of the local authorities.
"If you are in a location where an Israeli security operation or armed clashes are ongoing, you should stay inside and wait for the local authorities to confirm that the situation is calm before moving to a different location."
Can I travel to Jerusalem or Tel Aviv?
The FCDO current advises against all travel to the following areas only:
Gaza
the Sheba'a Farms and Ghajjar
within 500m of the border with Lebanon (the 'Blue Line') east of Metula, including the northern edge of the town and and within 500m of the border with Syria (the 'Alpha Line')
It advises against all but essential travel to:
areas north of and including Jenin city, Burqin and Arranah in the north of the West Bank. This includes Jenin refugee camp and all areas north of this until the Jalamah checkpoint for access to Israel
the city of Nablus, Joseph's Tomb, and the Balata and New Askar refugee camps near Nablus and the village of Huwara, south of Nablus
While the FCDO does not explicitly against travel to Jerusalem or Tel Aviv, current advice states it is aware of "a shooting incident in central Tel Aviv. If you're in the immediate area you should take care and follow the advice of the local authorities."
It adds: "In Israel and the West Bank, there is a risk of violent incidents, including stabbings, shootings, arson, vehicle rammings and stone throwing attacks on people and vehicles.
"These incidents have involved protestors (both Israelis and Palestinians), Israeli security forces, and civilians (including Israeli settlers). There is a risk that tourists or bystanders could be caught up in any of these types of incident."
Is it safe to travel to Israel right now?
Israel is embroiled in an unprecedented outpouring of public discord with its current administration.
Travel to the country is heavily disrupted at the moment, and with key infrastructure, such as hospitals and transport, affected due to walkouts, travelers may well be inclined to postpone imminent trips where possible.