So now it's just the two of us, which is why we've decided to book a holiday to celebrate our last child leaving home and us becoming officially free agents. Nevertheless it still feels weird. What are we going to talk about for the whole weekend?
We know what we're looking for: somewhere not too far – the last thing we want after a busy week is to faff around with airport queues and two-hour check-ins. It needs to have a good bath (for me: what's a holiday without a wallow in the tub?) and a pub you can walk to (for him: the rugby's on.) And it needs to be pet-friendly – ​​we're bringing our dog Spud, who since the kids left, has filled the gap to become our slightly indulged "third child".
Above all, it needs to feel like a treat. We've had our share of damp and dingy cottage rentals in the past – fine if you are spending most of your time outside haring up mountains with two energetic teenage boys, but those days are now over. We decide on Wales and, after a couple of quick clicks, we find the perfect place on cottages.com: a luxuriously cozy barn called Cwtch Ty Gwyn ("white house barn" in English) west of the Brecon Beacons. It comes with a surprise bonus: an indoor heated pool with panoramic views of the valley below.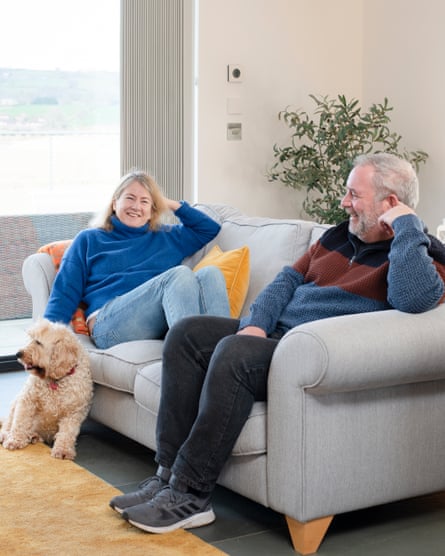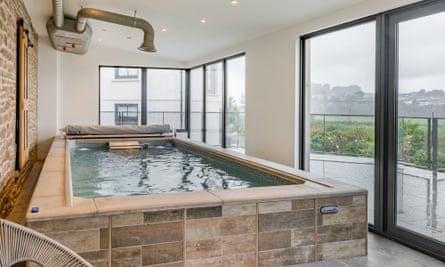 The cottage, an old milking parlor that sleeps up to six, was converted and restored in 2021 by owners Anthony, a furniture maker, and Louise, a GP, who live next door and are on hand to dispense local titbits whenever needed. Inside, two double bedrooms with ensuites flank a huge wooden beamed living area, which sleeps two more on a sofa bed. The kitchen and utility room (handmade by Anthony) are well stocked with everything you might expect. Plus, there's a basket of Welsh goodies and prosecco to greet us on arrival, Netflix is ​​ready to go and Spud even gets a special towel and treats.
Not enough is made of the therapeutic power of a change of scenery. Waking up on your first morning in a new house with new views and new places to explore instantly blows the cobwebs of the previous week away (a dip in a pool helps too).
It also puts everything in a new light. The last time I'd been to Wales on holiday was as a sulky teenager with my family, hating the mountains, crumbling castles and perma-drizzle. This time around I see it with completely new eyes: lush green hills and walking trails for Spud, quaint villages and market towns unblemished by retail parks. Even the castles have a new allure.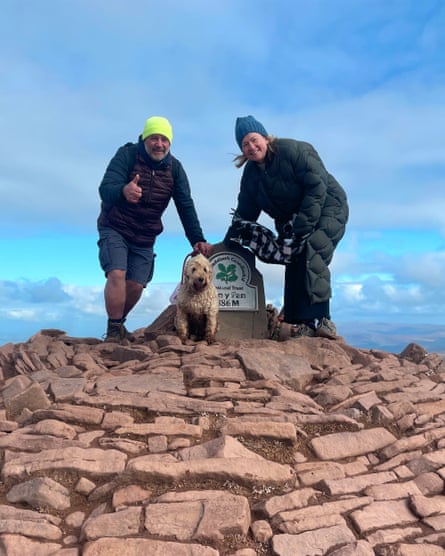 We can do what we want, when we want, but still, old clothes die hard. Our first activity is climbing up Pen y Fan – a 886-metre (2,900ft) mountain peak and the highest point in south Wales. It's a heart-thumping hour or so walk to the top, rewarded by spectacular views. The morning we go there has a bright, blue sky with a wind so cold it takes your breath away. Wrapped up like Michelin men, we send selfies from the summit to our boys: "See, your old mum and dad can have fun without you!"
Fun is subjective of course. Driving back through the village of Trecastle I spot an antiques shop piled high with trinkets and wonderful old Welsh tapestry blankets. "Stopppp!" I screech. Husband sighs and heads for the teashop – he knows he's lost me for an hour.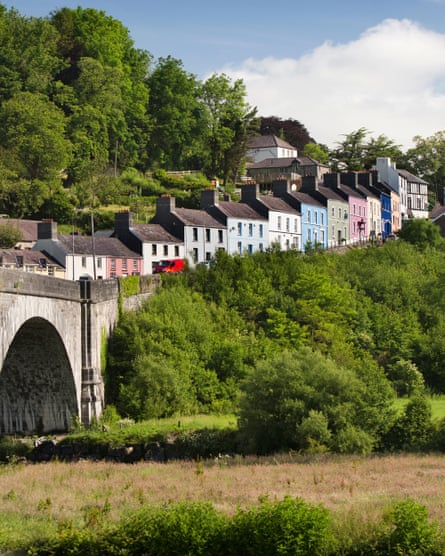 Small shops close early in this part of the world and Sundays are a no-no, so do all your mooching on a Saturday. Head to the pretty town of Llandeilo, a 20-minute stroll from the barn through fields and across a swing bridge over the River Tywi. Llandeilo's pastel-coloured Georgian and Victorian buildings are home to a few interesting shops, including a chocolaterie, art gallery, bakery and hip deli. It is also the birthplace of the fashion brand Toast (there's a large store just off the high street.) Every April, Llandeilo holds a literary festival and this summer the town will host its first-ever Pride event.
You may have enough time to fit in a trip to Aberglasney Gardens, about a 10-minute drive away. Set over four hectares, it is one of Wales's finest gardens, boasting a fully restored Elizabethan cloister garden – the only surviving example of its kind in the UK today. Spring, when the bluebells and magnolia come out in force, is the perfect time to visit (no dogs allowed).
To make the most of this part of the Brecon Beacons I'd strongly advise the following: firstly, don't walk back from the pub on a Saturday night after a couple glasses of wine without a torch – the park is an international dark sky reserve, designated to guard against light pollution and benefit wildlife, so if the moon doesn't make an appearance you could find yourself veering into a ditch. Don't miss a Sunday morning stomp around Dinefwr estatewith its majestic 17th-century house, deer park and 12th-century castle ruins on the outskirts of Llandeilo, or the red kite feeding at nearby Llanddeusant (2pm every Thursday-Sunday). This is supported by the Welsh Red Kite Trust, which takes the view that it would rather let the public see birds of prey at feeding stations than go tramping through the countryside looking for nests and eggs. Watching these majestic birds swooping down from the sky is an experience to remember. Finally, if you forget to book Sunday lunch at Llandeilo's sleek boutique hotel cawdor like we did, do pop up the street to Gwylls cafe for a delicious homemade roast – you won't feel shortchanged.
We packed in a lot on our first holiday alone for 22 years, and didn't run out of things to say; a great success, in other words. So much so, we've already been planning the next, with one caveat from the husband: it needs to be somewhere with no antique shops. I'm making no promises.
To book a stay at Cwtch Ty Gwynor to find your perfect holiday cottage, go to cottages.com