The 9 o'clock bus from Barcelona to the Costa Brava resort of Tossa de Mar is packed, mostly with young Asian women.
Seventy-five minutes later they make straight for the Forat del Dimoni (Devil's Hole), a small gap in the old city wall, where they queue to take each other's pictures in a variety of poses. After that they post their pictures, take a stroll around town, eat lunch, then take the bus back to the city.
"It all started two or three months ago," says Gregori Martínez of the Tossa de Mar tourism department. "Most of them are young Korean women. They come in the morning and spend the day here and then go back to Barcelona."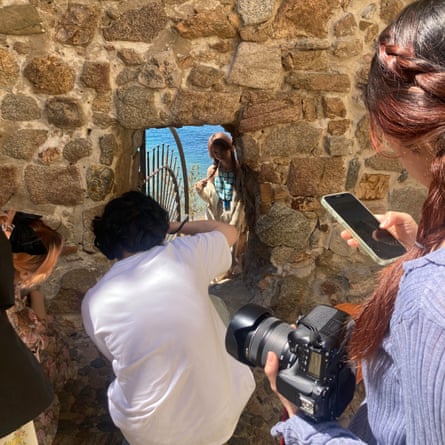 This sudden influx to the town was triggered first by a Korean TV series, then by two videos shot in Tossa by the K-pop star YooA, who has about 1 million followers on Instagram.
The TV series The Legend of the Blue Sea is the convoluted story of a mermaid and a conman that enjoyed huge ratings. It was shot in Korea and various locations in Barcelona and the Costa Brava, including Tossa de Mar, as well as Galicia in north-west Spain.
YooA was a member of the girl group Oh My Girl before going solo in 2020. Videos for her hits Melody and lay low were both filmed in Tossa: the first includes the shot of her sitting framed by the Forat del Dimoni with the sea at her back; it has had 6m views.
"I'm not just here to take a photo – I've come because it's a lovely place. But I'll be going back to Barcelona today," said Hope as she queued for her turn. Hope is from near Shanghai and is studying urban design in London.
"The TV series is very romantic. The hero is a conman but he falls in love and so the bad guy becomes a good guy."
Zhar, also from China, said: "I think people are here to take photos more because of the song than the TV series, which is quite old. It's all about social media."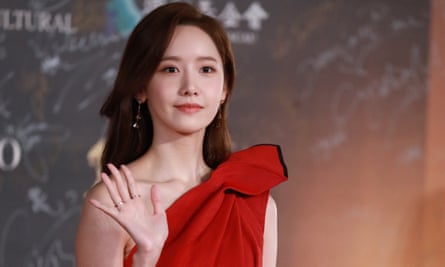 The day trip is what matters, Zhar said, not the photo, but nevertheless she and her friend queued for half an hour for their turn and then spent another 15 minutes taking pictures.
Martínez says the visitors eat in the town's better restaurants but do their shopping in Barcelona before they fly home. The restaurateurs are happy, he says; the shopkeepers not so.
"We don't know if it's just a fad that will soon pass," he said. "We hand out questionnaires at the bus stop so we can decide if we need to devise a policy or to invest in this type of tourism. We have to take advantage of it because the great thing about social media is it reaches everyone. But it's very unpredictable and fleeting."
It's not as though Tossa de Mar needed to be put on the map. It has been settled and continuously populated since the Neolithic era and remained practically unchanged for centuries until the advent of mass tourism in the late 1950s.
Long before YooA, it became famous as a location after Hollywood director Albert Lewin chose the town to shoot most of Pandora and the Flying Dutchman, starring Ava Gardner and James Mason. In 1998 the town erected a statue in Gardner's memory.
Before that, in the 1920s and 1930s, Tossa was an artists' colony with as many as 350 artists either residing in or visiting what was then a tiny fishing village. Among them was Marc Chagall, who named the town "the blue paradise", as well as Henri Matisse, Dora Maar, Olga Sacharoff and Francis Picabia.
Tossa isn't the only place to benefit from this type of TikTok tourism. After a Korean influencer posted a picture of himself eating churros in a churreria in the Old Town of Barcelona, ​​Koreans have been queuing at the tiny hole-in-the wall shop.
Bruce Springsteen caused a stir in Barcelona when he turned up to perform last month accompanied by Barack Obama and Steven Spielberg. Now the restaurant where the three ate, Amaris swamped with bookings, as is the hotel in which Springsteen stayed, Le Méridien.
In some ways, going to Tossa because of a video or a TV series isn't that different from visiting Graceland or Jim Morrison's grave in Père Lachaise. Travelers like to think they know some special or secret place off the beaten track. The problem with social media is about a million other people are in on the secret.