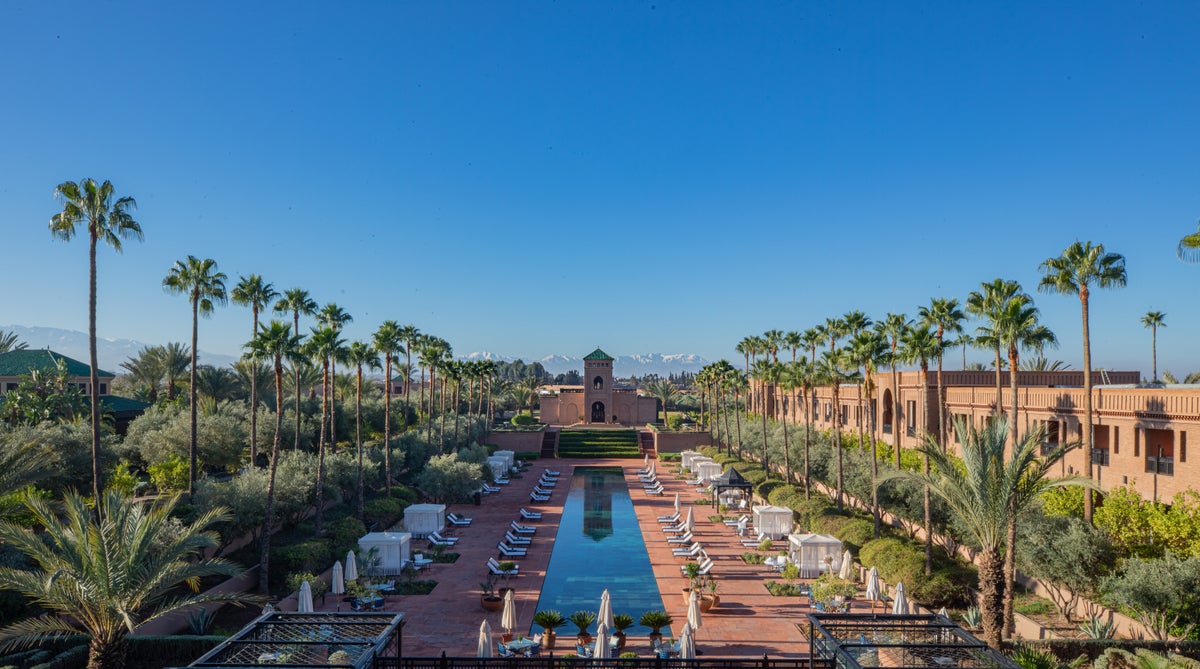 In a nutshell: Styled on a Moroccan palace and with spacious, lush gardens, this hideaway's vast pool makes it a soporific spot to unwind outside the city centre. The sort of place where the owner's Arabian horses have digs almost as nice as the guest suites.
The neighborhood
This one's outside Marrakesh's city centre, though only a 12-minute drive from Menara Airport and more like 20 to the historic Medina. It's on the big road out toward the Atlas mountains and indigenous Amazigh (Berber) villages, close to other big resorts popular with winter-sun chasers. This means you have tons more space than in one of the city's compact riads – space the wealthy family that owns Le Selman has used to cultivate verdant, exotic gardens of palms, olive trees and scented lavender and rosemary. These sit immaculately and symmetrically planned around a head-spinningly long swimming pool (80 meters) and pristine white, cushioned sun loungers and day beds. If you're visiting the souks and historic sites in town, you'll want to book a taxi or a guided tour for at least a half day, but you're well placed for journeying into the rock desert and Atlas mountains, too. There's not much around the hotel itself, but there's a pharmacy and convenience store just to the left of the entrance if you need to pop out for anything outside of your luxe bubble.
The vibe
A proper winter sun holiday less than 20 minutes from the airport – people spend big to stay here, but every inch of the property and grounds feels expensive and pampering. The buzzword here is "tradition": from the jellaba-clad gentleman playing the gimbri (a guitar-like stringed instrument) under chandeliers at breakfast to a fire, belly-dancing and horse show at one of the restaurants. As you wander the marble, velvet and gold interiors, you'll smell oud-y North African scents and hear the trickle of fountains across the grounds. It's lavish, but somehow unstuffy – we felt right at home. The photogenic swimming pool and terrace is framed by tall palms, giving it a Beverly Hills feel, but far more exotic thanks to a ruffle of snow-dusted Atlas Mountains as the backdrop.
bed and bath
Basic (Deluxe) rooms are generous here, with living room furniture and balconies facing the pool or gardens. Each has prettily tiled monochrome floors and colour-pop velvet furniture in shades such as terracotta, mustard or orchid purple. High ceilings and big windows let in plenty of light, while dark carved-wood dividers have a historic, romantic look. Sunken bathtubs come with bath salts and power showers are delightful after a long day's sightseeing. Superior rooms are larger, with huge rugs, dining areas and plush reading nooks, plus outdoor sofas for lounging out on balconies. Flatscreen TVs only carry a few limited local and international channels – don't expect too much cutting-edge tech here. But if it's expensive-feeling interiors and traditional Moroccan looks you're after, Le Selman more than delivers. The highest-end villas have their own terrace and 15m pools.
food and drink
Breakfast is lovingly presented, buffet style, to a small and plush dining room each morning. Freshly sizzled flatbreads with honey and locally grown nuts are a winner; but hot options from any-style eggs to sausage and bacon are available, as are a spectrum of fresh fruits and yoghurts. Coffee is machine-espresso strong and helpful table service is on hand with fresh juices and bottled, filtered water.
In the evening, the restaurants here are as upmarket as you'd expect: if you do just one, make it Assyl, reached by an atmospheric walk along the 80m pool, lit by glowing lights. It's traditional Moroccan fare (tagines, roasted meats, cous cous) but comes with an intermittent show: scarf-wielding dancers, live musicians and even a horse parade.
Lazing by the pool by day? It's all about the sushi platters, salads and fresh dips brought to your lounger, not to mention elegant cocktails – along with a great detox/mocktail menu if you're staying off the booze. Sunday sees a country-clubby brunch popular with locals and expats, where you can feast on lobster and champagne before watching the resident Arabian horses parade.
Public areas
This mansion-style building is a pleasure to simply wander, with peaceful reflection pools in indoor tiled courtyards, a low-lit curtained cocktail bar and tons of priceless antique furniture to admire. One must-do is going to visit the horses: more than a dozen immaculately brushed and buffed Arabian steeds have a high-ceilinged, gated set of stables designed by the same interiors star (Jacques Garcia) that did the inside of the hotel – complete with candlesticks.
Another major highlight is the spa, with treatment rooms and olive-soap-scented hammam chambers branching off a central pool styled like a Turkish bath. Use the top-spec gym equipment, pedal on an aquabike submerged in a whirlpool, and brave a dip in the icy cool outdoor pool before being scrubbed smooth in the hammam. There are also techy Henri Chenot treatments for those who want a radical change.
Nuts and bolts
Room count: 50 rooms, five suites and five private villas.
Freebies: Bottled water, Nespresso machine.
Wireless: Free.
Extra charges: None.
Disability access: There are two wheelchair-accessible Deluxe rooms at wheelchair level, but some communal areas are not accessible for wheelchair users.
Pet policy: Cats and dogs under 3kg are welcome, with beds and bowls provided.
Bottom line
Best thing: The pool area; iconic and quite a tonic after Marrakech's sometimes-hectic centre.
Worst thing: The price point – this is one to save up for and visit on a very special occasion.
Perfect for: A winter or spring sun holiday outside Marrakech, well-served by UK airlines.
Not right for: Budget travelers and young families.
Instagram from: The terrace bar just beyond the reception, with the tall palms, pool and Atlas mountains framed in the sunset.
Room rate: Doubles from £610, B&B.
Rooms available from{{#price}}{{price}}per night{{/price}}{{^price}}Check availability for dates and prices{{/price}}
{{#amenities}}
{{#amenities.foodDrink.length}}

{{#amenities.foodDrink}}
{{.}}

{{/amenities.foodDrink}}

{{/amenities.foodDrink.length}}{{#amenities.internet.length}}

Internet

Please check hotel for more information on amenities

{{#amenities.internet}}
{{.}}

{{/amenities.internet}}

{{/amenities.internet.length}}{{#amenities.services.length}}

{{#amenities.services}}
{{.}}

{{/amenities.services}}

{{/amenities.services.length}}{{#amenities.parking.length}}

Car park

Please check hotel for more information on amenities

{{#amenities.parking}}
{{.}}

{{/amenities.parking}}

{{/amenities.parking.length}}{{#amenities.health.length}}

{{#amenities.health}}
{{.}}

{{/amenities.health}}

{{/amenities.health.length}}
{{/amenities}}
selman-marrakech.com